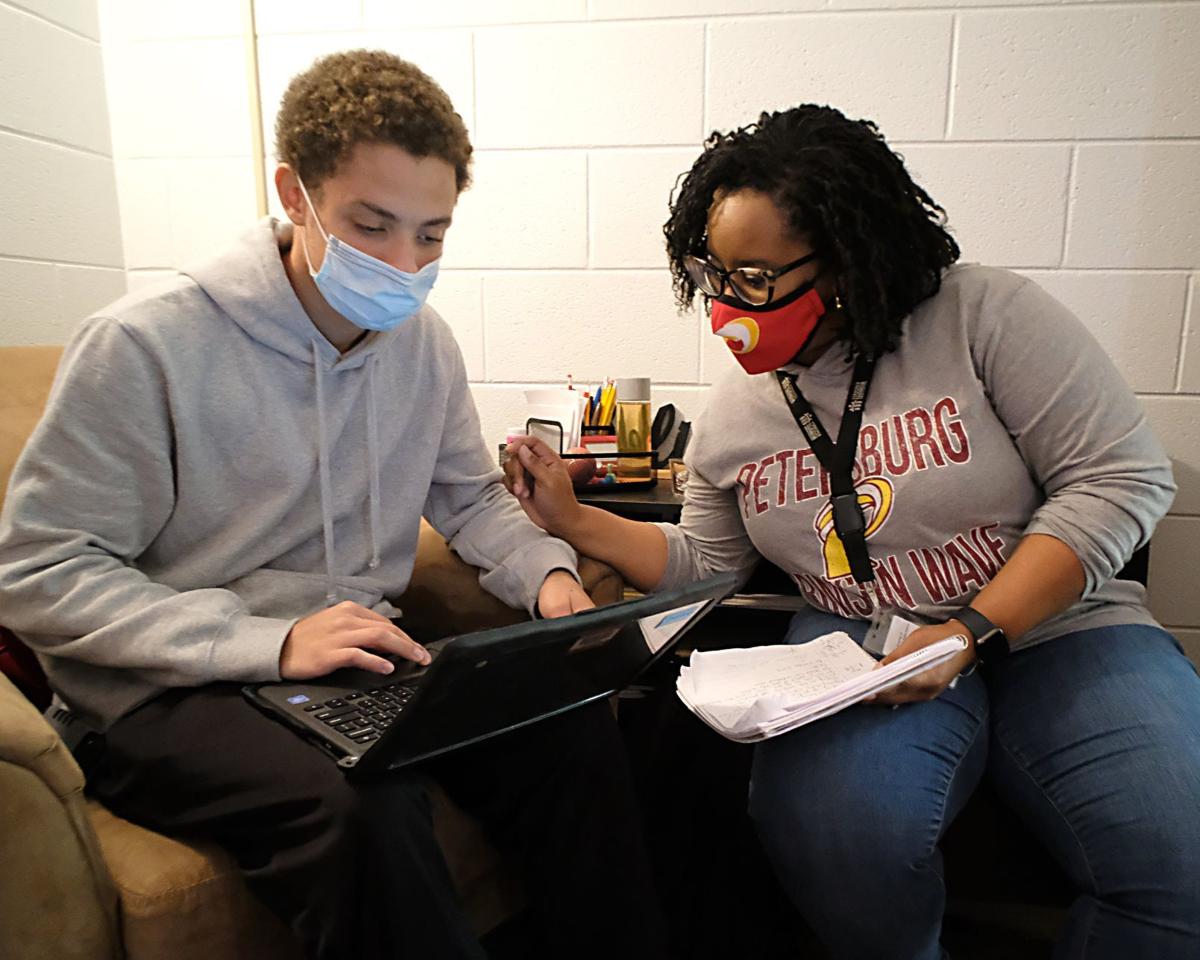 This month, Petersburg High School started a blitz to encourage students to fill out their college financial aid applications. Counselors reminded students on social media, called parents at home, and scheduled lunch sessions to work on the forms together.
The school made an extra effort this year, because last year, fewer students there completed the Free Application for Federal Student Aid, known as FAFSA, which unlocks federal, state and institutional grants and loans to help students pay for college, said Cherrelle Davis, a Petersburg counselor.
Across Virginia, low-income students were less likely to complete their FAFSA, as they deprioritized college after the pandemic wreaked financial havoc and upended the format of education. At schools with high concentrations of poverty, like those in Richmond, the FAFSA completion rate declined 22% in Virginia. That was three times worse than the national rate at low-income schools.
In Petersburg — one of the poorest school districts in Virginia with three out of four students eligible for free or reduced lunch, a common indicator of poverty — 28% of graduates completed the form last year, down 14 points from a year before.
Lower FAFSA rates may have been an early indicator that undergraduate enrollment wouldn't bounce back in 2021, said Tom Allison, senior associate for finance and innovation at the State Council of Higher Education for Virginia. Undergraduate enrollment in Virginia is down 2% from 2019, and community colleges, which generally serve lower-income students, are down 4%.
College "wasn't a top priority for a lot of our families," Davis said. "It was difficult trying to convince them to see past the pandemic and that college was still an option."
It's hard to say why Virginia's low-income schools are so far behind the rest of the country, Allison said. Virginia's colleges are decentralized compared to other states, and Virginia struggles to promote statewide initiatives like FAFSA.
Other states aren't struggling so much. FAFSA completion rate declined 4% nationally and 5% across all Virginia high schools.
But at high-poverty schools — which are designated as "Title I" and include all five traditional Richmond public high schools — the completion rate cratered 22%. That's far worse than the 6% decline at Title I schools across the country.
States that have the highest FAFSA completion rate provide strong incentives. In Tennessee, every resident can receive two years of free community college — but they have to complete a FAFSA. In Louisiana, completing the form is a prerequisite for high school graduation.
About 2 million high school students in the Class of 2021 completed the form, according to the National College Attainment Network. That's down from previous years, but still above 2015 and 2016 figures.
Virginia typically lands in the middle, where just over half of students complete the form, which was 26th-highest in the country last year.
It isn't just wealthy students who are choosing not to apply, Gov. Ralph Northam's office said. In 2018, there were 15,000 Virginians eligible for Pell grants who never filled out the paperwork.
"Too often, students leave millions of dollars in unused aid on the table," said Peter Blake, director of the State Council of Higher Education for Virginia.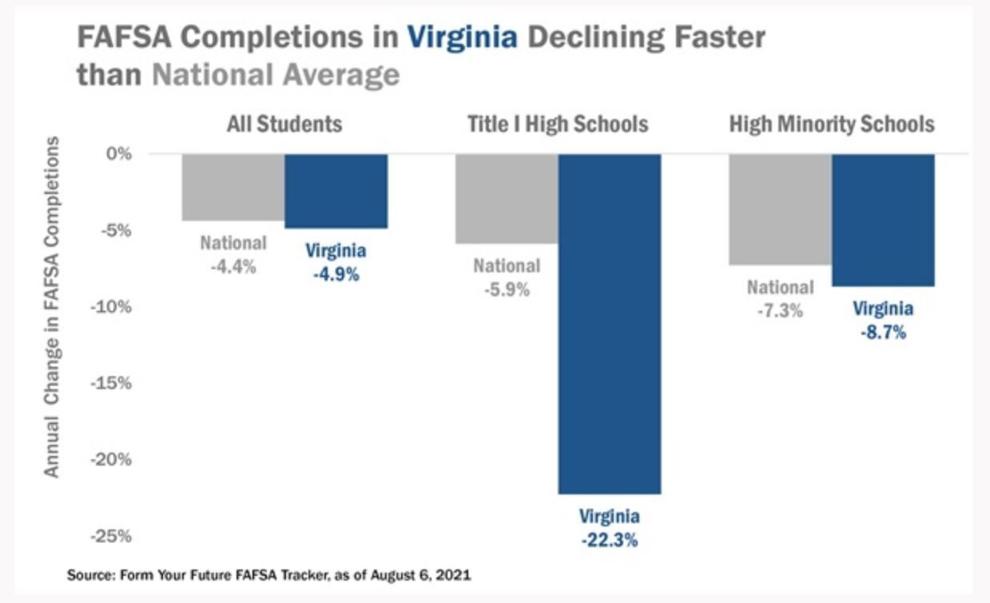 Completing FAFSA is already difficult
Even in a normal year, completing the FAFSA is difficult, said Skye Scott, an adviser for the Virginia College Advising Corps placed at Buckingham County High. A student who is fully prepared needs 45 minutes or an hour to fill out the application.
But students with more complicated living situations can take four hours and still not finish. Applicants who live with a grandparent or family member often have to track down their parents' tax returns and determine their assets. In rural areas, where at-home Wi-Fi isn't a guarantee, filling out the form at home can be even more difficult.
A FAFSA form contains more than 100 questions, detailing parents' income tax return, adjusted gross income and total balance of cash.
When the pandemic came, the mall near Petersburg High closed, costing the jobs of parents and students, Davis said. Parents scrambled to find new work at Amazon or Walmart, and students' interest in college waned.
After a year-plus of taking classes online, students also questioned the logic of paying thousands of dollars for more remote classes. Some at Buckingham considered taking a gap year, Scott said. While many classes have returned to an in-person environment, a chunk of classes remain online at schools such as Virginia Commonwealth University.
"Why go into debt just to sit in a room and do all my classes through Zoom?" Davis said. "It didn't make sense to all our students."
There are benefits to filling out FAFSA of which most students aren't aware. FAFSA enables a student to receive state and institutional aid, too. But it's often a limited amount of money, and the students who complete their form first are the ones who get the money. Plus, students can have a better shot at being accepted to a college if the college knows the student's financial situation.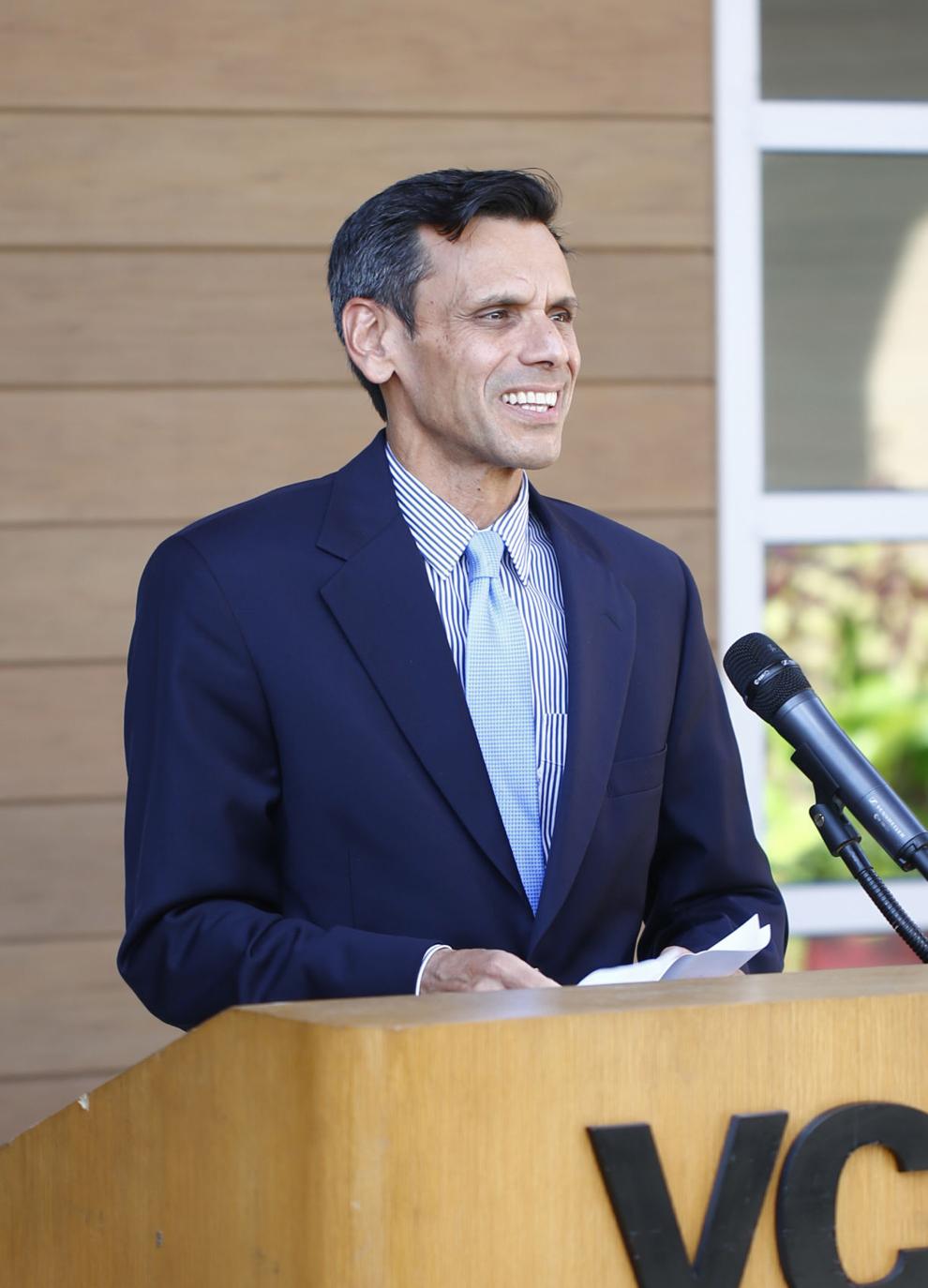 College enrollment has dropped, too
After FAFSA rates declined last year, a lower college enrollment followed this year. Undergraduate enrollment at Virginia colleges and universities is slightly below the 2020 level and down 2% from 2019.
At VCU, there are about 29,000 students this semester, down 2% from last year and 4% from before the pandemic. President Michael Rao said last month that the lower number of students was a lingering effect of the pandemic's financial impact on low-income families.
Not all colleges saw their enrollments drop this year. Some of the state's most prestigious universities — the University of Virginia, the College of William & Mary and Virginia Tech — received record numbers of applications.
Students who have been on the college trajectory since middle school are probably still on that path, said Allison of SCHEV. But students who are on the fence have a lot of reasons to choose employment over school. The job market is rebounding, though not all jobs have returned. Workers have more flexibility and are earning a higher minimum wage. Eviction protection is gone. Increased unemployment insurance has expired.
The result: fewer FAFSA applications and fewer low-income students attending college.
What needs to be done
The wheels are already in motion to improve Virginia's lagging FAFSA completion rate. Last month, the state received a seven-year, $25 million federal grant called Gear Up to increase access to higher education and jobs training.
The grant will provide high school counselors with better training for completing FAFSA. Davis said she never learned about it in her graduate course work to become a counselor, and everything she teaches students comes from her own experience. It will also provide platforms for families to access, like a one-stop website with resources, a calendar and video modules.
Northam also convened a work group in March, of which Davis was a member. The governor has set a goal of every eligible student in Virginia completing a FAFSA each year.
The working group suggested establishing an advisory board to take charge of the effort and a statewide dashboard to track school completion rates. It suggested setting statewide goals for completion rates.
It also suggested making sure every high school student has access to a college adviser. High school counselors often serve hundreds of students and juggle academic and behavioral issues in addition to college planning.
A single website for FAFSA resources, data and frequently asked questions — which other states have — also would be a boon.
The General Assembly allotted $250,000 called Guidance to Postsecondary Success in part to fund a new position to work on college access, bridging the gap between the Virginia Department of Education and SCHEV. Allison said he believes this is the first time the state has ever funded college access.
SCHEV will recommend money to be spent in the next budget on more high school counselors and more FAFSA-related resources for parents.
Parents need to be put at ease, Davis said. FAFSA asks how much money you have in savings and how much property you own, and it needs to be explained why parents have to share such personal information.
"Our kids need a plan for after high school," Davis said. "The FAFSA plays a major role for some of the opportunities that are out there. Students just have to complete it."
On Oct. 1, FAFSA opened for high school seniors who will graduate next spring.
At Buckingham, Scott started hosting FAFSA Fridays where students can come get help with their form. Students who finish this month will be entered into a raffle to win an Amazon gift card.
It's a lot easier working in person. Last year, Scott hosted a drive-in event where parents parked their car in the student lot and staffers went car to car to help as students and parents filled out their forms.