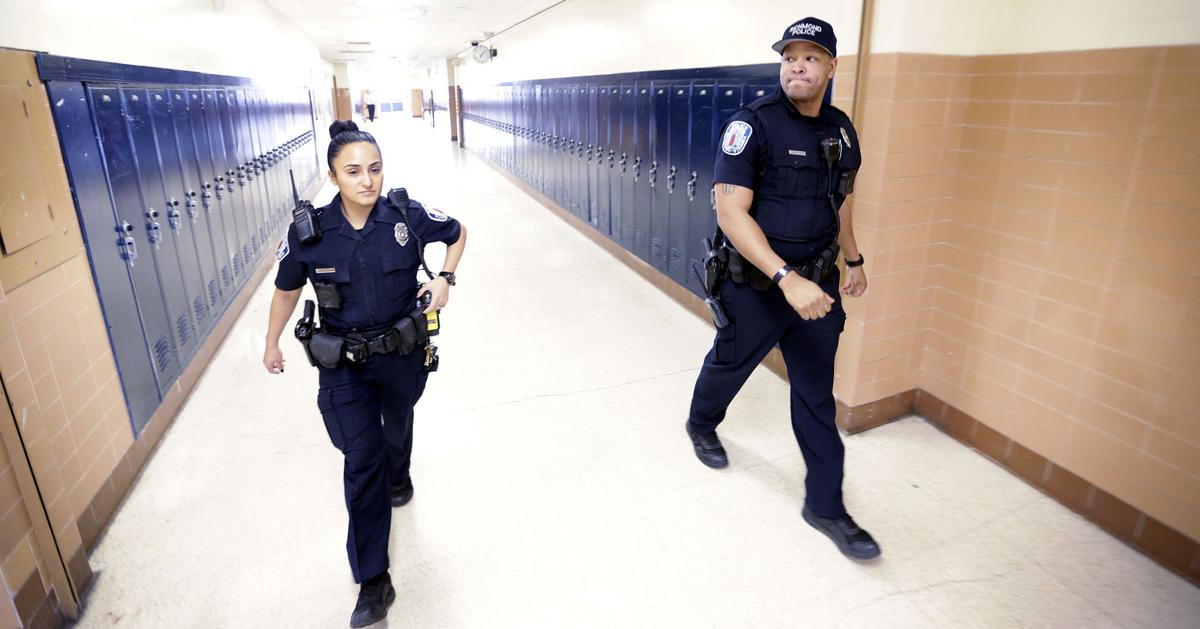 A majority of Richmond Public Schools students and teachers believe police officers embedded in schools have a positive effect on their environment, according to a Virginia Department of Criminal Justice Services survey that was to be presented to the Richmond School Board on Monday.
The survey results come a little less than a month after Superintendent Jason Kamras announced he would recommend that police officers be removed from the city's schools, pre-empting a 90-day review his administration initiated as unrest over police brutality and racial injustice swept the city.
School Board members polled ahead of the meeting had mixed opinions about the presence of the officers. Only board members Liz Doerr and Kenya Gibson have publicly said they want police out of schools. Doerr also said she wants to discuss removing school security officers as well, something Kamras said he does not support.
"Having SROs in our schools makes it too easy to connect normal adolescent behavior to the criminal justice system," Doerr said. "I think there's a lot of troubling language within our [memorandum of understanding with the Richmond Police Department]. You find the word 'arrest' 13 times ... we need to find our students accountable but hold them accountable by keeping them in school and not referring them to law enforcement."
Kamras' declaration came on the heels of a student-led town hall where youth selected to participate said they didn't want police in schools. Many teachers, staff and several school-based police officers have sharply criticized the timing of the announcement — the 90-day review is slated to end next month — and said their voices haven't been heard.
Among concerns voiced by board members, who ultimately will decide what happens with the 13 officers stationed at middle and high schools across the system: how, exactly, would mental health officials fulfill their duties, as Kamras has proposed?
"So now you're going to train counselors how to physically restrain someone? You think your word is going to keep someone from restraining someone?" said Patrick Sapini, who represents the 5th District. "The data doesn't support his decision. It was way too premature."
Kamras has yet to release a plan outlining the removal and replacement of the officers. Kamras said he understands both sentiments of students who say they feel over-policed and teachers who feel scared without the SROs there. Most teachers polled by DCJS reported either somewhat or strongly agreeing that school-based police make them feel safer.
"One of the things I've been thinking about is [whether] there's a middle-ground approach," Kamras said. "Is there a way to address both the concerns about policing in schools and hear the voices that have indicated support?"
School Board member Jonathan Young, who represents the 4th District and is not in favor of removing SROs, said it's important that children not feel over-policed in the schools. But he has concerns about physical safety.
"There is a very legitimate concern in this country relevant to school shooters," he said. "In my tenure on the board, we've had some incidents, particularly in after-school or extracurricular activities involving a gun that were never made public."
He also said it's imperative that police officers have a good relationship with students and in the community.
"It seems to me that our job is to facilitate meaningful relationships," Young said. "That's all the more reason to facilitate positive relationships with law enforcement. It's important to have those role models in the buildings."
Most middle and high school students polled by DCJS said they'd never spoken to their school-based police officer.
Cheryl Burke of the 7th District said her stance on having police in schools is becoming more nuanced. At one point, she was against the complete removal of SROs, but now says that given the moment of racial reckoning the country is in, there may need to be reconsideration.
"There are good police officers and then there's not so good police officers," Burke said. "In light of what's going on now in our community, we're going to have to have someone to replace that energy. We need someone else to be mindful about why we even had resource officers to begin with."
The Minneapolis School Board ended its contract with the local police following the death of George Floyd at the hands of a Minneapolis police officer. Since then, at least four other school districts across the country have dismantled their relationships with their local police.
In Virginia, Charlottesville's School Board voted to end its contract with the local police department.
Kamras has said he struggles with the role RPS has played in referring students to law enforcement.
In the 2019-20 school year, police made 121 student arrests — 50 of those were for simple assaults, which documents obtained by the Richmond Times-Dispatch have revealed themselves to be fights often between students. In 37 of those simple assaults, according to RPS, a student was the victim. In the other 13 cases, staff members were listed as the victims.
Also on Monday, the Richmond School Board voted 7-2 to renew a contract with Camelot, the agency in charge of Spartan Academy, the city's alternative school.
While there has been concern from some board members about renewing the $1.68 million contract, the fear of sudden job losses for the staff members at the agency drove the administration's recommendation to maintain the contract.
Gibson and board member Scott Barlow of the 2nd District cast the dissenting votes.