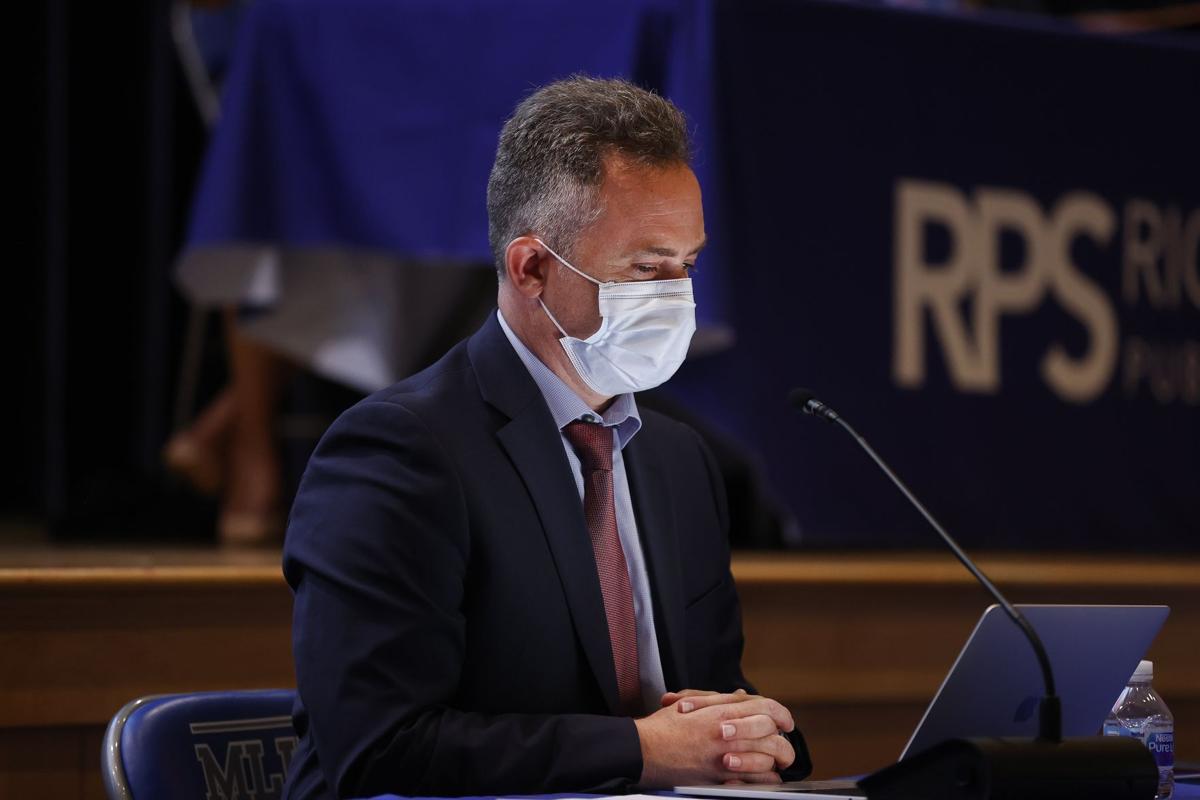 The Richmond School Board barred Superintendent Jason Kamras from docking pay or firing teachers who failed to comply with the district's COVID-19 vaccine mandate as long as they agree to weekly COVID testing by the school system.
The measure, introduced by Vice Chair Jonathan Young, was approved in a 6-3 vote Monday night, with Liz Doerr of the 1st District, Cheryl Burke of the 7th District and Dawn Page of the 8th District dissenting.
Before the vote, Kamras said he stood by his decision to mandate the COVID vaccine for the safety of students.
"A mandate isn't a mandate if there are no consequences," he said. Kamras also noted that the mandate increased the vaccination rate exponentially — 92% of the district's staff is vaccinated, according to a presentation from RPS.
On Monday, however, the School Board approved 29 resignations of staff, most of which were driven by the vaccine mandate, RPS' chief talent officer, Sandra Lee, told the board.
Kenya Gibson, the 3rd District representative who in August supported the superintendent's recommendation to mandate vaccines, said that while she still supports it, she feels the administration never made the progressive discipline plan clear.
"I ... feel like we didn't get a plan on how to make it work. We have a crisis with staff leaving," Gibson said. "More than one school in my district, there are teachers leaving in the middle of the year, and it has nothing to do with vaccination and everything to do with demands in the classroom."
The Richmond School Board, in an 8-1 vote in August, approved a recommendation from Kamras to require the COVID vaccine, knowing that it would come with a progressive discipline plan that could lead to termination — and Kamras made that clear when he made the recommendation over the summer.
Kamras' administration began docking pay for teachers who were out of compliance with the mandate on Nov. 1, the same week he closed schools for a mental health week for teachers. On Monday, he also said he understood where the board was coming from. In an interview on Tuesday, Kamras said he was worried the district wouldn't reach its goal of 100% vaccination.
"I think the consequences, however painful they are, have had an effect," he said. "We went from 37% vaccinated to 92% vaccinated, and I don't think that would have happened without those consequences."
Mariah White, the 2nd District School Board member, said she didn't understand how docking pay would incentivize those who needed to get the shots.
"The shot has kept our children safe, but I'm not understanding what pay has to do with it. How does that help anyone? Taking someone's pay. That doesn't make them want to go and take a COVID shot," she said.
In August, White suggested weekly testing as an alternative for those who didn't want to get the shot.
Richmond Mayor Levar Stoney on Tuesday sharply criticized the School Board for weakening the city's vaccine mandate, calling the governing body a "dysfunctional" one and their actions "unacceptable" and "irresponsible."
"You cannot enact a public health mandate and then tear out the teeth of that mandate," Stoney told reporters at City Council's chambers. "The School Board now is asking for 29 individuals out of roughly 3,000, 'pretty please get the vaccine.'"
More people have resigned than the majority of 29 who resigned on Monday. RPS has been letting teachers out of their contracts because of the vaccine mandate since September since the board approved the mandate after they signed their contracts.
The Richmond Education Association, the local teachers union that is currently pushing for collective bargaining agreements, has said it does not agree with progressive discipline that can lead to termination, and it suggested weekly testing, the same as White.
Kamras said in August that he wasn't considering weekly testing because it wouldn't raise the vaccination rate. RPS has signed up for VISTA, a weekly testing program for schools. Kamras said it has taken a long time for documentation to be fulfilled.
In the past month, the 10-to-19 age group had the highest COVID-19 case rates in Richmond. The Virginia Department of Health advises weekly testing for unvaccinated students and school staff as a key mitigation strategy against COVID. Most public agencies that have mandated COVID vaccines have also given employees weekly testing as an alternative, including the governor's office, which is also in Richmond. The week ending on Oct. 30, unvaccinated people were seven times more likely to be infected.
Doerr, the 1st District School Board member, criticized her colleagues who voted in favor of the change to the progressive discipline plan since they all knew it would exist.
"I'm confused by this motion because eight of us voted for this mandate," Doerr said in a statement. "A mandate isn't just getting a shot in the arm but it's about the progressive consequences that we all approved for not following the mandate. The reason why there were consequences was to make sure we met our 100% vaccination goal. That's what a mandate is."
(804) 649-6948
Staff writer Sabrina Moreno contributed to this report.