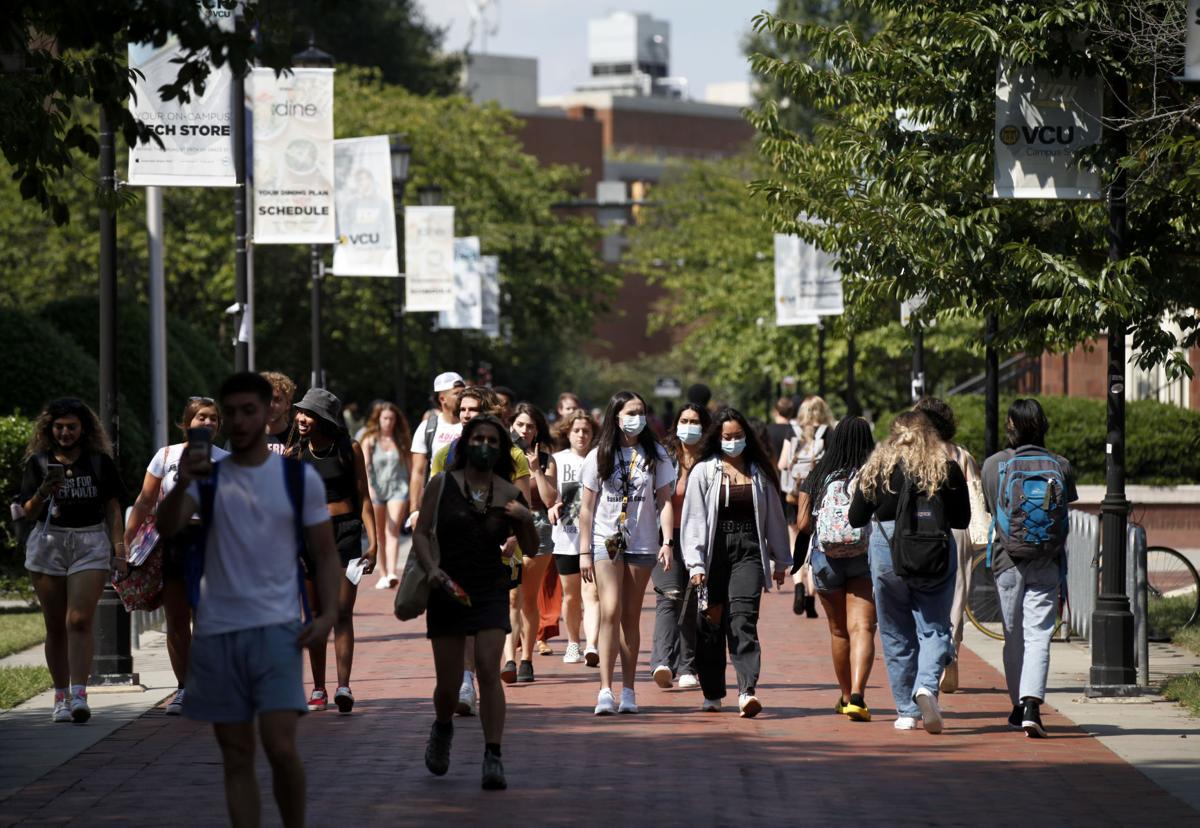 Colleges throughout Virginia announced vaccine mandates this summer, seemingly requiring all their on-campus students to be immunized against COVID-19. Thirty-one colleges in the state have done so, according to the Chronicle of Higher Education.
When Virginia Commonwealth University announced its decision in June, it said all students who come to campus would have to be vaccinated.
But there are loopholes that allow some unvaccinated students to attend in-person classes and live in residential facilities, in addition to the students who were granted medical or religious exemptions. As the first week of college classes come to a close, it's clear that some vaccine mandates are being treated by schools more like recommendations.
At VCU, the administration isn't removing students who don't comply. At the University of Richmond, a student can ask for an exemption based on a strongly held personal belief. At Virginia Union University, it is unclear if the university is checking students' vaccination status.
A loophole "goes against the spirit of the requirement" that students be vaccinated, said Del. Mark Keam, D-Fairfax, when asked about the topic last week. Keam is head of the House subcommittee for higher education.
When VCU announced its mandate, 500 colleges nationwide had already done the same. VCU administration said the decision would "allow our students to safely learn, live, gather and experience college at its best." The university later announced it would require employees to get the shot, too.
But VCU hasn't removed noncompliant students. It placed a hold on their accounts that prevents them from adding or dropping classes. If the student assembled his or her schedule before June and doesn't need to alter it, he or she can attend class unvaccinated this semester. The hold prevents students from enrolling in classes for the spring 2022 semester.
Asked why VCU didn't remove noncompliant students, as other universities are doing, a VCU spokesperson did not respond.
There are almost 1,000 VCU students, or about 3% of the student body, who had not registered their vaccination as of Wednesday, a day after the semester began, according to the university. It's possible these students are living in campus facilities and taking in-person classes; 4% of students have received a medical or religious exemption.
Every school, business or government that has mandated vaccines has allowed exemptions for medical and religious reasons because federal law requires them. UR added a third exemption, a personal request "based on personal convictions strongly and sincerely held by the person seeking the exemption."
"Some, for example, may be distrustful of the health care system based on their own experiences, that of family members, or knowledge of any number of examples of racial injustice in our health care system," said Sunni Brown, a university spokesperson.
The percentage of students who sought personal exemptions is small, Brown said, but she declined to specify how many.
UR announced in the summer that it would mandate vaccines as soon as one vaccine became fully approved by the Food and Drug Administration, which happened last week when the FDA gave the Pfizer vaccine its full backing.
But when asked if the university would remove students who still aren't vaccinated, university spokesperson Cynthia Price wouldn't commit to it, saying: "We will consider appropriate action under our existing conduct policies should members of our community not comply with the vaccine requirement."
About 94% of UR students had the shot as of Tuesday.
Virginia Union University announced in late July that students should be vaccinated two weeks before arriving on campus. A school spokesperson said the university hasn't removed any noncompliant students, but she did not respond when asked if VUU was checking to make sure its students were vaccinated.
Some universities in the state enforce their mandates more strictly. The University of Virginia disenrolled 238 students, or less than 1% of the student body, who did not report their vaccination status. It's unclear if all 238 intended to return to the university, a spokesperson said, because only 49 of them registered for fall classes.
Virginia Tech did not allow noncompliant students to enroll this fall, though students had until the end of the day Friday to change their mind, a university spokesperson said.
The College of William & Mary has withdrawn 33 degree-seeking undergraduate students and nine graduate students, a spokesperson said. Among those students, 12 of them were registered for classes.
It's impossible to know how many students left William & Mary because of its vaccine mandate, but 11 students did tell the university they were transferring because of the mandate.
Virginia State University is requiring students to submit their vaccination status by Sept. 1. Those who do not will be given a warning, a VSU spokesperson said. Those who still don't report their vaccination may be removed from dorms and forced to take classes online.
Virginia Tech, William & Mary and UVA have more flexibility to enforce mandates because they are flush with students this year. All three schools saw large jumps in applications last spring.
Virginia Tech received 42,000 of them, a 36% surge from the year before. William & Mary's applications rose 23%, and UVA's grew 17%.
VCU didn't see a rush in applications. It is expecting a fall enrollment of close to 28,000, about 3% below the budgeted projection. Not all universities have announced their application numbers yet, and the State Council for Higher Education won't compile them until this fall.
But risking revenue to enforce COVID protections isn't unique to colleges, Keam said. Every business that requires its employees to be vaccinated or its customers to wear masks risks losing money. The companies that enforce COVID protection rules, Keam said, will build a reputation that allows them to be successful in the long term.
Keam has two kids in college, and he respects schools that are requiring vaccines, because it means the college is committed to keeping students safe. If a school is cutting corners on vaccines, he wonders if it is also cutting corners on drinking, drugs or sexual assault.
"It all goes to show that if a school takes one thing seriously, they take everything seriously," Keam said.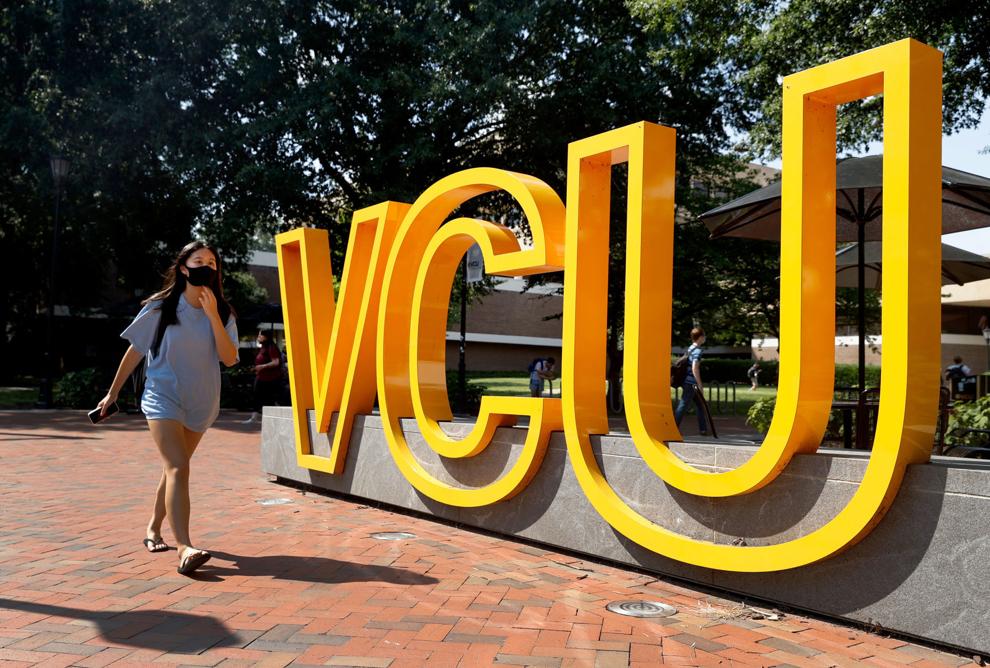 At VCU and UR, greater than 90% of students are vaccinated, and getting a few more percentage points "is probably not a deal breaker within a specific group," said Lisa M. Lee, a professor of public health at Virginia Tech.
Health officials initially believed that 75% of a population vaccinated would achieve herd immunity, but facing the more contagious delta variant, those numbers no longer apply, Lee said. Now, 90% to 95% of a population will need to be vaccinated to ensure the safety of the community.
The problem is college campuses aren't closed communities. Students leave school and interact with the lower-vaccinated communities around them. With lower vaccination rates there, spread is more likely to happen, Lee said.
Unvaccinated VCU students must undergo regular testing and complete a daily health check on an app called Entry Pass. Students who are vaccinated or who have undergone testing and a health questionnaire receive a green check mark. If a student doesn't have a green check mark, he or she can be denied access to campus buildings.
A VCU spokesman did not know how often testing must occur.
Faculty teaching face-to-face classes can ask their students to show their Entry Pass to prove they are in compliance, said Jon Becker, a VCU professor of education leadership. But professors often don't want to be the enforcers.
If a professor encounters a student who is noncompliant, the professor is supposed to report the student, Becker said. But not all faculty are comfortable doing so.
Given that 90% of students are vaccinated, the way VCU is handling unvaccinated students is sensible, Becker said.
Mohamed Baltaji, a junior at VCU, said it doesn't bother him that a small percentage of the student body is unvaccinated. Baltaji himself is vaccinated, so he considers himself more or less protected.
But Jayson Makori, also a VCU junior, said allowing a few students to go unvaccinated encourages others to flout the rules. The university could put unvaccinated students in the same residence hall or require them to take online classes to keep the rest of the student body safer.