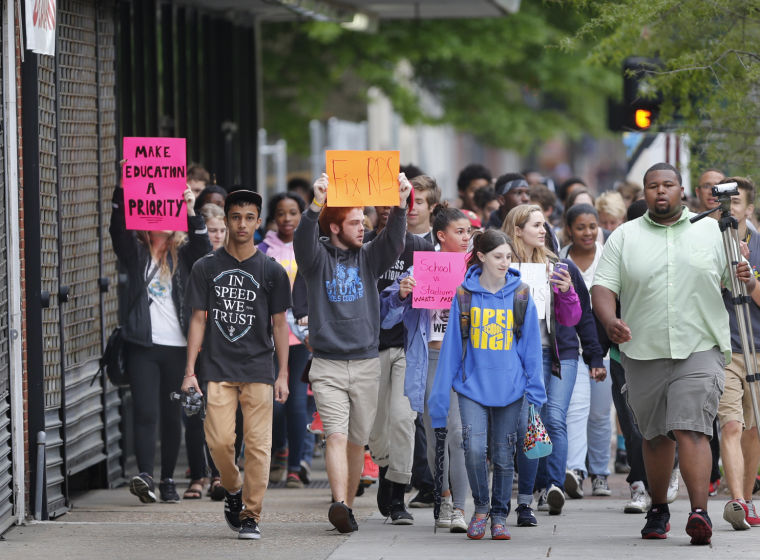 Nearly 150 Open High School students walked out of class Monday morning and marched to City Hall to protest poor school conditions in Richmond, earning a steady chorus of honks from passing motorists and, just as they were about to return to school 2½ hours later, a surprise meeting with Mayor Dwight C. Jones.
"When I saw you standing out here, I thought I'd invite you in," Jones said on the Broad Street side of City Hall, where he and several of his top aides briefly joined a group that had grown to include students from at least five schools.
The group filed in and engaged in a 30-minute question-and-answer session with the mayor.
"When you have the desire to talk to me, I'm always open," he said.
The students spelled out their grievances — generally speaking, the decrepit state of city schools and the lack of funding to fix them — and peppered the mayor with questions about a proposed baseball stadium in Shockoe Bottom, the Redskins training facility, his commitment to schools, and his ability to get them on the night's City Council agenda.
The students were not easily assuaged.
The more the mayor spelled out his plan for using economic development to drive economic revitalization, the more the students dug in.
One student accused Jones of talking around issues rather than answering questions.
"I am answering the questions," Jones said. "They might not be the answers you want. If you want more money, it has to come from somewhere."
Jones told the students the real catalyst for change should be school officials, none of whom participated in the march.
"I am not in charge of schools," he said. "City Council is not in charge of schools. The School Board is in charge of schools. They have to make their needs known."
He said he was looking forward to seeing plans from school officials for long-term capital improvement needs.
Jones congratulated the students for their civic engagement and thanked them for accepting his offer to talk.
"I'm willing to listen, but I hope you're willing to listen as well," he said.
Before Jones' surprise appearance, the march was petering out with no participation from anyone from the school system, the City Council or the mayor's office.
The Open students and a handful of adults made the walk from their Oregon Hill school in an orderly fashion, with two unmarked police cars accompanying the group.
Once at City Hall, the students circled the building several times, then stretched out enough to encircle the building. Every 15 minutes or so, they circled again, making sure to not block the stairs or the sidewalk.
Some held signs with messages such as "Fund schools not stadiums" and "Fight for schools," and the group as a whole drew the support of the scattering of people around City Hall.
A man at a bus stop on the 10th Street side cheered them on, saying, "I love it. I'm with you." An occasional city employee ventured outside for a look.
Levi Bane and Isabella Arias, seniors at Open, said the idea came up after students read media reports about conditions at city schools.
"We just wanted to make a statement," Bane said. "It's not so much our school as other schools in the city. We're hoping to bring some attention."
Senior Kelvin Tyler led the charge with a video camera, taping the march as it moved north on Belvidere to Broad Street, then east to City Hall.
"We've shown effort," he said. "We've shown we're serious."
The students met last week with their principal, Peter Glessman, and Superintendent Dana T. Bedden. They were told there were other ways to protest but, several students said, no one blocked their exit from the school Monday.
By policy, Glessman can request a parent conference because of an unexcused absence, but it seemed unlikely with about three-quarters of his students participating in the protest. He did not return messages left at the school.
Mostly, the students were left alone Monday. The only members of the school administration present were keeping an eye on the procession, but they were not engaged in the march.
No one from the School Board was present, either.
"I think it's amazing anytime young people can be engaged in local politics and advocacy," said School Board Vice Chairwoman Kristen Larson, 4th District, whose plan to attend was scuttled by a family issue.
"For them to have that awareness I just think is really impressive."
City Council member Parker C. Agelasto, whose 5th District includes Open High, spoke with a group of students as he was getting to City Hall for the day's council meetings.
"Keep it up," he told the students. "Hold us accountable."
The students left in good spirits but not blind to the battle they face.
"We'll see how this goes," Bane said as he left the City Council chamber.
​zreid@timesdispatch.com
(804) 775-8179