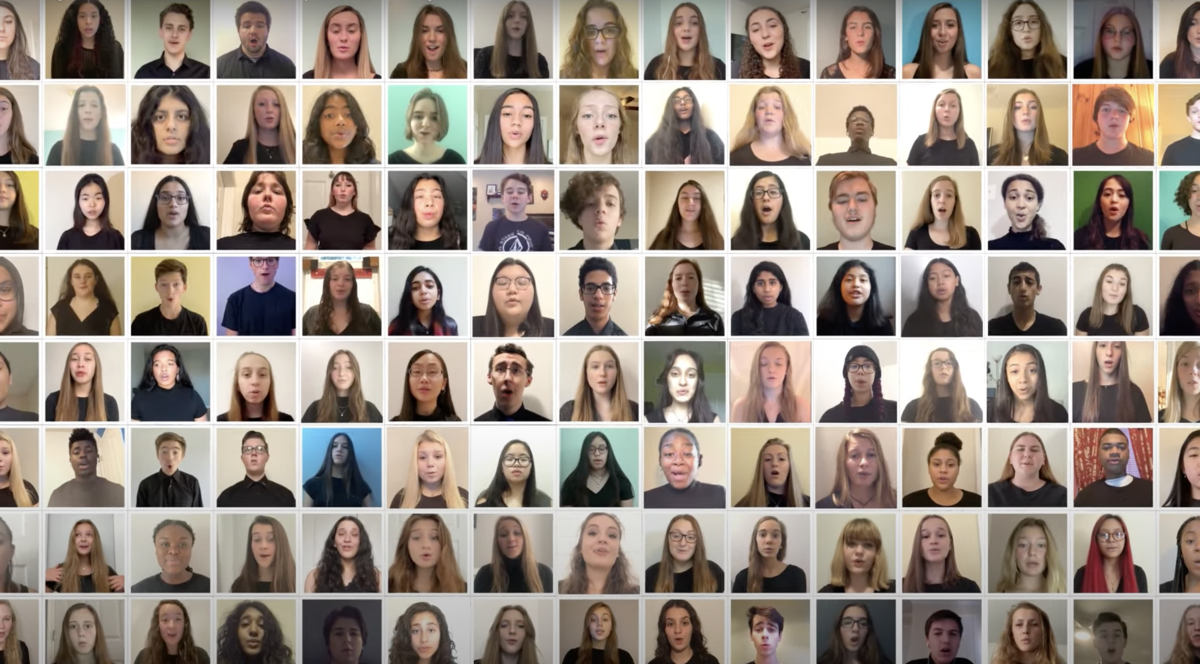 In the year following a national reckoning on race and systemic racism that is long from over, more than 500 Henrico County Public School choral students came together online in a rendition of Simon & Garfunkel's "Bridge Over Troubled Water," to make their voices heard.
The project was born last summer amid a desire to provide connection and community for students who'd abruptly ended their year virtually, said Sherri Matthews, Glen Allen High School's choral director, who planned the event alongside the district's music specialist and other high school choral directors.
"Our city and our nation needed to hear that message [of the song] of coming together beside each other," Matthews said of "Bridge Over Troubled Water," which each student recorded themselves singing. "No matter your belief, your gender, your culture or whatever, we need to be there for each other in community."
The teachers chose Lauren Relaford, a senior at Glen Allen High, to introduce the project.
Relaford, 18, said the timing of the video's release — the week marking George Floyd's murder by Minneapolis Police — was meaningful.
"A lot of people were hurting then and are still hurting," Relaford said. "Some people haven't been able to process George Floyd because there are too many people to name who have been hurt by police brutality since. It's hard to process emotions when you can't see a real end or justice."
Relaford said in the introduction that the song is extremely relevant for America and also Henrico County in this moment. She hopes the song will help people process their emotions, find inner peace, and speak up.
In the spring of 1969, Paul Simon penned what would become one of the duo's most well-known songs after listening to Black gospel group the Swan Silvertones' version of "Oh Mary Don't You Weep," where member Claude Jeter improvises the line: "I'll be a bridge over deep water if you trust in my name."
Jeter's line inspired Simon to write "Bridge Over Troubled Water." The two met a few years later.
Released in January 1970 and featured on the duo's fifth studio album of the same name, "Bridge Over Troubled Water" went on to be covered by the Jackson 5, the Supremes, Elvis Presley, and others by the end of the same year. Aretha Franklin's 1971 rendition is among the most famous.
As Art Garfunkel, who sang the vocals, put it: "I took it to mainstream radio. Then Aretha so brilliantly brought it back to church."
The Henrico students, representing each of the district's nine high schools, recorded themselves singing from their bedrooms, kitchens, the outdoors and some sent in audio-only recordings.
Universal Music Publishing Group gave the school system the rights to use the song at the cost of $1. A media production firm based in Tennessee, 5:01 Studios, volunteered to combine all of the student's videos for one cohesive recording.
The Henrico Education Foundation, the Harmony Foundation International, a singing nonprofit, and individual donors donated the funds for an engineer to complete the video portion of the project.
Relaford, who also competes with the high school's forensics team focusing on poetry, has used her voice to speak up about womanhood, body image and body positivity. This year she performed pieces from Aja Monet and Maya Angelou about the transition of Black girls into Black womanhood.
"I hope people try to focus on our similarities more than our differences. … Even though we have gone through times that divide us, through all of that we are all human, we deserve community, support and love and we can give it to each other," Relaford said.
Twitter: @jessmnocera
Twitter: @jessmnocera