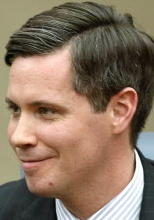 A Richmond parent has filed a lawsuit against the city's School Board over elementary school rezoning that went into effect Tuesday.
In a 50-point petition filed in Richmond Circuit Court, Kimberly J. Jones alleges the School Board acted in a racially motivated manner to protect white enrollment at certain schools at the expense of minority-dominant schools, including Clark Springs, which her daughter attended until this year.
The School Board member most directly targeted in the lawsuit — five of the nine members were named — called it a sideshow that detracted from other work the board is trying to do.
"I understand it's an emotional subject, but at the end of the day, we had to do the responsible thing," said Glen Sturtevant, 1st District.
"Rezoning is never easy, and you're never going to make everybody happy," he said. "But having chronically under-enrolled schools, year after year, is what led to (constant budget struggles)."
Earlier this year, the board, on a 9-0 vote, agreed to a plan that closed one elementary school, Clark Springs, and shifted attendance zones at several others.
After that, the board held two public hearings, one more than was legally required, and discussed the issue at great length in months worth of meetings before voting on a final plan in early August.
The lawsuit asks the court to set aside that rezoning plan and return all affected students to the schools they previously attended. The move would require the school system to reopen Clark Springs and would involve students in at least a dozen schools.
The School Board was notified of the lawsuit during the public comment period of its Tuesday work session.
Jones spoke to the board, as she has done in recent months during the public comment part of meetings, and thanked them for their service but didn't mention the lawsuit.
The next speaker, Greg Day — a one-time candidate for the 5th District seat on the School Board and a confidant of the current member, Mamie Taylor — made the announcement on behalf of a group called Richmond Coalition for Quality Education.
Several other speakers, including former 5th District City Council Member E. Martin Jewell, who lost his seat in November, spoke on behalf of the lawsuit.
School Board Chairman Jeffrey Bourne, 3rd District, said Wednesday that he received a copy of the lawsuit after the meeting and had read it but couldn't talk about it.
"I can't comment because it's pending litigation," he said.
In the lawsuit, Jones claims that the board in general and three members in particular — Sturtevant; Kimberly Gray, 2nd District; and Kristen Larson, 4th District — engaged in a series of secret meetings in an attempt to keep certain schools white.
"Unhappy with the outcomes of the 2012 approved rezoning map, several groups of parents, living in or near the zones of elementary schools with predominantly white students … began pressuring School Board members, specifically new member Glen Sturtevant to reverse course and serve their needs above all others," the complaint states.
Sturtevant is the main target of the lawsuit, with Gray a close second. Larson is mentioned in passing as the recipient of "political cover." Bourne and Derik Jones, 8th District, are also mentioned by name.
Four board members — Taylor; Shonda Harris-Muhammed, 6th District; Vice Chairman Donald Coleman, 7th; and Tichi Pinkney Eppes, 9th — were not mentioned but are party to the lawsuit because of their membership on the board.
Jones' complaint says Sturtevant "began a unilateral, secret email campaign to develop a zoning plan and map that would benefit white families in his district and negatively impact the rest of the school district."
Sturtevant vehemently denied the claims in the lawsuit, saying the process was open to the public and conducted in accordance with state law.
"A historical perspective is important here," he said. "We as a board agreed to close schools to close a $1 million budget gap. Then we were stymied at the eleventh hour.
"The majority of us took it on ourselves to get past that," he said. "It's unsustainable to continue running 50-plus schools.
"We essentially took what the prior School Board had done and make tweaks to that plan. We came up with a plan and vetted it for months."
Sturtevant, the father of two biracial children, also took issue with the idea of being labeled racist.
"It's unfortunate and it's not constructive," he said. "But from what I've seen in the eight months I've worked in City Hall, it's not very surprising."