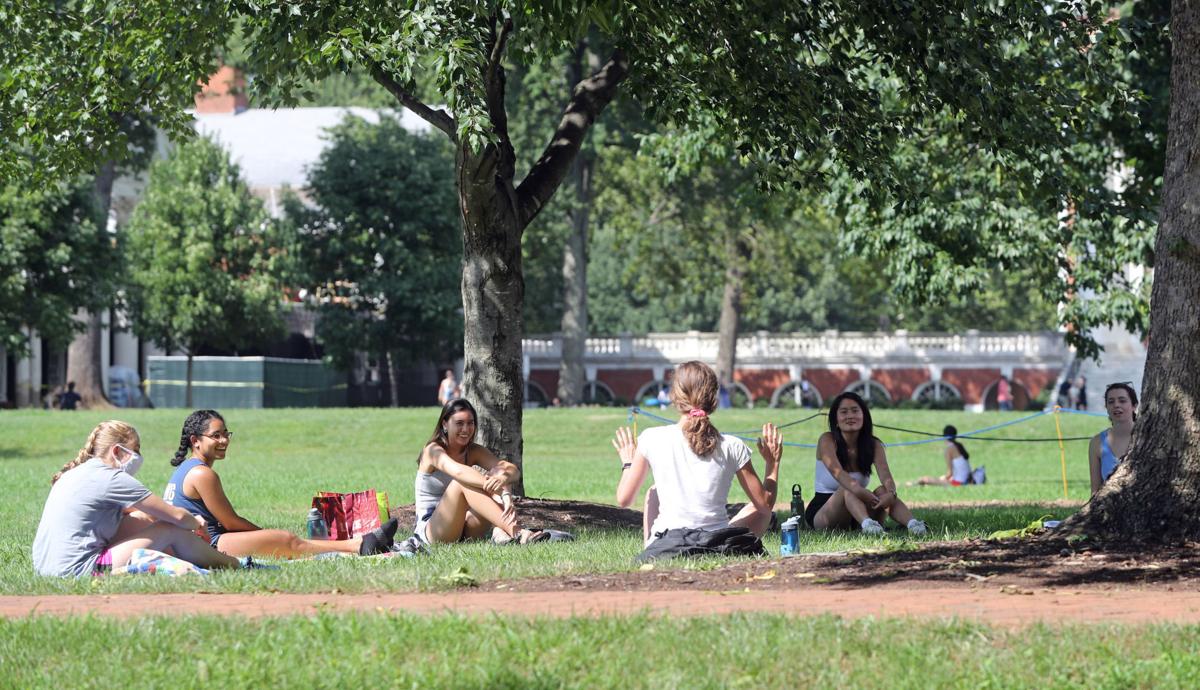 While Black and Latino residents make up 34% of the college-age population in the state, far fewer are enrolled in Virginia's colleges, according to a report published last week by a Washington-based think tank.
Only three public universities in the state enroll Black and Latino students at a rate equal to the state population: Norfolk State University, Virginia State University and Old Dominion University. Norfolk State and VSU are historically Black universities.
The report by Education Reform Now used racial-identification and Pell Grant data from each university to determine that most of the state's four-year universities have a smaller share of Black and Latino students than the state population. And five Virginia colleges have among the lowest rates in the nation at enrolling Pell Grant recipients, which are given to students from low-income families.
At Virginia Tech, 10% of undergraduates identify as Black or Hispanic. At James Madison University, 10% do. At Virginia Military Institute and the University of Virginia, it's 13%, according to admission figures reported by each school from 2016 to 2018.
Altogether, Black and Latino students make up 25% of Virginia public college undergraduate populations, and 22% at private colleges. But they are concentrated at a handful of universities, leaving most of the state's colleges below the average. At Virginia Commonwealth University, 19% of undergrads are Black and 9% are Latino, just below the state average.
The report found the same trend in the state's private schools. Among those schools, the report singled out Washington and Lee University, where in 2020 the number of Black freshmen admitted from the state of Virginia was four. Two years prior, it was one.
The authors of the report — Michael Dannenberg, James Murphy and Katlyn Riggins — call this "de facto racial segregation." They also found that students from lower-income families are underrepresented in many of the state's colleges.
"The best resourced institutions effectively shut out talented students of all races from working-class and low-income families," the report states.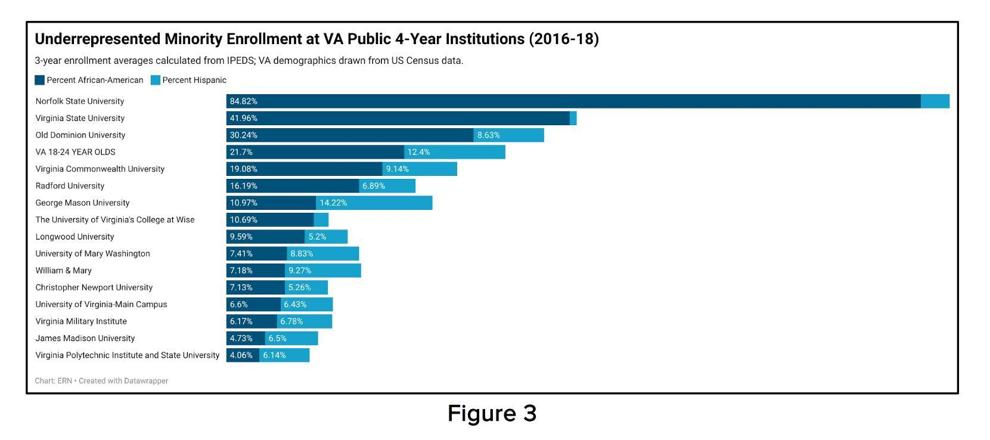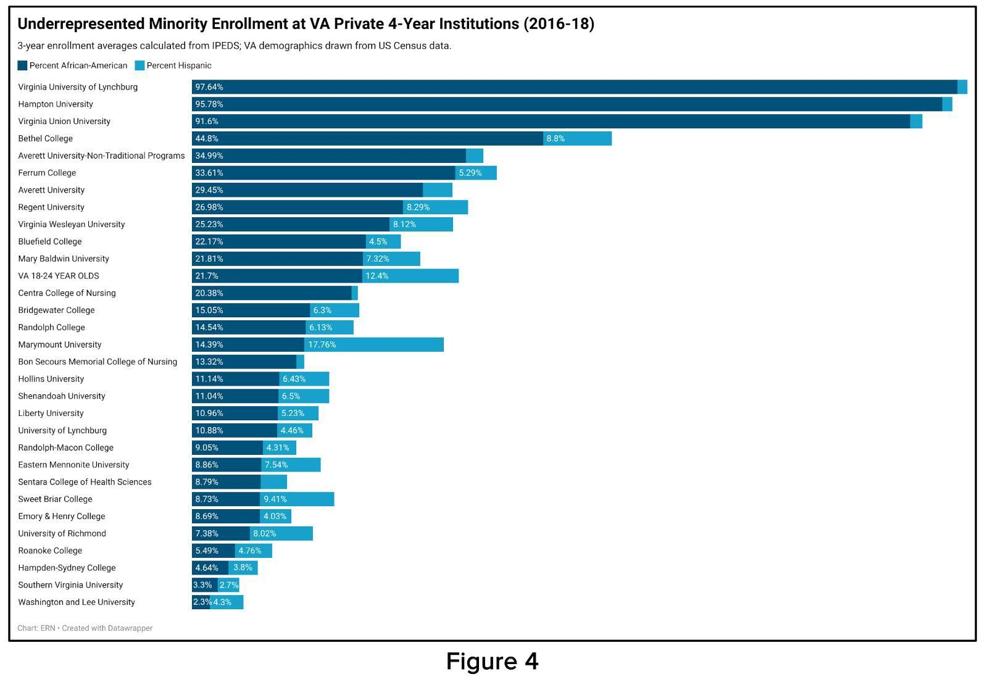 In Virginia, Black and Latino students are less likely to enroll in college than white students, according to the report; 70% of white students went to college within 16 months of graduating in the Class of 2018. But only 60% of Black students and 58% of Latino students made the same decision.
Black students more often head to for-profit schools that tend to offer certificates or focus on technical skills, and Latino students are more likely to choose community college, according to the report.
There are three private HBCUs whose student bodies are predominantly Black: Virginia Union University, Hampton University and Virginia University of Lynchburg. Those universities could reduce the share of Black students at other state universities.
But large, wealthy schools have the ability to draw Black and Latino students from all over the country and the world and could meet the share of the population if they wanted to, Murphy said.
Two Northern Virginia schools are the only ones in the state that enrolled more than the state average of Latino students, George Mason (14%) and Marymount University (18%); 12% of 18- to 24-year-olds in the state identify as Latino.
The report also looked at Pell Grants, which are typically given to students whose families make $60,000 per year or less, just below the median household income.
Virginia State, Norfolk State and Old Dominion enroll the most Pell Grant students. Five Virginia public schools are among the bottom 11 in the country for percentage of Pell Grant students as a share of the student body: William & Mary (12%), UVA (13%), Christopher Newport University (14%), VMI (15%) and JMU (15%). Those schools enroll fewer Pell Grant students than comparable colleges in other states, according to the report.
College in Virginia has become increasingly expensive. In the past decade, every public four-year school in the state has raised tuition 50% or more.
UVA covers tuition and fees for students from in-state families who earn less than $80,000. It meets 100% of the demonstrated financial need of undergraduates and offers admission to students without regard to their ability to pay, said university spokesman Wes Hester. Last year, UVA gave $133 million in need-based financial aid grants to undergraduate students through its financial program Access UVA.
Virginia schools do not always fare well alongside comparable institutions in other states, according to the report.
The University of Mississippi and the University of South Carolina have admissions standards similar to Virginia Tech. They also have three times as many Black students.
Some Virginia schools are growing their share of minority students. At VMI, the number of nonwhite cadets has grown 48% in the past eight years, and it grows each year, said school spokesman Bill Wyatt. Gov. Ralph Northam has ordered an investigation into the culture of racism at VMI, which is being conducted now.
"VMI is committed to providing our unique educational experience and continues to invest in diversity, equity and inclusion efforts for our cadets, faculty and staff," Wyatt said.
At UVA, the number of Black students enrolling as freshmen has increased 20% in the past decade, Hester said. The university's admissions office hosts open houses specifically for Black and Latino students, and it waives application and enrollment fees for low-income students. Black UVA students graduate at among the highest rates in the country, the university has said.
"Last fall, the university welcomed the most diverse class in its history," he added. "But we know we have more work to do and are focusing intently on strengthening the enrollment of Black students and others who have been historically underrepresented at UVA and other leading universities."
One statistic that is not included in the study is the number of Black, Hispanic and low-income students applying. Those statistics aren't published by the universities or state agencies, said Murphy, an author of the report.
That means it's difficult to tell if the problem lies more in students not applying or not being accepted. But it doesn't really matter, Dannenberg said. Universities shape their applicant pool by choosing where to recruit, where to offer financial aid, and the type of environment on campus.
"All of these things and more affect the socioeconomic and racial diversity of the student body," Dannenberg said.
UVA made acceptance offers last year to about 1,100 students who identify as Black or African American, according to The Washington Post. But only 24% chose to enroll, according to university data, which is far less than the university's yield for the entire class, which was 39%.
Increasing diversity has been a priority for the State Council of Higher Education in Virginia for at least the past two years, a spokeswoman said. In 2019, SCHEV started reviewing the way colleges are funded, following direction from the General Assembly.
Equity is the first of three goals the council lists for its universities, followed by affordability and a transformative experience for students. Its goal is for enrollment to reflect Virginia's population.