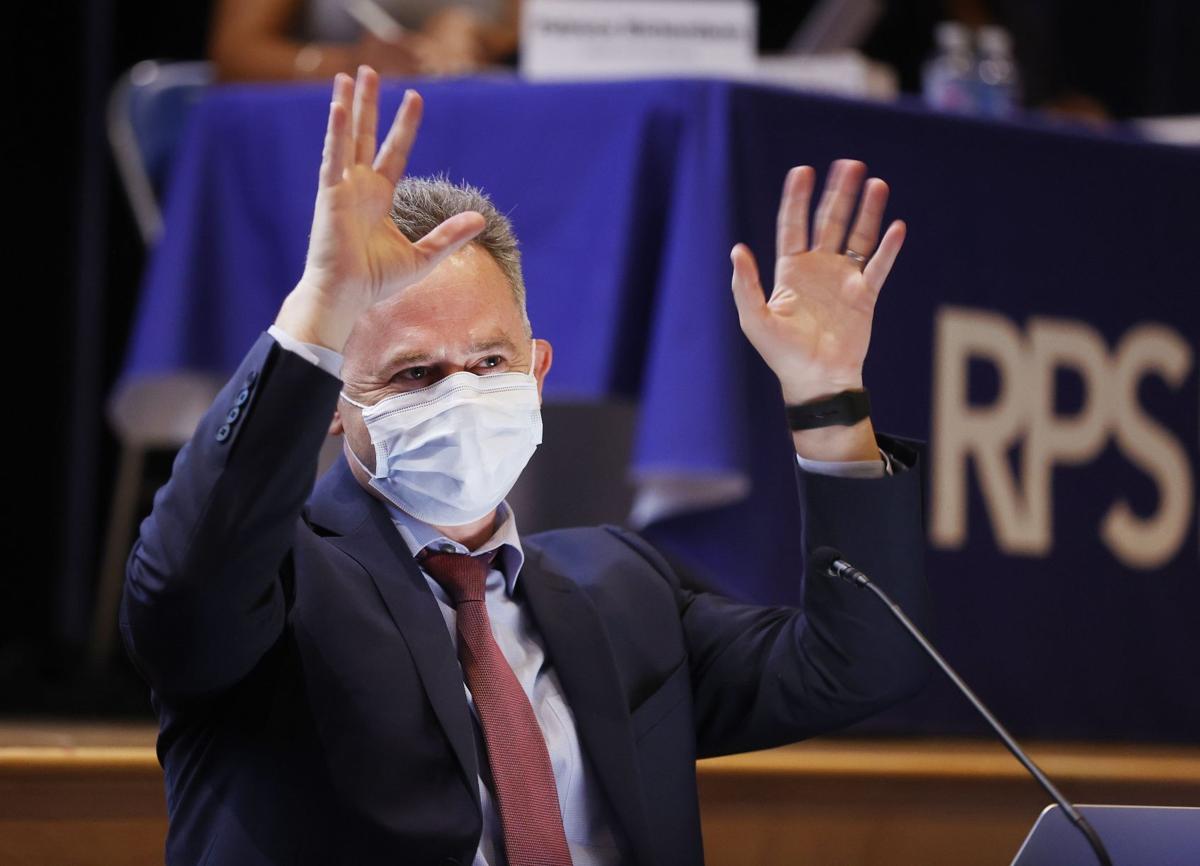 Richmond Public Schools has started its promised disciplinary measures for teachers and employees who are out of compliance with the COVID-19 vaccine mandate.
The unpaid one-day suspensions, which begin Monday, are part of a progressive discipline plan that Superintendent Jason Kamras said the district would implement for those who fail to comply. If employees continue to show signs of noncompliance, they will be suspended again on Wednesday.
Employees were required to be vaccinated by Oct. 1.
The city's government also has a progressive discipline plan, which can lead to loss of employment.
It's unclear how many suspension letters were sent to RPS staff, but Sarah Abubaker, a spokesperson for the district, said more staff members were beginning to show steps of compliance, which could mean getting vaccinated or securing a medical or religious exemption.
According to a presentation from the School Board meeting on Oct. 18, the latest date for which numbers were available, 506 employees were out of compliance with the mandate. Out of 4,460 employees in the district, 3,954 employees were either fully vaccinated or had secured a medical or religious exemption. Most of those in compliance were vaccinated, with just 164 employees having an approved exemption.
The start date for the suspensions has prompted questions from staff members about the motivation behind Kamras' decision to close schools the first week of November for the mental health of teachers. On Oct. 20, Kamras announced that the district would close for two additional days, in addition to the three already planned, which would give teachers a break for the entire week. The suspension letter, obtained by the Richmond Times-Dispatch, is dated for Oct. 21, the day after Kamras made the announcement.
Abubaker said in a statement that there was no correlation between the closure and the suspensions.
"[Human resources] selected November 1 as the beginning of the progressive disciplinary action long before the Superintendent's announcement," Abubaker said. "Furthermore, the Superintendent selected the addition of November 1 and November 3 as time off for the mental health of our staff, not because of RPS staff vaccine noncompliance, but because as a former teacher, he knew that week would be the least disruptive to classroom instruction."
In August, the Richmond School Board approved Kamras' recommendation to mandate COVID-19 vaccines, not long after Mayor Levar Stoney announced a COVID-19 vaccine mandate for city employees.
After Oct. 1, the district gave employees a two-week grace period to show proof of full vaccination, and said that afterward it would begin progressive disciplinary measures, which can lead to loss of employment. At an earlier meeting, Kamras told a School Board member that a weekly testing alternative wouldn't raise any vaccination rates. RPS, a staff made up of mostly Black teachers, has had opportunities from the district to learn more about COVID-19 vaccines, Abubaker said.
The Richmond Education Association, the Richmond schools teachers union, has stated that it doesn't support progressive discipline for noncompliance. Instead, it has suggested that the administration allow weekly testing instead of vaccination.
Jonathan Young, the 4th District School Board representative and the lone dissenting vote when the board voted in favor of the vaccine mandate, said Thursday that he would rather take up the REA's position than begin progressive discipline.
"That is a very sensible proposal that recognizes we need to prioritize common sense," Young said in an interview. "One that is a world better substitute than this Big Brother, draconian approach that presumably some people in RPS are OK with, terminating our teachers. I don't support that. … I'm at a loss, candidly, how anyone can support that."
The School Board will meet again on Nov. 8.