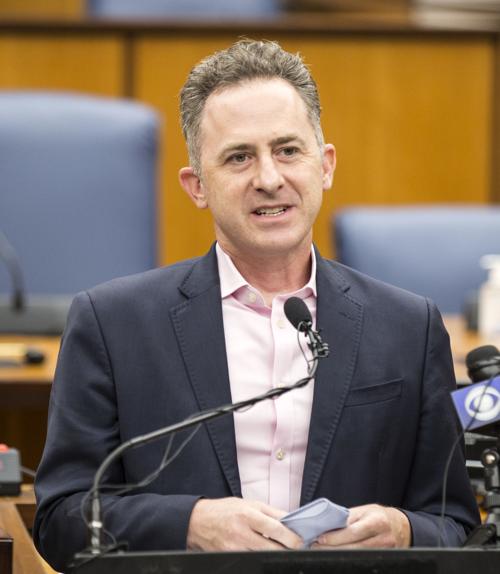 Days after Richmond schools Superintendent Jason Kamras said publicly he was "not optimistic" about returning students to classrooms in the spring, the city School Board on Monday discussed the process for making a decision, anticipated to come Dec. 7.
Kamras plans to begin surveying parents next week about whether they'd send their children back to school buildings as the pandemic continues. Officials also will consider other factors, ranging from how the virus is spreading to the conditions of restroom facilities and air filtration systems.
"I am deeply concerned about the direction that the coronavirus is taking, not only nationally but here in Virginia," Kamras said to the board.
Richmond Public Schools often has struggled with the conditions of restrooms and air filtration systems, which led to pushback from teachers and other staff when the board was considering hybrid in-person instruction in June. Ultimately, following rising COVID-19 infections, the superintendent proposed fully virtual instruction, which the board approved in July by an 8-1 vote.
RPS is the only Richmond-area school system to remain virtual. Henrico County Public Schools is scheduled to begin bringing elementary students back Nov. 30, along with middle and high school teachers who do not qualify for discretionary or medical leave.
Chesterfield County has approved bringing back more students. And Hanover County Public Schools brought students back to schools five days a week in September with a virtual option.
Third District board member Kenya Gibson voiced concerns about moving to a hybrid model.
"Before we contemplate such a shift, how can we fully appreciate what [hybrid instruction] would look like in reality for our staff? What does that require on a true day-to-day [basis]," she asked. "What it feels like it could be is taking all of what teachers are doing now, which I understand to be a larger workload than what they had before, and pairing that with in-person instruction."
Some Richmond School Board members have publicly expressed concern about bringing more students back into the classroom, given that about 90% of the district is made up of students of color.
Most children in the country who have died from COVID-19 have been children of color, according to the Centers for Disease Control and Prevention; COVID-19 has ravaged Black and Latino communities.
Holding school virtually also presents challenges. Chronic absenteeism has risen about 3%, according to the city school system. As of Oct. 5, about 1 in 5 students were on track to be chronically absent, which means they had missed at least two school days. Under state standards, an RPS student is considered chronically absent if they miss 18 days, which is 10% of the school year.
Also on Monday, following a petition created by a Richmond schoolteacher, the board approved a motion to revamp grading for kindergarten through fifth grade. The vote was 8-0, with Felicia Cosby absent for the vote. Instead of a traditional grading system of A through F, students will now be evaluated satisfactory, needs improvement or unsatisfactory.
Kamras also said he would like to consider a permanent change to such a grading system for kindergarten through second grade.