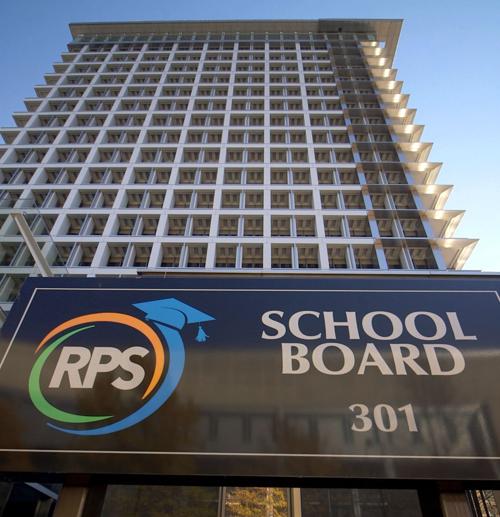 As the clock struck midnight following a marathon meeting, the Richmond School Board on Wednesday morning unanimously voted to send Superintendent Jason Kamras' $341 million operating budget to the mayor's office.
The proposal is $9 million above last year's, and anticipates $5 million more from the city and $4 million more from the state. It includes 2% raises for all staff, a 1.17% salary increase for living cost increases, and $1 million for anticipated rises in health care costs for staff. The $6 million Capital Improvement Plan also prepares students to return to school buildings after virtually learning for what will be a year and a half by August.
It includes $2 million in repairs for athletics, which some school officials say they hope will allow for outdoor activities amidst the COVID-19 pandemic, and $1.7 million for roof repairs at schools like Swansboro Elementary, Maymont preschool, and Carver Elementary. Other items to prepare for in-person instruction, like ventilation improvements, will be voted on separately since funds for COVID-19 improvement came from the federal government.
Kamras also discussed an updated option for year-round school to address learning loss. Community members in RPS have been split on how to go about year-round school.
School Board members found themselves split on year-round school as well.
In a new proposal from Kamras' administration, a year-round calendar would include seven weeks of extra instruction for 5,000 high-needs students; one three-week intersession and two two-week intersessions. If the board approves, the calendar would be used for the next two years.
The first three-week intersession would happen before school started, July 19-Aug. 6, a change made in response to those who didn't agree with an earlier start date and wanted to maintain a longer summer. The official school year would start in August for all other students not participating in year-round school. School would end on June 24.
Additionally, teachers who participated in those sessions would receive a $10,000 bump in compensation, for 35 additional working days. About 625 slots are available for teachers to sign up if 5,000 students opt in.
Teachers would not be forced to participate, Kamras said.
During public comment, community members continued to push back on a year-round school proposal, saying it was irresponsible of RPS to make such a significant shift on the heels of an unprecedented school year.
"Yes, it's a big change, and we're coming off of a year that was filled with change and tumult," Kamras said. "We have extraordinary needs if we are going to reach the goals set forth in Dreams4RPS, and the hill we have to climb has gotten a lot higher over the past year. I do think this is an extraordinarily challenging moment in time, and I think it calls for an extraordinarily ambitious response. How do we meet the moment knowing that our kids need more?"
The board was already divided on year-round school before the discussion started.
Before members were able to vote on the agenda, Sixth District School Board member Shonda Harris-Muhammed made a motion to remove the discussion from the agenda, saying it was not the right time for this debate.
"Year-round school cannot be a deflection or a distraction for us right now. We do not have a plan to reopen schools at any point," Harris-Muhammed said directly to Kamras, who said he wanted the discussion to remain on the agenda. "We have received numerous concerns. The same numerous concerns and the same engagement and enlightenment and participation from our community for the extension of the superintendent's contract: We need to do the same thing in this process."
Other colleagues disagreed, and her motion ultimately failed 5-3. Kenya Gibson was not present for the meeting.
Rizzi, along with many others during the public comment period, said that perhaps familiarity was the best option, and delaying year-round school might be best.
"As someone who has been in a classroom for 30 years … the first thing I would want to give them is peace, stability and familiarity," she said. "I am not philosophically opposed to year round school. … I just really have this deep feeling that we need to provide our kids with safety and love, and a lot of that has to do with giving them the peace and familiarity. … I think shifting too early to a totally new schedule will provide some chaos."
Other board members questioned the content of a survey the district sent to families and staff regarding year-round school. Mariah White and Harris-Muhammed asked the superintendent if it was necessary to ask families questions regarding their race and economic status.
"Those economic challenges that people are going through, I don't think it needs to be announced like that," White said.
Whenever RPS sends out surveys, questions often include questions about economic status, race and school district. They also are often anonymous. Kamras said the purpose is to make sure they aren't only hearing from white families since the RPS majority is made up of students of color.
Also on Tuesday, schools staff said chronic absenteeism in RPS has improved since the beginning of the school year. In a presentation, Harry Hughes said the chronic absenteeism rate for students is at 17% as of the 90th day of school, down from 21% at the 20th day of school.