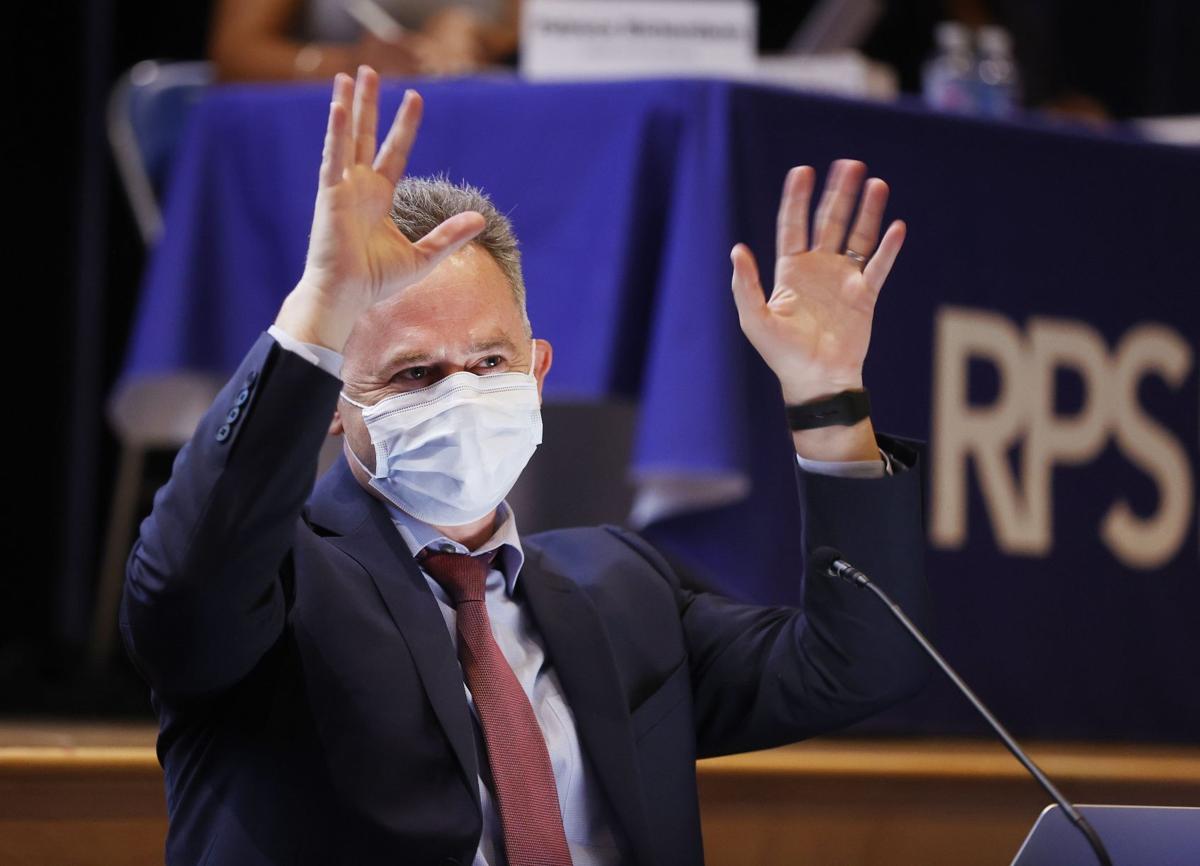 Members of the Richmond School Board are still on the fence about year-round school, an idea a previous board directed Superintendent Jason Kamras to bring to fruition in the winter of 2020.
The board had been considering year-round school since at least May 2020 in hopes to combat what they feared would be a "COVID-19 slide," which is similar to the "summer slide" phenomenon. "Summer slide" is the theory that students forget much of what they learn over an extensive summer break.
The Kamras administration has relied on studies that promise academic success as its justification to move to year-round school. It also has pointed at low proficiency scores for its students as justification, many of whom are listed as economically disadvantaged.
During last week's meeting, the board found that just 35% of third- through fifth-graders started the school year reading proficiently. Even more stark was a disparity between RPS' white students, who are mostly concentrated in the city's West End, and students of color — 75% of the system's white students were reading proficient, compared with 30% of Black students and 27% of Latino students. Scores were even lower in math, where 42% of the city's white students were proficient in math, with 5% of Black students and 8% of Latino students were proficient in the subject.
In his second attempt to convince the body to approve year-round school, Kamras provided three options for the board, two of which would cost $13 million per year to pay for 11 extra days for learning. While it's been referred to as year-round school, the calendar options are rather just spread-out traditional calendars with intersessions between them. Intersessions are breaks in which 5,000 students identified by the district for intervention would receive extra instruction time, while other students could opt for a break.
Despite the cost, Kamras said he believed more time in school would be beneficial for RPS students given low proficiency scores in various subjects.
"I do believe that coming out of the pandemic, we owe our students more," Kamras said in response to critiques from some board members during Monday's board meeting. "There are different ways of getting at that. I do have significant concerns that unless we don't offer more, we are in essence not putting everything we possibly can … both academically and social-emotionally."
But many of the district's teachers who wrote into public comment ahead of Monday night's meeting don't agree, most citing concerns about why the intersessions were useful and worries of teacher burnout.
"RPS families, students, and teachers are exhausted. The racial academic achievement gap is widening and students of color are being left behind," said Michael Thompson, a teacher at Thomas Jefferson High School. "We are still in the middle of a public health pandemic, we are not yet back to normal, and RPS is struggling to retain and support current teachers. Year round school for RPS is a bad idea and a suggestion of year round school for RPS is out of touch with families and students."
Kenya Gibson, the 3rd District School Board member who is often critical of Kamras, bashed the timing and the potential cost of implementation of year-round school.
"We are spending an incredible amount of money on extended day, I don't know where we're going to get it from in a few years," said Gibson.
Nicole Jones of the 9th District, said she was concerned about transportation. Many students in South Richmond have already been showing up to school late due to a lack of adequate transportation — most bus driver vacancies are concentrated in South Side, forcing bus drivers to make two trips to pick up students.
"We know that we're having issues already with attendance, we know that with the bus situation and students getting to school really late, how do we compare and contrast before we go into a new calendar if we already are having issues with students getting to school?" Jones asked Kamras during Monday's meeting. "So to add on any more days or to add on any new format or way of getting to school could be an issue. So I'm a little concerned about that."
In April, the board killed a proposal from Kamras to implement year-round school for the 2021-22 school year, waiting to enact the calendar change for next school year. Kamras crafted the calendar options in response to a former School Board who in 2020 voted 6-3 to receive year-round calendar options, led by former 6th District representative Felicia Cosby and 1st District board member Liz Doerr.
Doerr, Gibson and Jonathan Young, the 4th District representative, voted in favor of the motion last year alongside three of their former colleagues before a new School Board took office.
The debate surrounding year-round school this spring was contentious, with many local parents on the defensive about the time change. While some parents and teachers found year-round school to be a good solution for learning loss, others felt the timing wasn't good and left them with little notice to make plans for changes.
The perceived lack of engagement resulted in the board voting 8-1 to abandon the implementation, with Young the lone dissenting vote, concerned about poor proficiency levels for the majority Black and Latino district on various state tests.
But a 2012 study from the Joint Legislative Audit and Review Commission, the Virginia General Assembly's watchdog agency, found that year-round school provided "no appreciable difference" in the state's Standards of Learning test scores compared to schools with traditional calendars. But that same report also showed that Black students in year-round school do better on those benchmark tests.
Despite that, the Virginia Department of Education champions year-round school and even offers school districts grants to implement it. So far, only Hopewell City Public Schools has implemented the calendar district-wide.
The administration will move forward with engagement from families after the Richmond School Board reviews the district's survey, and hopes to get a survey to families before December.