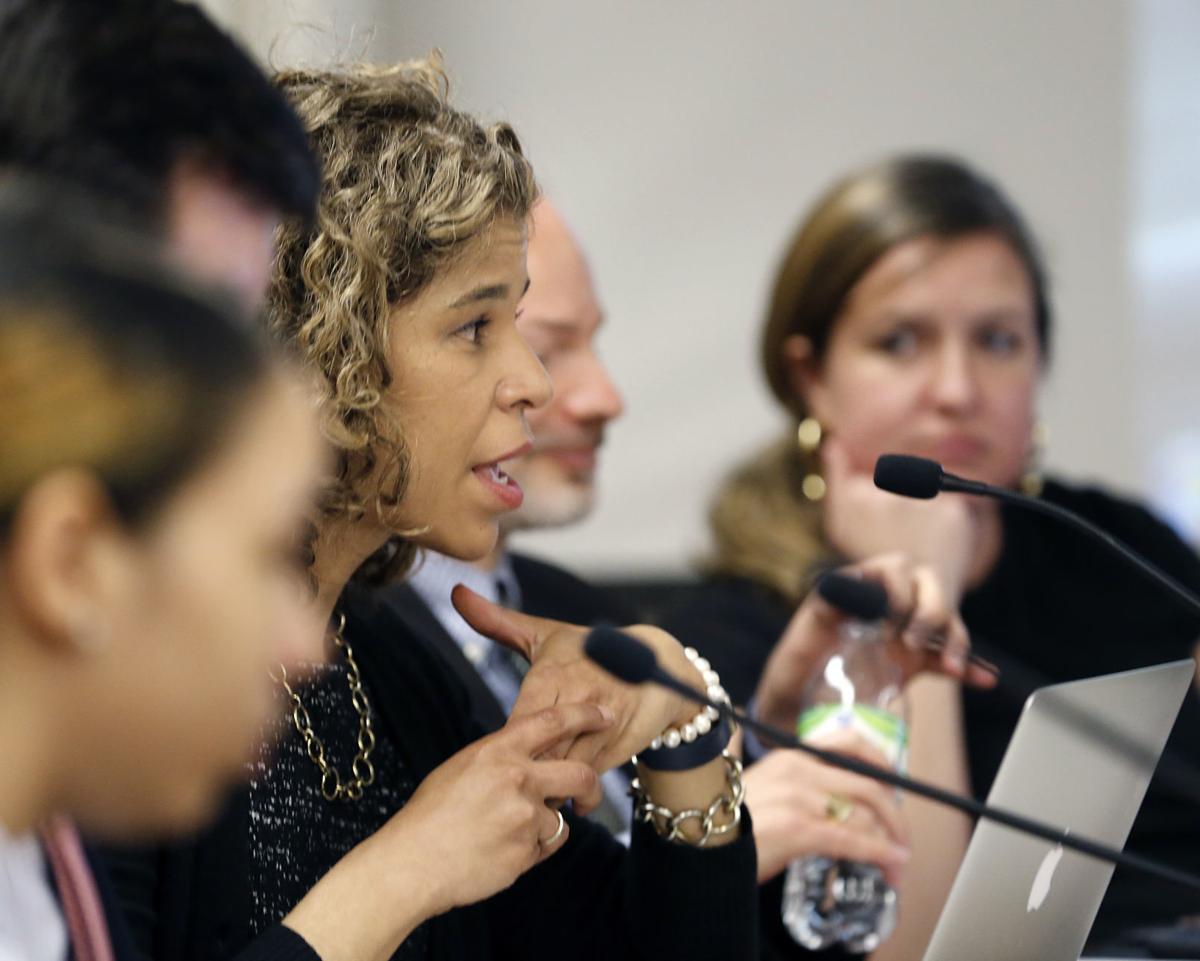 The Richmond School Board has new board leadership that signals an expected shift in power resulting from the 2020 election of four new board members.
Shonda Harris-Muhammed, a veteran educator and second time School Board member will serve as chairwoman, and Kenya Gibson, a former PTA vice president, will serve as vice chair. Harris-Muhammed was elected in a 6-3 vote, Gibson in a 5-4 vote.
Harris-Muhammed is a longtime educator who has emphasized doing things in "order." She first served on the Richmond School Board in 2012, but then lost her second bid to Felicia Cosby. She returned to the School Board after succeeding in a three-way race where she won about a third of the vote.
"This is not a position that's an individual position, this is a team effort," she said to her colleagues. "I appreciate the ask, and for me, the calling, to do this."
Gibson, a governing member of Richmond For All, an organization that advocates for fair education and housing, and a Richmond Public Schools parent, joined the School Board in 2017 after Jeff Bourne left the 3rd District seat to move on to the House of Delegates. In her tenure, she's served on various School Board committees and introduced the "Schools Building Schools" resolution, which gave the board its authority to oversee school construction.
"I think what this vote symbolizes is a change in board dynamics in many ways," Gibson said. "I hope that this year will be a year where we see different types of governance, and I believe that we can do that, but we need the help of the administration."
Among the first items the new leadership wants the board to consider will be a resolution looking to potentially cut central office staff in favor of hiring more school building staff in the upcoming budget. Sources close to the matter said they expect to have enough votes for the resolution to pass.
The two will lead the School Board following a tumultuous year between members of the body, where political differences among members are aired out during meetings. Much of the tension between a 5-4 majority stems from the conflict surrounding George Wythe High School, after the body voted to take back its control of school construction, which Superintendent Jason Kamras and detractors of the plan said would delay rebuilding the school. The tension ran so high the state felt the need to intervene, tasking the body with drafting a governance manual.
Both South Side representatives of the School Board, Nicole Jones and Dawn Page, emphasized a need to end divisive tactics and work collaboratively.
"This isn't about one individual, this is about our children, and the families and staff we serve in Richmond Public Schools. It is my hope that we turn a new page and work collaboratively, not just by words, but by action," Page said. "And by following the policies and procedures that we have set for this district."
Also on Monday, the School Board expressed concern about staffing shortages in the district caused by COVID-19, which isn't unique to RPS. Kamras doubled down on his intent to keep doors open.
When asked by members about an appropriate time to close schools, Kamras said he felt the district was in a different place than when it stayed closed for almost two years.
"I do believe we are in a dramatically different position now than we were last year," said Kamras, noting that vaccines are available for most people, along with mitigation strategies like providing upgraded face masks. "While we know the transmissibility of the omicron variant is rather high, all the data suggests that it's leading to milder cases."
"I do believe our charge is clear, and that is to do everything we can to keep our doors open."
School Board members also asked Kamras for clarity on the impact of teacher absences. On RPS' first day back to school after the Christmas break, in the midst of record-breaking cases, Kamras anticipated 160 teachers would be absent. The absences called for central office staff to be deployed into classrooms, which is in line with plans in place by neighboring districts.
Some School Board members said seeing the data on absences would be helpful, saying raw numbers could be "misleading."