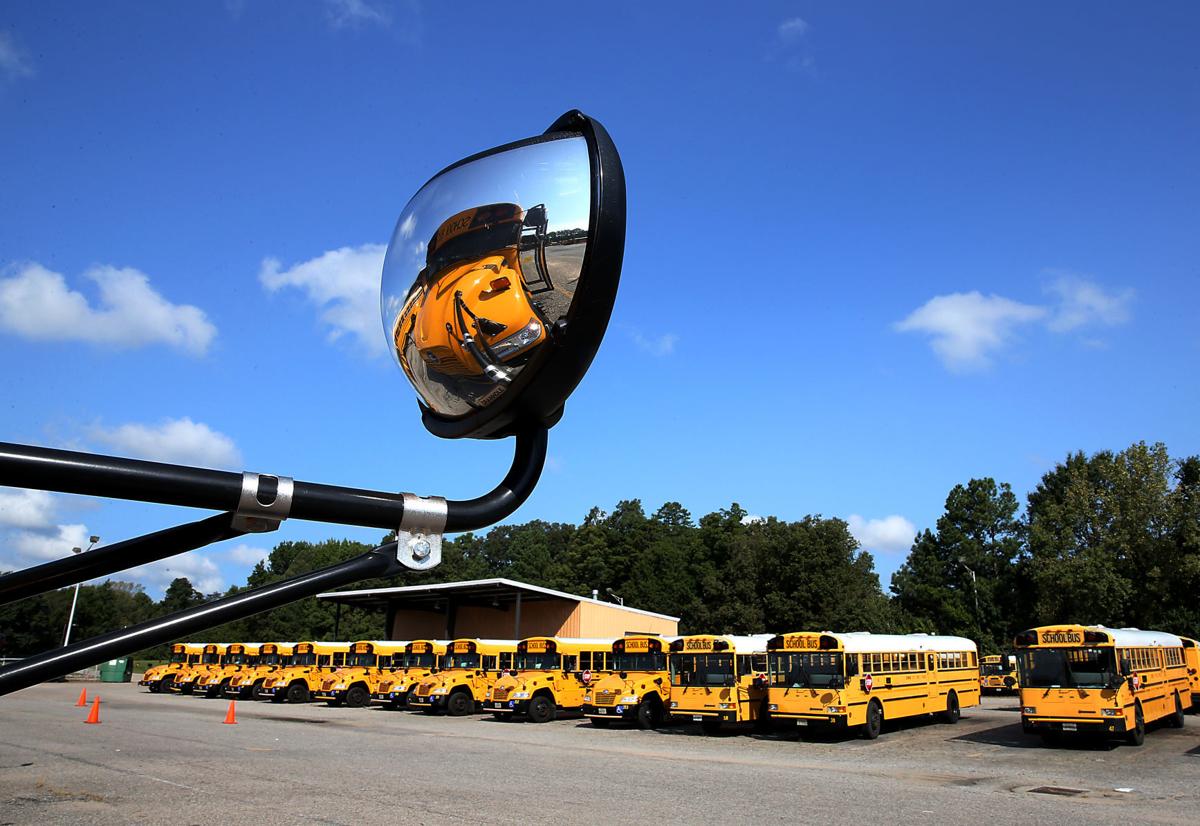 Over the past five years, Richmond Public Schools issued more than 2,200 long-term suspensions at a time when the neighboring counties of Chesterfield, Hanover and Henrico combined handed down that punishment fewer than 400 times.
The data, obtained by the Richmond Times-Dispatch through an open records request from the Virginia Department of Education, shows that Black students accounted for more than 90% of the city's long-term suspensions in that time period. Hispanic students comprised about 5%, according to state reports. White students account for a little more than 10% of the city's enrollment.
The penalty, issued for offenses ranging from trespassing to stealing money, pushes students out of school for between 11 and 45 days, according to RPS' code of conduct.
Richmond school officials adopted changes to the Student Code of Conduct they hope will be less geared toward punishment and more toward restorative measures, reducing the number of suspensions and missed classroom time. Even with a truncated year, in 2019-20 students across the district lost 18,000 school days to suspension, a number that includes short-term and long-term suspensions.
"I think the data helps us understand where we need to allocate our resources," said Harry Hughes, chief schools officer for RPS. "I'm very hopeful that our changes will significantly reduce long-term suspensions."
The data shows no long-term suspensions for white, Asian and American Indian students in the past five years, which could mean the division either didn't suspend those students long-term or suspended so few of them that providing figures could theoretically identify students in violation of student privacy laws.
The city's code of conduct breaks down discipline offenses by levels, with level one behaviors being the most benign offenses, while level five offenses would call for severe punishments like long-term suspension or expulsion. Some offenses, like alcohol and drug possession on school grounds, call for a referral to law enforcement.
Level one and level two offenses like cheating or tardiness no longer qualify for short-term suspensions under the changes suggested by the administration of Superintendent Jason Kamras and approved by the School Board on Sept. 21. The changes heartened members of the Legal Aid Justice Center, a group that has been advocating for reforms to the code of conduct for nearly a decade.
Level one offenses also call for more restorative practices like community service or community circles, where an adult facilitator might just check in with a student in hopes of building an affirming and positive relationship.
"The goal of our community circles is to build authentic relationships between teachers and students, and students amongst themselves," Hughes said. "We're talking about restoring a community. To restore a community, you have to build community, so we have invested in our community circles, which take place throughout all of our schools."
Lighter punishments that don't result in the loss of instructional time is part of Kamras' strategic plan to reduce suspensions. Students won't be suspended until they get to a level three offense, which ranges from refusing to comply with staff to cyberbullying.
More than half of the 18,000 days missed because of suspensions last school year were at George Wythe, Armstrong, Huguenot and John Marshall high schools and Martin Luther King Jr. Middle, where enrollment is predominantly Black and Hispanic.
The suspension data, reported by school systems to the state, records every suspension, not every student who is suspended, meaning it would include instances of individual students receiving more than one suspension.
While LAJC members are happy with many of the changes, they say there is still much more work to be done.
"The changes to the code of conduct is what I would call leveling down on responses," said Rachael Deane of the LAJC. "In place of those, the hope that I have heard the administration and the School Board say is that in place of those punitive measures, is that they are really investing in restorative measures ... that get to the root cause of those behaviors."
Deane said Richmond's challenges stem not only from implicit bias but also from concerns of crime and violence that date to the 1970s war on drugs.
"There was growing concern about crime and violence, and what was called juvenile delinquency," Deane said. "School policies themselves became much more punitive; the use of suspension started to skyrocket. We saw zero-tolerance policies come about in the '70s, '80s and especially in the '90s."
As part of their advocacy to address school pushout, the LAJC has also requested that RPS remove police from schools. Officers started being embedded in city schools in 1996 after a fight at Armstrong High. During the 2019-20 school year, RPS saw 121 arrests of students, most of them at schools populated mostly by students of color.
In July, Kamras said he would recommend their removal, but the vote has yet to happen. It was anticipated for a September vote. Now, a School Board with four newcomers will be sworn in beginning in January, and it's unclear when or if the board will take the vote.
Second District board member Scott Barlow, who kick-started the conversation of removing police from schools, said the discussion of suspensions and the school-to-prison pipeline doesn't just happen in a vacuum.
"A lot of people like to talk about the school-to-prison pipeline, and we have to do what we can to address it, but that doesn't happen in a vacuum," Barlow said. "What it largely displays is a symptom of problems that we have throughout the community and in our public education system. You can't talk about suspensions and what leads to them without talking about why we're seeing those behaviors."
Across the Richmond region, Black students were suspended 16,547 times, while white students were suspended 4,483 times in the 2019-20 school year. White students make up the largest share of students in the Richmond region, at roughly 40%.
In Richmond Public Schools, out of about 7,500 instances of suspension, whether in school or out of school, nearly 90% were Black students. White students in Richmond were suspended fewer than 120 times. Black students are also overrepresented in suspension data reported to the state by Chesterfield, Hanover and Henrico counties.
In Hanover, spokesman Chris Whitley said the division made recent changes to its code of conduct.
"We completed a comprehensive update earlier this year, which the School Board approved during its meeting on June 9, 2020, effective for the 2020-2021 school year," Whitley said. "This was a multiyear effort that is in alignment with the VDOE's Model Guidance for Positive and Preventative Code of Student Conduct Policy and Alternatives to Suspension. This is also in alignment with our other efforts in this regard, such as the Virginia Tiered Systems of Support, equity, restorative practices and de-escalation techniques."
Henrico Public Schools spokesperson Andy Jenks said the district is aware of the disparities and has done significant work to reduce them.
"After a two-year conversation with the community through public hearings and other feedback, we adopted a revised Code of Student Conduct back in 2015-16," Jenks said in a statement. "Is there more we can do to address disparities in our suspensions? Of course. We must understand the causes, develop self-monitoring systems, implement our preventative measure with the utmost fidelity and keep an open dialogue about it. By now, this has become a deliberate and sustained aspect of our administrator and teacher training."
In Chesterfield, spokesperson Shawn Smith said the division often collects data on a monthly basis regarding discipline. It uses that data to identify schools with elevated risk of discipline and offer tailored support with evidence-based practices to help with positive behavioral change.
(804) 649-6948
Staff writer John Ramsey contributed to this report.