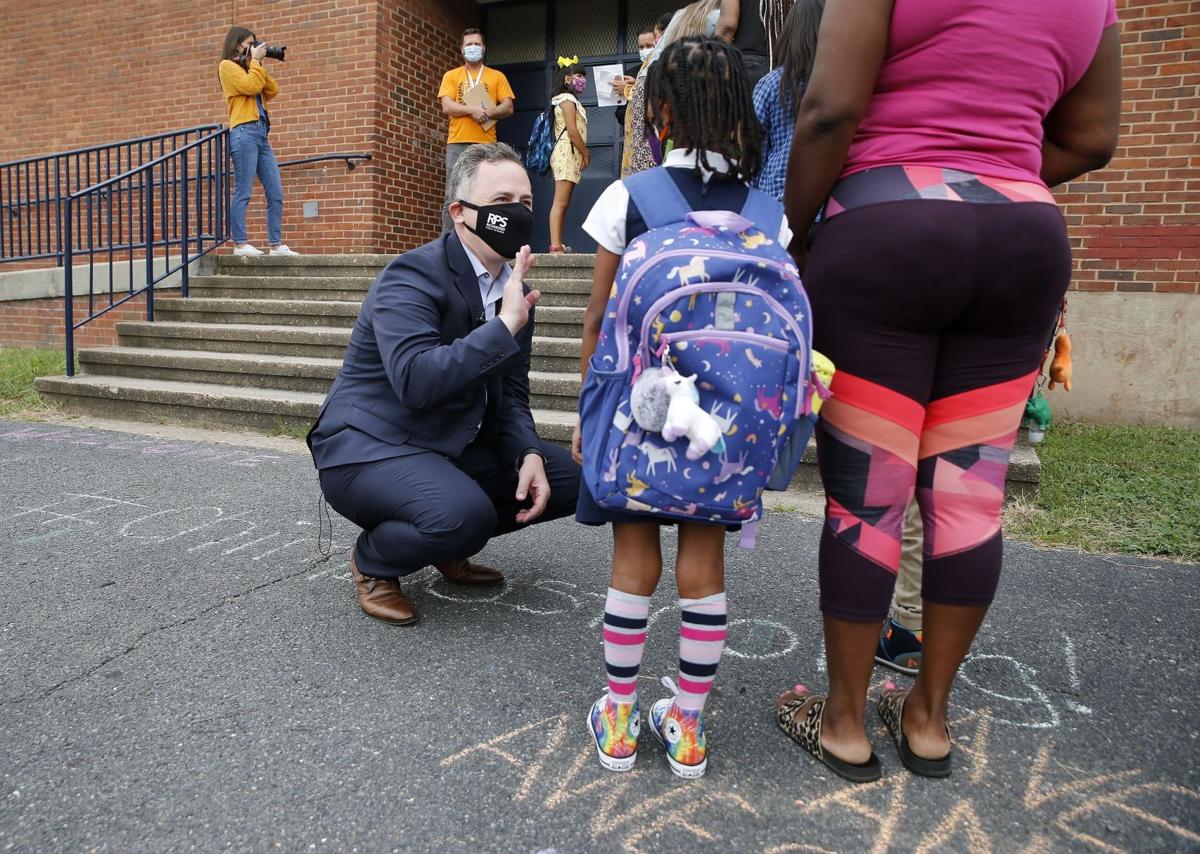 The Richmond School Board on Monday had its first public discussion about state accountability test scores that Superintendent Jason Kamras has called "heartbreaking."
All students in the district, according to state data, saw sharp drops in the number of students proficient in reading, math and science. In math, all students saw a 24% drop in the number of students passing the math Standards of Learning tests. In reading, 47% of all students who took the state test are reading at a proficient level, down from 56% in the 2018-19 school year, the last time the test was taken due to the coronavirus pandemic that shuttered school buildings and in-person testing opportunities.
Most localities in the Richmond area saw significant drops, according to data from the Virginia Department of Education.
Not only did the district's scores lag, but so did participation in the tests overall. According to the district, "in Spring 2021, roughly 3,000 students tested in Reading & Math, 2,000 in Science and just over 100 in History." Typically, in non-pandemic years, 13,000 to 15,000 students test on the subjects, and there are at least 20,000 students in the district. Virginia Department of Education officials said earlier this month that participation in testing lagged across the state.
While the data seems alarming, Tracy Epp, the chief academic officer for Richmond Public Schools, said the low participation means it's hard to draw conclusions from the SOL data.
Akil Bello, the senior director of advocacy and advancement at FairTest, a national organization that advocates for fair evaluations of students, agreed that participation rates makes the data hard to use.
"Those numbers are shockingly low. They're lower than even the staunchest test opponents predicted, and it demonstrates how wasteful and ill conceived standardized testing was during a pandemic," Bello said in an interview. "There are almost no conclusions that can be reasonably drawn from such low participation rates. Any allocation of funding based on these things is guesswork at best."
While this SOL data may not offer much performance insight, the administration has used other assessments, like Phonological Awareness Literacy Screening, which had higher participation, to determine that COVID-19 has caused serious disruptions in learning. Students who are Black, Latino or learning English fell behind in literacy across the district, which led RPS to dedicate millions of dollars in literacy recovery earlier this year.
For the SOLs, most subgroups saw drops in performance. Black and Latino students all saw at least 20% drops in proficiency in math and science and at least 10% drops in reading proficiency; this is notable because the district is mostly made up of Black students. White students outperformed the average for all students, with 79% passing reading, 66% passing math and 80% passing science. Richmond's Asian students were the only group to exceed the state's 85% pass rate for Asian students at 90% for reading; in math and science, Asian students in Richmond only fell behind the rest of the state's Asian students by 1 and 5 points, respectively.
In the past, school officials in the district have cited a lack of preparation for an ever-growing Latino population for its low achievement scores. For Latino students in the state, 54% of students passed reading, down from 66% in 2018-2019. In Richmond, 38% of Latino learners passed reading. Only 24% of English language learners in the state passed reading SOLs, down from 35%.
English language students, most of whom are Latino in Richmond, saw a 7% pass rate in science, down from 34% in the 2018-2019 school year. Just 10% of these students passed math, down from 47% the last time the test was taken, and just 18% passed reading, down from 31%.
Only 8% of 3rd grade English learners in Richmond passed the reading SOL.
In the PALS data, 75.9% of the city's Latino early learners who took the assessment were identified for needing reading interventions in spring 2021, along with 75.8% of English language learners. That's far above the district's average, which is 58.4% for Spring 2021. 60.8% of Black students were identified for reading interventions this spring, up from 37.4% in fall 2019.
The SOL scores led Kamras and some board members to implore the district's families to remain in school at Monday's School Board meeting. Kamras said he believed the safest place for students is inside of the classrooms and emphasized that lost class time could lead to negative impacts in terms of academics and health. Shonda Harris-Muhammed, the 6th District School Board member, agreed.
"We, unfortunately, depending on how you look at it, are in a system of academic learning that assesses through assessment. So when students miss 9 to 14 weeks of school, they've already missed almost a third of their Standards of Learning objectives ... it's hard to try to get that back," Harris-Muhammed said, saying she was speaking directly to families. "If you're watching, call us. Email us solutions. We'll figure this out together. But whatever you do, do not keep the babies home."