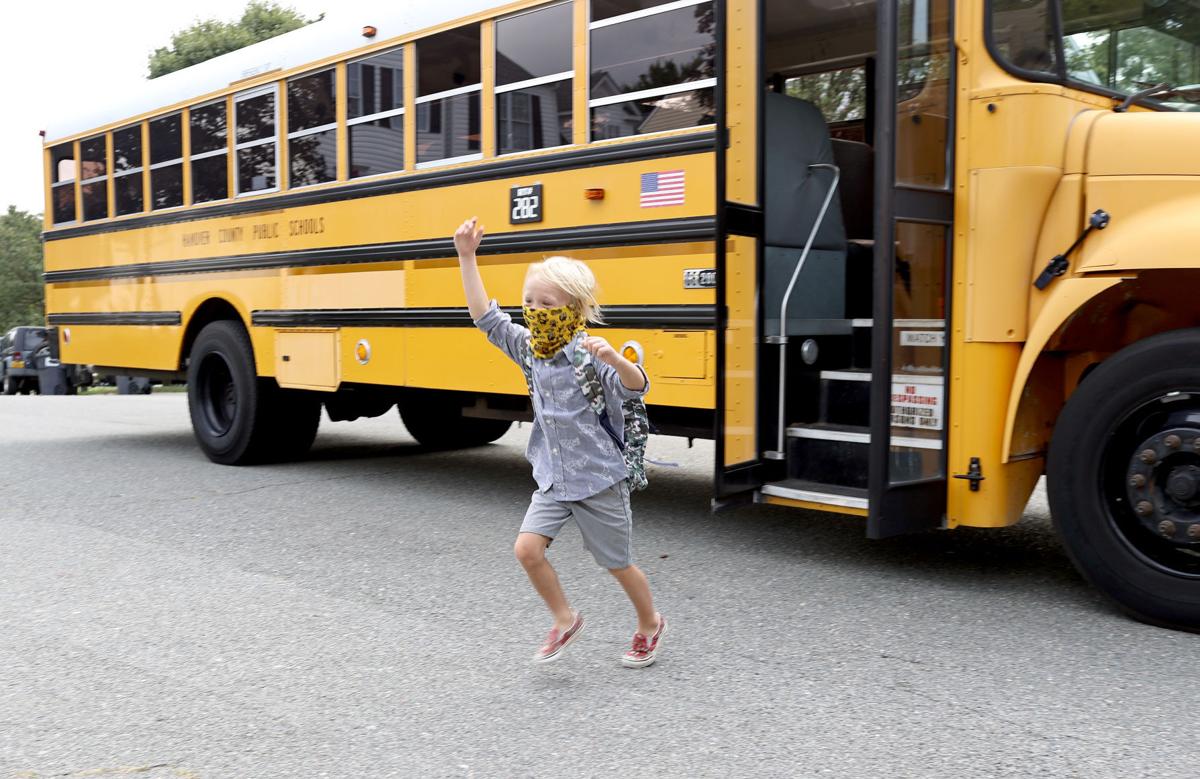 Six people are vying for two seats on Hanover County's School Board.
The Cold Harbor and South Anna district seats on the seven-member board expire June 30, and there are three candidates for each of those appointed seats. Hanover is one of only 15 localities in Virginia that appoints its School Board members. There is no public election; rather, School Board members are appointed by the county's Board of Supervisors for four-year terms, which are staggered.
Cold Harbor's Norman K. Sulser is stepping down after two eight-year stints, the first from 1985 to 1993 and then from 2013 to 2021.
South Anna's Kelly K. Evko is hoping to keep her seat. Evko joined the board midterm in January 2020 after former South Anna School Board member Susan Dibble was elected to the Board of Supervisors in November 2019. Dibble is the current South Anna supervisor.
Cold Harbor nominees are Patrick Wells, Sabrina Civils and Steven Ikenberry. South Anna nominees include Evko, Aleisha Miles and Bob May.
The nominees publicly introduced themselves to the Board of Supervisors at its meeting on April 28. Each nominee will be interviewed by their respective supervisor, and the full Board of Supervisors will make its pick for each seat at its May 26 meeting.
The Times-Dispatch asked each candidate a series of questions. Their responses will run over two days. First up — the South Anna district candidates.
South Anna district Incumbent Kelly Evko is a businesswoman and mother of two graduates of Hanover schools. Her husband has been a teacher for 37 years, 31 of those in Hanover schools. She's volunteered at her children's schools and even worked as a substitute teacher. She has a business degree from James Madison University and has taken additional coursework at UNC-Chapel Hill and Georgia Tech.
Bob May, a 32-year Hanover resident and father of three graduates of county schools, is a retired U.S. Army lieutenant colonel, a former Arlington County police officer and a government contractor. A small-business owner, he also owns an Amazon delivery service provider company. He volunteers as basketball and football stadium announcer for Randolph-Macon College.
Aleisha Miles moved to Hanover County 12 years ago and is the mother of two school-age children in Hanover schools. She has a background in the banking and finance industry.
QUESTION: What prompted you to seek another nomination for the Hanover County School Board? What attributes have you brought to the board?
Evko: I have put in countless hours and have enjoyed the work. It is a privilege to serve. I believe I offer a unique perspective. I have over 25 years of business development, sales and management experience. I have worked with Fortune 500 companies and at state level government. Looking ahead, the strategic plan and capital improvements will be updated. I believe my business and economic development experience will be an asset to the board. I believe all of these experiences give me a unique understanding.
May: Having children and grandchildren in the school system played a big role in my decision to seek this position. I'm not a politician. I'm a father and grandfather who is willing to serve and aid in preserving educational excellence in Hanover schools. I stay up-to-date on current educational issues and attend board meetings. Because of my business background, I'm used to balancing budgets in tough environments. School safety is also a top priority for me. My emergency operations and logistics knowledge will aid in safety and emergency planning against hazards that may impact school communities. In addition, my nonprofit service has provided me a unique understanding of the role equity plays in child literacy development. I have a deep affection for Hanover County and would cherish the opportunity to serve on the School Board.
Miles: To help bring some balance to the board. I am an African American woman with children in our school system. Our School Board is currently underrepresented by women, people of color and people on the board who currently have children in our school system.
Women operate with greater empathy. That used to be considered a detriment, [but] we can now see how important a sense of empathy is as we have dealt with this school year. I understand what parents have gone through this year. I understand what our teachers have gone through, working more closely with them during the pandemic and having virtual students.
QUESTION: What do you see as the biggest challenge or issue facing Hanover County schools AND/OR what is one major educational issue you'd like to tackle if reapppointed to the School Board?
Evko: There are many challenges ahead. Our biggest challenge has been handling [COVID-19] and ensuring face-to-face learning. This was a huge decision that took great thought and support. We were the only locality in the state to offer face-to-face learning. There was not a playbook or other examples to review. The enormity of the decision to offer face-to-face learning weighed heavily on me. This decision was followed by countless other decisions. Getting computers to all students was another big accomplishment.
May: Continuing educational excellence for our students as we move beyond the pandemic. I will work tirelessly to return students to normal instruction while ensuring they receive a quality educational experience in a safe school environment.
Miles: Hanover is known for its great school system, [but] we are far from perfect. Now the challenges of the past year, the uncertain future, allow us the opportunity to work together as a team to rework and rethink.
QUESTION: Education was turned upside-down in 2020. How do you feel about the decisions your board made for the 2020-21 school year?
Evko: I feel very positive about the decisions the board made for 20-21. The decisions were not easy. We were the only ones to offer face-to-face learning five days a week and to give parents a choice. This was a difficult decision. However, if you look at the large number of students that depend on the school system for many areas of support, we needed to make sure these students were taken care of during the crisis. We owe a huge debt of gratitude to our teachers and administrators who worked tirelessly. COVID will continue to impact learning during the next year. There will be more decisions. We will also be looking at the strategic plan and capital improvements.
May: During an unprecedented crisis, HCPS exhibited leadership by offering families face-to-face instruction as well as online learning. The school system was able to meet individual needs of students and parents while keeping them safe. I have been impressed with the resourceful approach our school system's leadership implemented to make that happen.
Miles: Hanover was able to provide options that met the needs of Hanover families. For those who had no choice but to return their students to school, that was available. We must realize that some had no other option. For those of us who were fortunate enough to be able to keep our children at home, we were given that option as well.
QUESTION: What should be the School Board's priorities for the 2021-22 school year and beyond?
Evko: There is a national shortage of teachers and we need to make sure we are doing everything we can to continue to attract the best and compensate them accordingly. The strategic plan, capital improvements are also in need of updates. This will be a focus over the next few years. I also believe online learning will continue to be an option for some students. Homebound students benefited from the online school this year. Continuing to review the online school will need to be done as well.
May: Instructional technology, equity, school safety, teacher compensation, student instruction and facility maintenance should be top priorities. As a school system, we must continue our efforts to inspire, empower and lead students into the 21st century.
Miles: We must work to hire a diverse staff of teachers reflective of our community. We must work to make available the mental health services that were needed by our students and families prior to the pandemic and work to meet the needs that have been exacerbated by the pandemic.