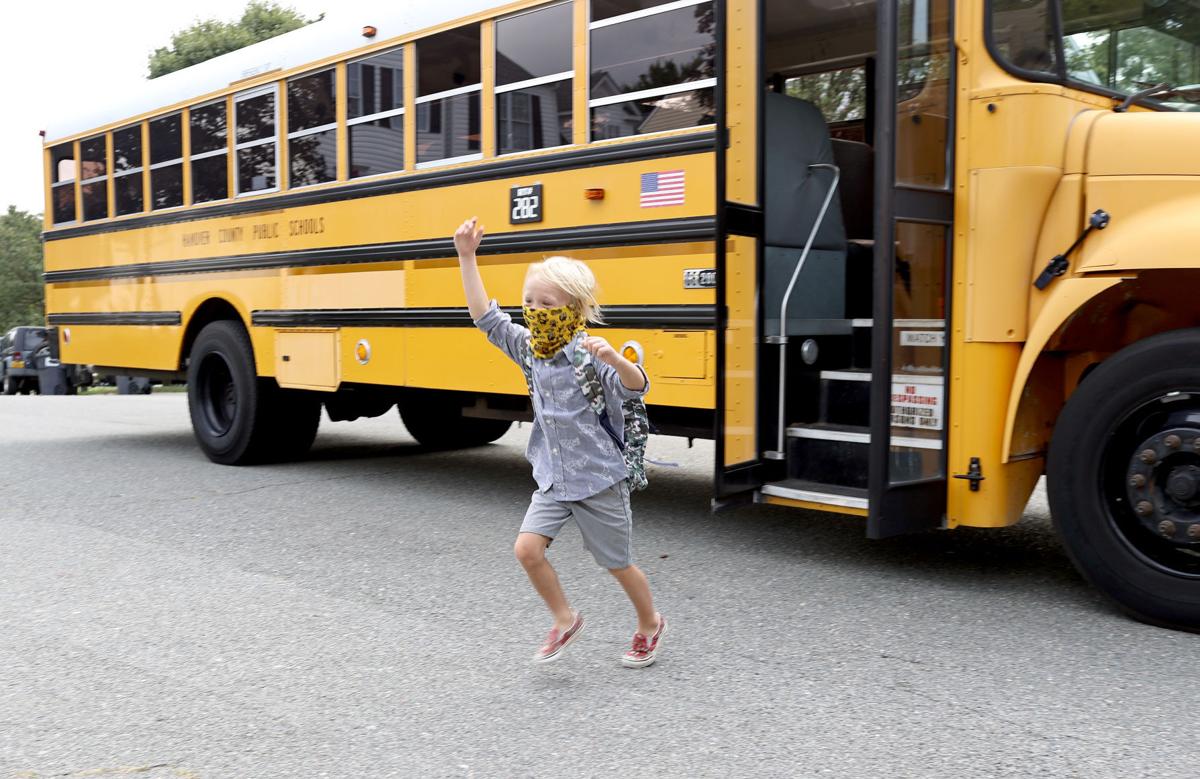 Six people are vying for two seats on Hanover County's School Board.
The Cold Harbor and South Anna district seats on the seven-member School Board expire June 30 and there are three candidates for each of those appointed seats. Hanover is one of only 15 localities in Virginia that appoints its school board members. There is no public election; rather the members are appointed by the county's Board of Supervisors for four-year terms, which are staggered.
Cold Harbor's Norman K. Sulser is stepping down after two eight-year stints, the first from 1985 to 1993 and then most recently, 2013 to 2021.
South Anna's Kelly K. Evko is hoping to keep her seat. Evko joined the School Board mid-term in January 2020 after former South Anna School Board member Susan Dibble was elected to the Board of Supervisors in November 2019. Dibble is the current South Anna supervisor.
The South Anna nominees include Evko, Aleisha Miles and Bob May. Cold Harbor nominees are Patrick Wells, Sabrina Civils and Steven Ikenberry.
The nominees publicly introduced themselves to the Board of Supervisors at its meeting on April 28. Each nominee will be interviewed by their respective supervisor and the full Board of Supervisors will make its pick for each seat at its May 26 meeting.
The Times-Dispatch asked each candidate a series of questions. The South Anna candidates' responses ran Monday. Here are the responses from the Cold Harbor candidates.
Sabrina Civils is a wife, mother of two daughters ages 11 and 4, and a 1997 graduate of Atlee High School. She has a business administration degree and a master's in science of accountancy and is pursuing her CPA license. She currently works as finance director for a Central Virginia school system. She's also served as PTA president and is involved in county youth sports.
Patrick Wells is a husband and father of two Hanover students, is married to a Hanover teacher and has been in education for 19 years, including 14 in Hanover at the Georgetown School and then at what is now Bell Creek Middle. He currently works as a middle school math coach in Richmond Public Schools. He has a math degree from LeMoyne College in Syracuse, N.Y., and a master's in educational leadership from George Mason University. He also has an endorsement as a K-8 math specialist.
Steven Ikenberry is a married father of three grown children, all Hanover County grads. He has a history degree from Virginia Military Institute and served four years in the U.S. Air Force. A retired teacher, he started at Benedictine High School, where he also coached football and track and field, before joining what is now Mechanicsville High School where he continued to coach football, as well as track and field and cross country.
QUESTION: What prompted you to nominate yourself for the Hanover County School Board? What attributes would you bring to the board?
Civils: There needs to be diversity within the school board [and] as a full-time working mother, I feel that I can related to those in the Cold Harbor community. My goal is to ensure transparency and serve as a fiduciary for the county's taxpayers as it relates to driving greater value in our educational system. I want to be an advocate for the students of Hanover County, as well as the community. All voices should feel that they have a platform for their voice to be heard. Being honest and upfront will only help the community trust their school board.
My experience and knowledge in school finance is vital for any division. Creating a budget is no easy task, but I understand what it takes — having conversations with the superintendent and their counterparts [and] communication with the board of supervisors. There are millions of dollars that help create the budget from state funding, grants, and the local share, which comes from the Board of Supervisors. Finding ways to be fiscally responsible with taxpayer dollars [means] asking questions about high dollar expenditures and the need for those expenditures [and] understanding enrollment counts ... as this is what drives state revenues to the school system.
The Cold Harbor district is a community that I proudly live in and [I] want to make sure that the community knows what's going on in the schools and ... help them understand it all.
Wells: I decided to seek appointment to the school board because I feel that my recent and lengthy experience in K-12 public education brings a unique outlook to the challenges that we face within our school system. I would be bringing the elements of both a teacher and parent perspective to the board.
Ikenberry: I want HCPS to continue to grow and excel, developing all students full potential towards success in learning. I began leadership skills in [high school], as a Captain of our Varsity Track team. More leadership skills were thrust upon me at VMI, developing me for two combat tours in the USAF, one which I commanded a flight of men in Central America. Classroom teaching for 31 years and being a head coach of three consecutive seasons provided me with more leadership skills, vision, common sense, compassion, and passion to help student athletes reach their highest potential in life at that part of their life.
QUESTION: What do you see as the biggest challenge or issue facing Hanover schools AND/OR what is one major educational issue you'd like to tackle if appointed to the School Board?
Civils: Getting 'back to normal.' After the many challenges the county has faced during the pandemic, it is my hope that the county sees more students safely provided an in-person learning environment. Getting students back in a routine as quickly as possible is critical. These are vital years for building a child's foundation and we need to minimize the learning and assist our parents who have taken on big roles this year. Entering the schools may look different, but getting back to educating the students — and getting the students and teachers back in the classroom — should be a top priority.
Wells: The biggest challenge we face is being able to continue to provide a top-notch education to our students — they deserve the best.
Ikenberry: The biggest challenge facing HCPS is to remain as the leader in PS education in the state. Staying at the top requires vision while also having an ear to ground listening to teachers, parents, and most importantly, our students.
QUESTION: Education was turned upside down in 2020. How do you feel about Hanover school officials' decisions for the current school year?
Civils: Hanover school officials did an outstanding job by allowing parents to make their own choice for what was best for their family and their children. Hanover County was/is a great example to the Commonwealth [on] how they handled COVID-19 within the school system. Every reasonable precaution has been taken. The schools did a phenomenal job providing constant communication to parents when positive cases were presented to the schools. They also handled contact tracing with care and being confidential with this process.
Wells: The COVID-19 pandemic has obviously been a challenge for all of our students, families, and staff. I think that the school-based administrators and staff have done the absolute best they can to meet the challenges that they have been presented with during the past 14 months.
Ikenberry: I fully supported HCPS staying as close to full time, in person learning this past year. Teachers, overall performed at a masterful level, while being supported by administrative staff.
QUESTION: What should be the School Board's priorities for the 2021-22 school year and beyond?
Civils: Getting students back in the classroom and focusing on learning! The curriculum should be well-rounded and provide opportunities for those who have encountered learning gaps over the past year. Also [there's the] need for ongoing review of the latest appropriate protocols such as continuance of masks and vaccines. The students are the top priority, and they should be able to go school, play in sports, participate in extracurricular activities and live the life of not only a student, but a child.
Wells: I believe that two of the most important aspects of [a top-notch education] are consistency and structure. The issue of employee retention is critical to maintaining each of these. I am concerned with ensuring that we continue to offer incentives to our employees so that they will remain in HCPS rather than seek employment elsewhere. I know all too well from working in the school system for a number of years that when there is consistency amongst a faculty and staff, the school structure as a whole runs much more smoothly for its students. In order to keep our schools going strong, we must make improvements in this area.
Ikenberry: I want HCPS to continue to grow, ensuring ALL students are equally given the opportunity to mature as a young person, reaching their full potential in order to have a happy and successful life.