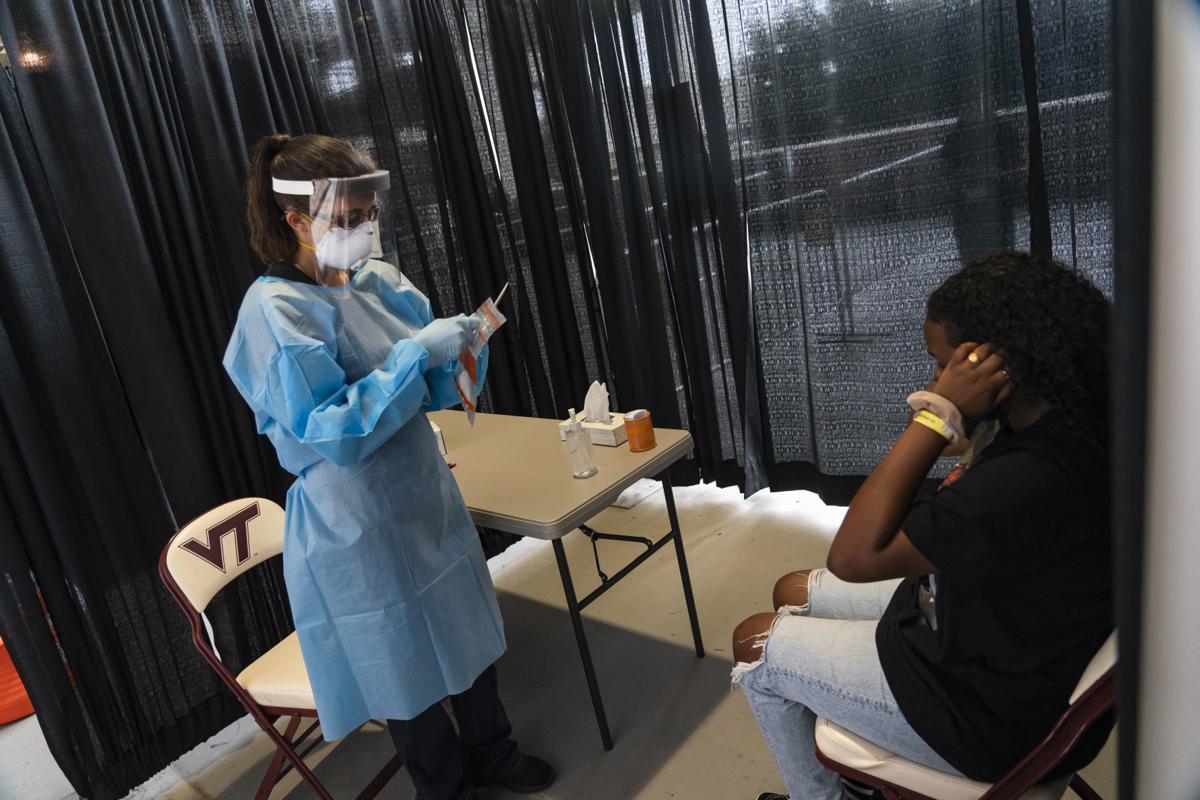 At Virginia Tech, students file into Lane Stadium each day to be tested for the coronavirus. These students don't have symptoms, but because they were randomly selected and compelled to undergo a test, they line up below the luxury suites and receive a nasal swab. Any student who refuses is referred to the Office of Student Conduct.
In Richmond, Virginia Commonwealth University takes a different approach: Students who participate in testing are rewarded with a $10 Amazon gift card. When the school needed more students to take part in testing last month, it set up a station outside a large dorm and asked students walking by to take a test.
Large colleges in Virginia are testing a percentage of their student bodies in an effort to slow the spread of the coronavirus, but they are divided about whether to use punishment or incentives to ensure students take part.
It's a practice often referred to as surveillance testing. Colleges pick students at random and test them, hoping to ferret out asymptomatic carriers before they unwittingly pass the virus to another person. At Virginia Tech and the University of Virginia, students who are selected are required to accept. They are given the flexibility to schedule the test at their convenience. Both schools also take samples of wastewater outside dorms to look for signs of the virus.
Lindsay Wiley, a professor of public health law at American University, said mandatory testing of college students is likely legal. While there isn't court precedent to point to, public health law experts generally agree that compulsory testing is constitutional if it's reasonably necessary to prevent the spread of a serious disease, Wiley said.
Other universities in the state have taken a less absolute stance. George Mason University requires testing among only its on-campus residents but allows off-campus students to decline. James Madison permits students who wish not to be tested to request an exemption, which is considered on a case-by-case basis. Failure to show up for a test, JMU said, may result in a hold being placed on the student's account, which can restrict the student from registering for future classes.
The decision to make testing optional at VCU was made early in the reopening process and isn't set in stone, said school spokesman Michael Porter. VCU began surveillance testing earlier than other colleges and could still decide to make it mandatory, he said.
At Virginia Tech, students who live off campus initially weren't required to take part in testing. Now they are. On Virginia Tech's website, on a question-and-answer page, the school addressed the query: "How can Virginia Tech make testing mandatory when it wasn't able to at the beginning of the year?"
The school's answer? In essence, it had changed its mind.
"The science and the public health guidance continues to evolve," the answer read. "We have determined at this time that this is the right practice, and it is legal and appropriate given the pandemic and public health emergency we are currently managing."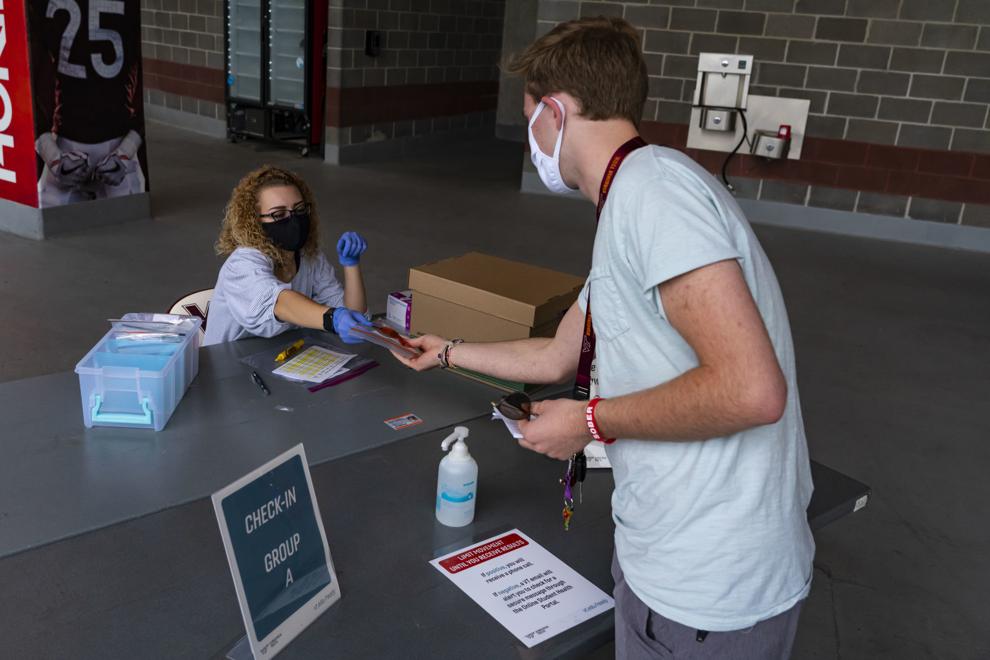 In mid-September, Virginia Tech got a visit from Deborah Birx, the White House coronavirus response coordinator. She encouraged the university to test its student body more often — up to 1,000 tests a day if possible.
Virginia Tech is one of the few colleges in the country that conducts its own coronavirus tests. Through the Fralin Biomedical Research Institute in Roanoke, Virginia Tech can administer 2,000 tests a week, and it currently aims to test 1,340 students, or 5% of the student population, every seven days.
The decision to make testing mandatory came as part of an ongoing discussion among the university, the New River Health District and the New River Task Force on COVID, which comprises school districts, first responders and health providers in the area, said Mark Owczarski, a spokesman for Virginia Tech.
"At the end of the day, we are facing, and have been facing for several months now, a public health crisis, and our decisions are guided by what is best for public health [something Virginia Tech has stressed from the beginning]," Owczarski said. "In the end, we believe we are making the best decisions we can."
In general, colleges can set their own admissions and retention policies as long as they are not discriminatory, said Michael A. Olivas, who retired from the University of Houston Law Center. Because the act of attending college isn't mandatory, the way K-12 education is, a reasonable required testing policy likely would be upheld in court.
"In a public health crisis, colleges have stronger hands to require mandatory testing — perhaps with some religious or medical exceptions, but narrowly construed," Olivas said.
Virginia Tech students, by and large, have participated in the required testing, Owczarski said. While a few have voiced dissent, overall, he said, the program is going as well as administrators had hoped.
There's another tool in universities' toolboxes for limiting the spread of the virus: punishing students who violate the rules, such as hosting a party and inviting a big crowd.
JMU, for example, has investigated 345 students for possible rule violations, found 189 of them responsible and suspended two, said school spokesperson Caitlyn Read. A UVA spokesman declined to say how many students the university has investigated, and a spokesman for Virginia Tech said he did not have a number.
Administrators have worried that students will avoid being tested because a positive test could reveal that they violated a rule on gathering.
At UVA, President Jim Ryan said students won't get in trouble for testing positive. If a student records a positive test, the information provided to contact tracers won't be used for punishing students, said UVA spokesperson Brian Coy. Limiting the virus requires students cooperating fully with public health measures, and the university won't take any action that would discourage cooperation.