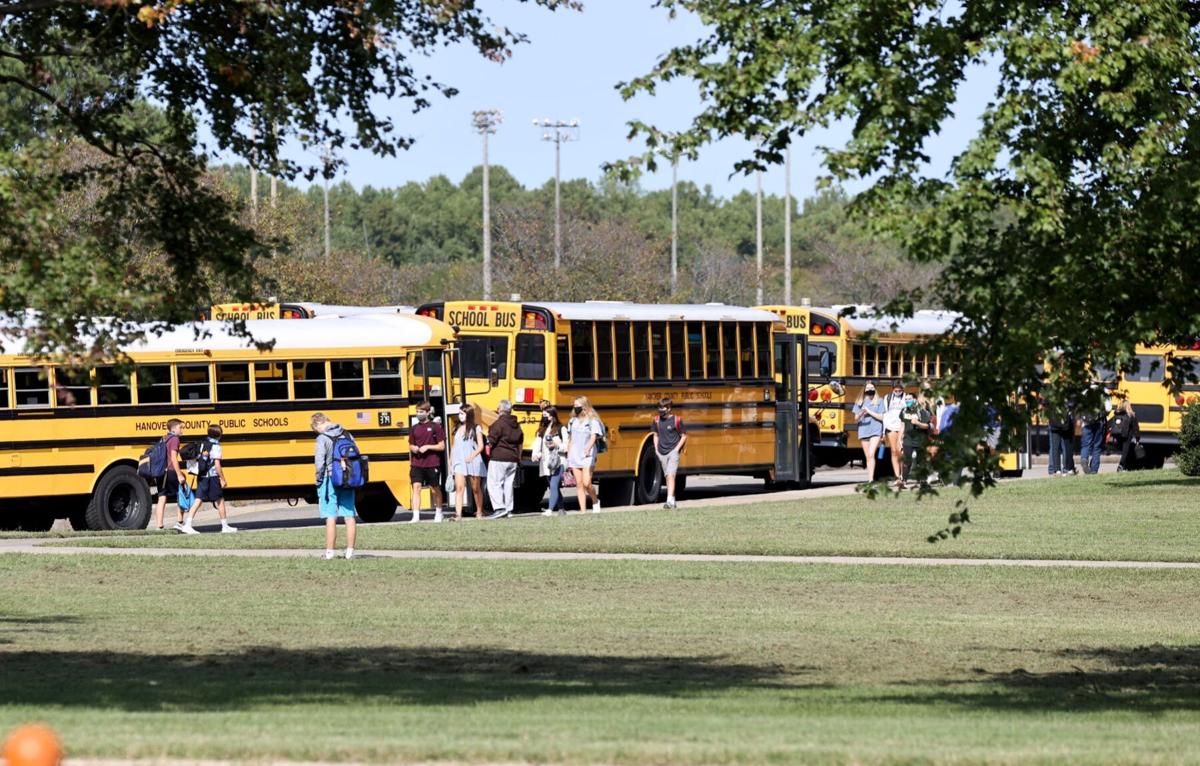 Chalk it up to one more thing local schools are figuring out as they go this school year.
With the majority of students back in schools for 2021-22, Richmond-area school divisions created online dashboards that put into perspective how the virus is impacting students and staff. But there's no universal system, so the dashboards differ division to division.
Some school systems, such as Chesterfield County, provide updates every day, while Hanover and Henrico do it once a week, though on different days — Fridays and Mondays, respectively. All provide current numbers of positive cases in their schools among students and staff, though Chesterfield, Henrico and Hanover go further and include quarantine information.
Some data is offered as a snapshot in time, while other data is cumulative.
School officials in Hanover and Henrico counties updated their COVID-19 school division dashboards recently to offer a wider picture of the pandemic's impact on the number of active cases in their schools and, in Hanover, the number of students quarantining and learning outside of the classroom due to exposure.
Hanover added a new line to its dashboard on Sept. 22 to account for remote learners — in other words, in-person students who are now in quarantine at home. These are not students in the online school. The dashboard is updated each Friday, so the quarantine data is collected Thursday. It is not cumulative, school officials emphasized, and represents only a snapshot in time for that one day.
On Sept. 22, when the dashboard added the new information, there were 454 remote learners, or 2.7% of the division's roughly 16,500 in-person students. As of Friday, Sept. 24, that number had increased to 737 students, or 4.5% of all in-person students.
"We believe including this information ... helps to provide much needed context and tell a more complete story of what is currently happening in our school buildings as it relates to COVID-19," said Hanover schools spokesman Chris Whitley by email. The dashboard provides "additional transparency and an ongoing snapshot in time of how COVID-19 is affecting our schools [and] ... as a school division, we wish to do everything reasonably possible to keep our families informed about health concerns and related decisions connected to our schools."
Hanover's dashboard already showed the cumulative total of positive COVID-19 cases among staff, students and visitors since the first day of school on Sept. 7. Last Friday, it showed a total of 129 cases among 121 students, six staff members and two visitors. Liberty Middle, Patrick Henry High and Cool Spring Elementary have had the largest numbers of positive cases thus far, with 17, 16 and 14, respectively.
Henrico's dashboard also got a refresh, and is now updated every Monday with the previous week's information. It shows the total number of positive cases identified within the last seven days, as well as the number of close contacts from those positive cases. It also shows the cumulative total since Sept. 1 for both of those data points.
As of Monday, Henrico reported 126 COVID-19 cases within the last seven days and 1,089 close contacts.
Since Sept. 1, Henrico has had 579 positive cases and 2,443 close contacts. School officials explained that close contacts don't necessarily equate to quarantined individuals.
Henrico schools spokesperson Chris OBrion said by email that the division's previous dashboard had some issues with the numbers, particularly in how the information was being populated. It was audited by school health services to determine where improvements could be made to better reflect the most accurate information, he said, "which we think will establish a more orderly flow of information."
Elsewhere, as of Wednesday, Chesterfield County reported 213 positive cases within the last seven days — 197 students and 16 staff members — with 1,624 students in quarantine. Of those 213 cases, elementary schools accounted for 101, while there were 45 in middle schools and 63 in high schools. The dashboard did not display the school level for the remaining cases.
Since the school year began Aug. 23, Chesterfield has had 1,145 positive cases — 1,002 students and 143 staff members.
In Richmond, 102 positive cases have been reported in the last seven days. Richmond does not include the number of quarantined individuals or close contacts on its dashboard.
(804) 649-6945
Staff writer Jess Nocera contributed to this report.