A week before his death, Adam Oakes went home. Every few weeks, he would board an Amtrak train and ride north to his hometown of Sterling. He often visited his grandfather, Harold, who was diagnosed with cancer. Oakes would sit on his grandfather's porch and speak from a distance.
On his last visit home, Oakes saw his next-door neighbor, Cole Hartling, and the two talked about their futures. A career in sports appealed to Oakes. Hartling thought about college or the military.
A freshman at Virginia Commonwealth University, Oakes was found dead early Saturday after attending a fraternity party in which he was encouraged to drink alcohol. He was a victim of hazing, his family said. City and campus police are investigating.
VCU has suspended the fraternity, Delta Chi, and it has announced an investigation of Greek life on campus.
On Wednesday evening, Oakes' family and friends gathered in Monroe Park and remotely to remember a young man they described as genuine and kind no matter who he was around.
"I've never met someone like Adam, and I don't think I ever will again," said his friend, Max Turner.
Matthew Curtis remembers playing rec-league basketball with Adam and staying up all night to play Fortnite or Call of Duty on the Xbox. But even more, he remembers a kid who was sweet, funny and bright. He asked attendees Wednesday night to "live like Adam."
A memorial began growing at the center of Monroe Park on Wednesday afternoon when three water color paintings of Oakes and a dozen small flowers were affixed to a black steel picket fence.
As the sun set, bouquets were laid on the bricks and candles were set at the foot of the memorial, their flames flickering in the twilight.
Oakes' friends spoke on Zoom, and another 50 or so stood silently nearby. Near the end of the ceremony, Oakes' parents, Linda and Eric, walked up to the memorial and gazed down at the candles. Linda put her head on Eric's shoulder and rubbed his back.
Linda Oakes said afterward she was filled with emotion by the strangers who painted pictures of her son or approached her just to give her a hug.
"It's overwhelming," Eric Oakes said. "We see the kindness."
VCU students are calling for the permanent expulsion of Delta Chi and the students involved in Oakes' death. A Change.org petition has garnered more than 10,000 signatures.
"A situation like this never should have happened," said a man on Zoom who identified himself as Jordan. "I only could have wished I was there with him that night, cause he should have been helped. It's unspeakable the type of things that happened that night to him."
At times, other kids messed with Oakes, said his friend, Faris Al-Mufti. And yet Oakes still treated them with the same respect as everyone else. There aren't many people like that, who can return negativity with kindness, said Christian Rusu.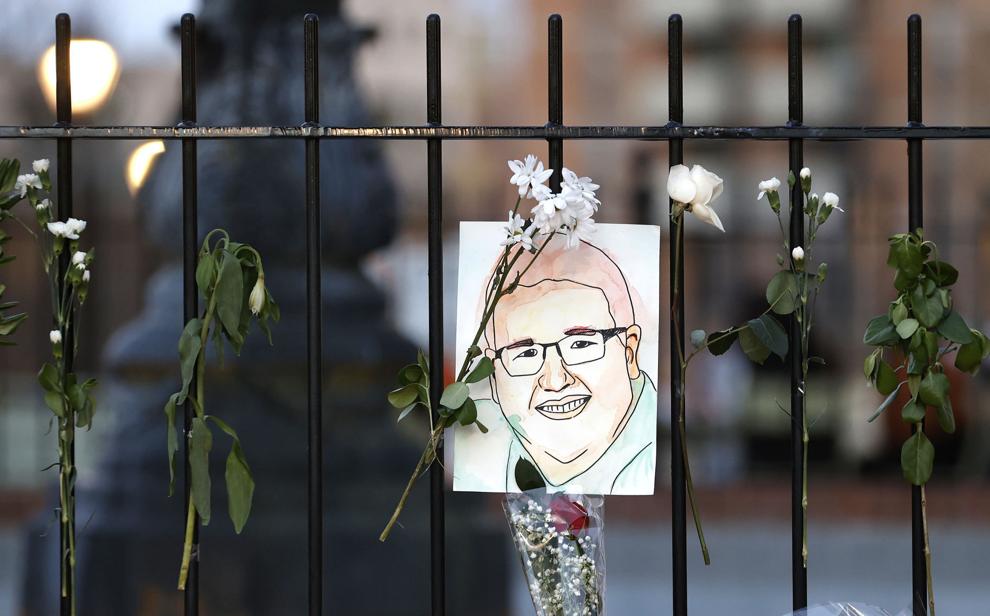 When he was 4 years old, Hartling moved into a house at the edge of the cul-de-sac in Sterling. Oakes lived one home to the left, in a house with brown bricks and a red door. The two became friends quickly, even though there were other kids in the neighborhood.
They would shoot basketballs on Oakes' hoop at the edge of the street or play Call of Duty or NBA 2K. Oakes was a consummate sports fan, and he memorized players' stats. He played recreational baseball, football and basketball, and he joined the Potomac Falls High School football team for his freshman season.
He adored NBA player Russell Westbrook. When Westbrook joined his favorite team, the Washington Wizards, Oakes was ecstatic. Linda Oakes wore a red hoodie Wednesday night with Westbrook's name written vertically down the back.
Hartley remembers how positive Oakes was, more than most kids. He gave great hugs, firm and warm.
On Monday, Oakes' family will gather at the Christian Fellowship Church for his funeral. Hartling will serve as a pallbearer, a responsibility he called an honor.
Oakes made what would be his last trip home to Sterling because he missed his parents, Hartling said. Oakes is an only child and moving to VCU left his parents with an empty nest.
He enjoyed life on VCU's campus, but he still made time to see his parents. In the spiritual sense, Hartling believes Oakes came back for a reason.
"What other kid comes down having that much fun at college just because they miss their parents?" Hartling said. "That's how good a guy he was."
PHOTOS: Vigil for Adam Oakes
People remember Adam Oakes, a VCU student who died last weekend, during a vigil in Monroe Park on Wednesday, March 3, 2021.