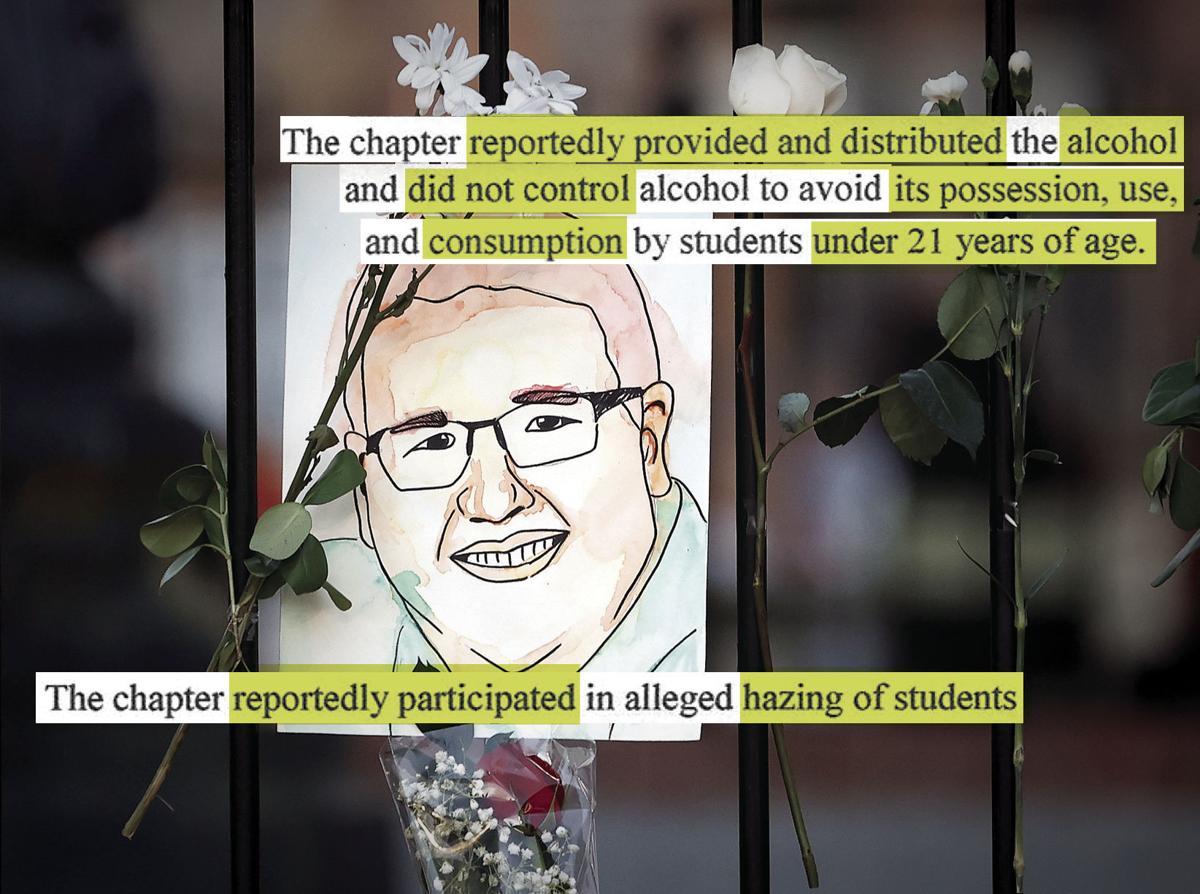 Just before midnight three years ago, 20 members of the Delta Chi fraternity at Virginia Commonwealth University ran around the back of a Cary Street rowhouse, jumped the fence and started a fight with men from another fraternity.
It was yet another alleged violation for a fraternity that has faced discipline in each of the past seven school years. Six weeks earlier, VCU had suspended Delta Chi for a litany of violations, and when the fight occurred, the chapter was awaiting the result of its appeal.
Students in the fraternity have been accused of hazing, sexual assault, underage drinking, illegal parties and the fight, according to more than 800 of pages of emails and reports spanning the past 10 years obtained by the Richmond Times-Dispatch through a Freedom of Information Act request.
The records show other fraternities at Virginia Commonwealth University have been punished for many of the same offenses, but none was on the verge of suspension as often as Delta Chi.
In February, three semesters after being reinstated from suspension and again barred from hosting social events, Delta Chi threw an off-campus party. The group presented pledges with their big brothers and gave freshman Adam Oakes a large bottle of Jack Daniels whiskey, according to his family. Oakes was told to drink, they said.
The next morning, he was found dead on the floor. The alcohol killed him, the Office of the Chief Medical Examiner later determined.
VCU found Delta Chi responsible for violating university procedures and in June announced its decision to expel the fraternity. An investigator hired by the university is examining fraternity and sorority life on campus. But the records show that while VCU repeatedly punished Delta Chi, the sanctions didn't seem to change the fraternity's culture.
It is unusual and questionable that Delta Chi continued to exist on campus after being accused of so many violations, said Susan Lipkins, a New York-based psychologist who wrote the book "Preventing Hazing: How Parents, Teachers, and Coaches Can Stop the Violence, Harassment, and Humiliation."
"I would have expected the university to suspend the chapter and require the national organization to meet a strict set of requirements before allowing the chapter to resume," Lipkins said.
The university, national headquarters and local board are responsible for keeping students safe, especially when a chapter has a history of violations, she added.
"That's their job, to protect students," Lipkins said.
'Don't get involved with Delta Chi'
When Casey Flynn was a freshman at VCU last year, her friends told her to stay away from Delta Chi. Attending their parties could put her in danger of sexual assault, they told her.
Since 2014, VCU students have made four Title IX complaints of sexual assault and one of sexual harassment that mentioned Delta Chi, a university spokeswoman said.
There were also four claims of retaliation, which students can make if they feel they have been harassed, threatened or abused for making a previous Title IX complaint.
VCU and Richmond police found no results when searching "Delta Chi" among sexual assault charges but couldn't rule out that charges may have been filed with paperwork that didn't name the fraternity.
Six current and recent members of VCU Greek organizations spoke with The Times-Dispatch about Delta Chi and Greek culture, most on the condition of anonymity, fearing retribution from the fraternity. The students said Delta Chi had a reputation of giving women alcohol and trying to take advantage of them.
Alcohol flowed freely at Delta Chi parties, but excessive drinking isn't limited to one fraternity or sorority, the students said. It can be found nearly everywhere. About a third of college students participate in binge drinking, according to the National Institute on Alcohol Abuse and Alcoholism.
"The culture is binge drinking," said Leah Bishins, who was a VCU student last year.
Asked if VCU was aware of Delta Chi's reputation for its behavior around women or the Greek organizations' tendency to binge drink, a university spokesman said VCU's investigation of Greek life included surveys of student behaviors related to a variety of measures, including alcohol abuse. VCU will share the results when the review is complete.
VCU addressed allegations against Delta Chi and its members and resolved them under applicable policies and procedures, the spokesman said.
Oakes wasn't a big drinker, said his cousin Courtney White, making his decision to rush Delta Chi a surprising one. But the process of choosing a fraternity lasts just a few weeks, and it's hard to determine a group's culture before you become a pledge, said White, who is writing a dissertation on the anti-hazing movement for a doctorate in education at Marymount University in Arlington.
VCU, like most universities, doesn't publish its fraternities' infractions and punishments, leaving students little time to figure out what kind of group they're joining.
"He had no idea" what he was getting into, White said.
Greek life is built on tradition and contains an element of secrecy, the students said. Snitching is discouraged because it causes the parties to end and the alcohol to stop flowing, White said.
Delta Chi had a history of putting students in danger, White said, and neither VCU nor Delta Chi headquarters did enough to protect the freshman pledge.
"We're extremely disappointed," White said. "We think the system failed him."
A VCU spokesman said the university's commitment to addressing disciplinary issues led to the decision to permanently remove Delta Chi from operating as a student organization after Oakes died. A representative for Delta Chi headquarters did not respond to a request for comment.
Aaron Gilbert, who advised the fraternity for at least eight years, said in an interview that he's unable to police the fraternity's members 24 hours a day and that student members should be held accountable as adults. His general responsibilities are to ensure the chapter recruits new members, pays its bills and conducts philanthropy.
"We're not with them as chapter advisers and alumni boards at 4 a.m.," Gilbert said. "We're talking about grown men who do things grown men do."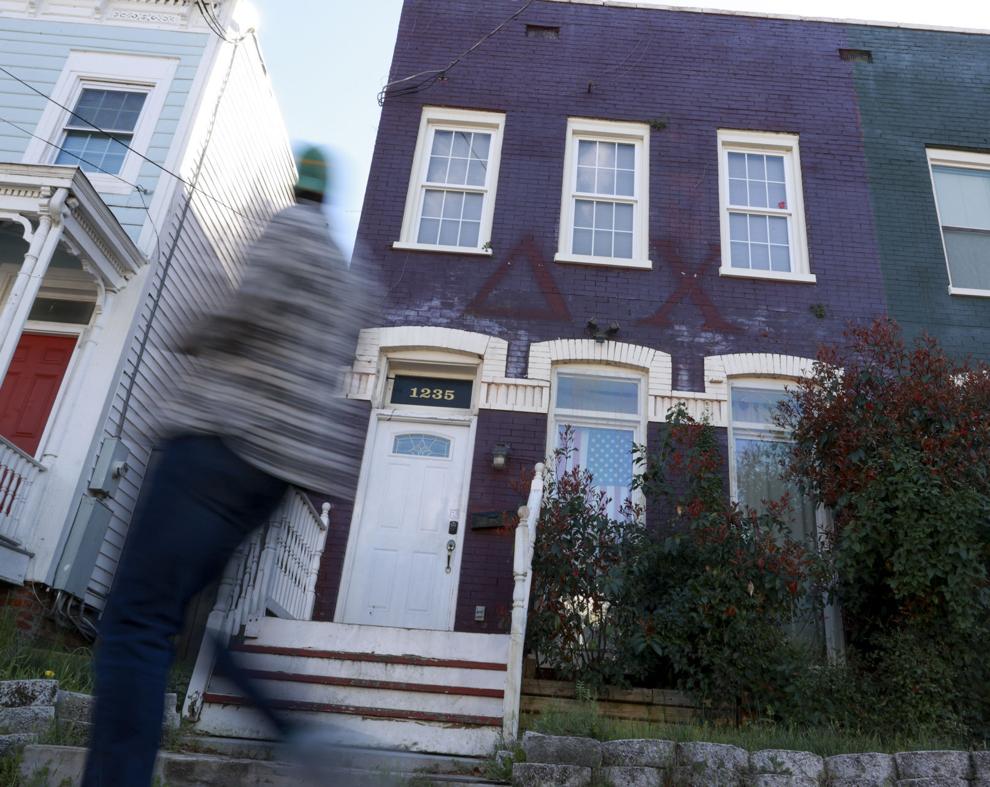 Parties, booze, bad grades
Delta Chi's brushes with authority go back to at least 2012, the first time a violation occurred in the 10 years of records obtained by The Times-Dispatch. VCU staffers and police broke up a large house party with kegs of beer, handles of clear liquor, beer pong, broken-down beer boxes on the steps and somewhere between 150 and 300 attendees, according to VCU reports. One person was arrested for underage possession of alcohol, a VCU police spokeswoman said.
While the university claimed the fraternity had broken numerous rules, the members insisted they had done nothing wrong. In the years to come, their violations became more frequent and more egregious.
In seven of its past 11 active semesters, Delta Chi failed to meet the minimum grade-point averages enforced by the fraternity's headquarters and VCU. The university recently raised its minimum from 2.5 to 2.7, roughly a B-.
After the chapter missed the mark three semesters in a row in the fall of 2017, the university's Interfraternity Council judicial board prohibited the fraternity from throwing parties. But Delta Chi kept hosting bashes and posting about them on Instagram, according to discipline records.
"Jersey Shore Party Tomorrow" read one post. "We're excited to take the beautiful ladies of @vcuphimu to homecoming this year!" said another.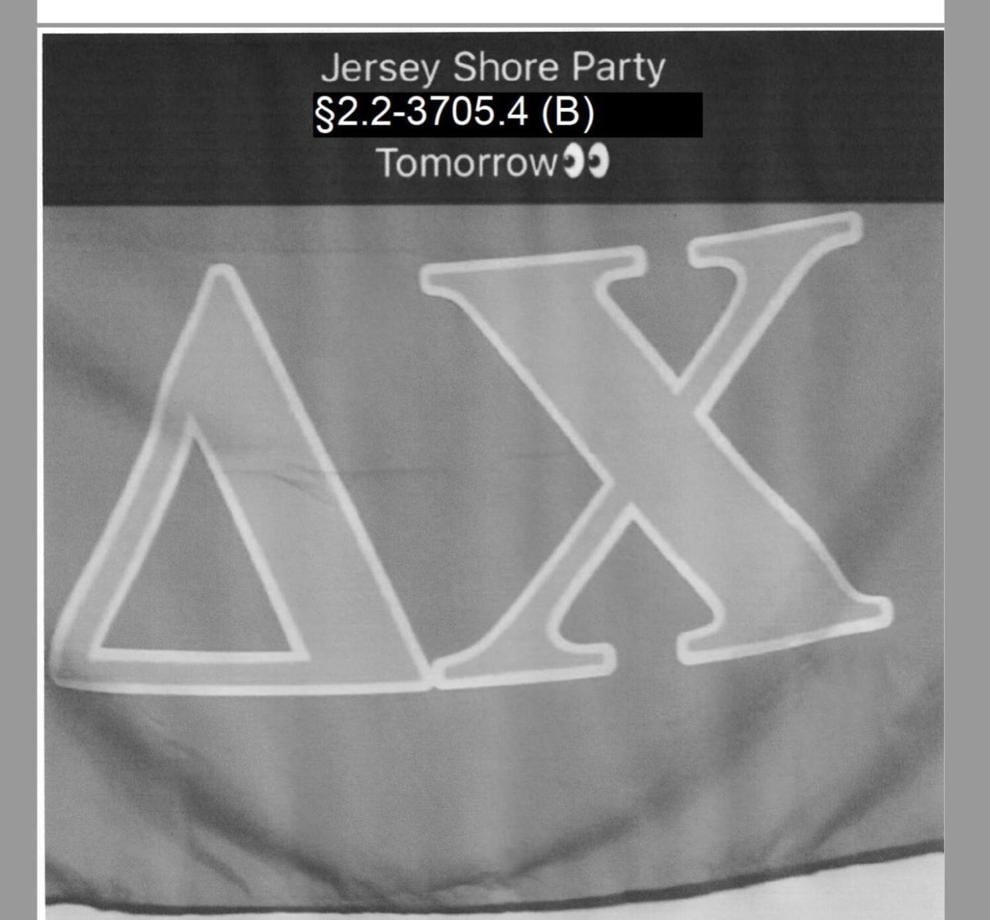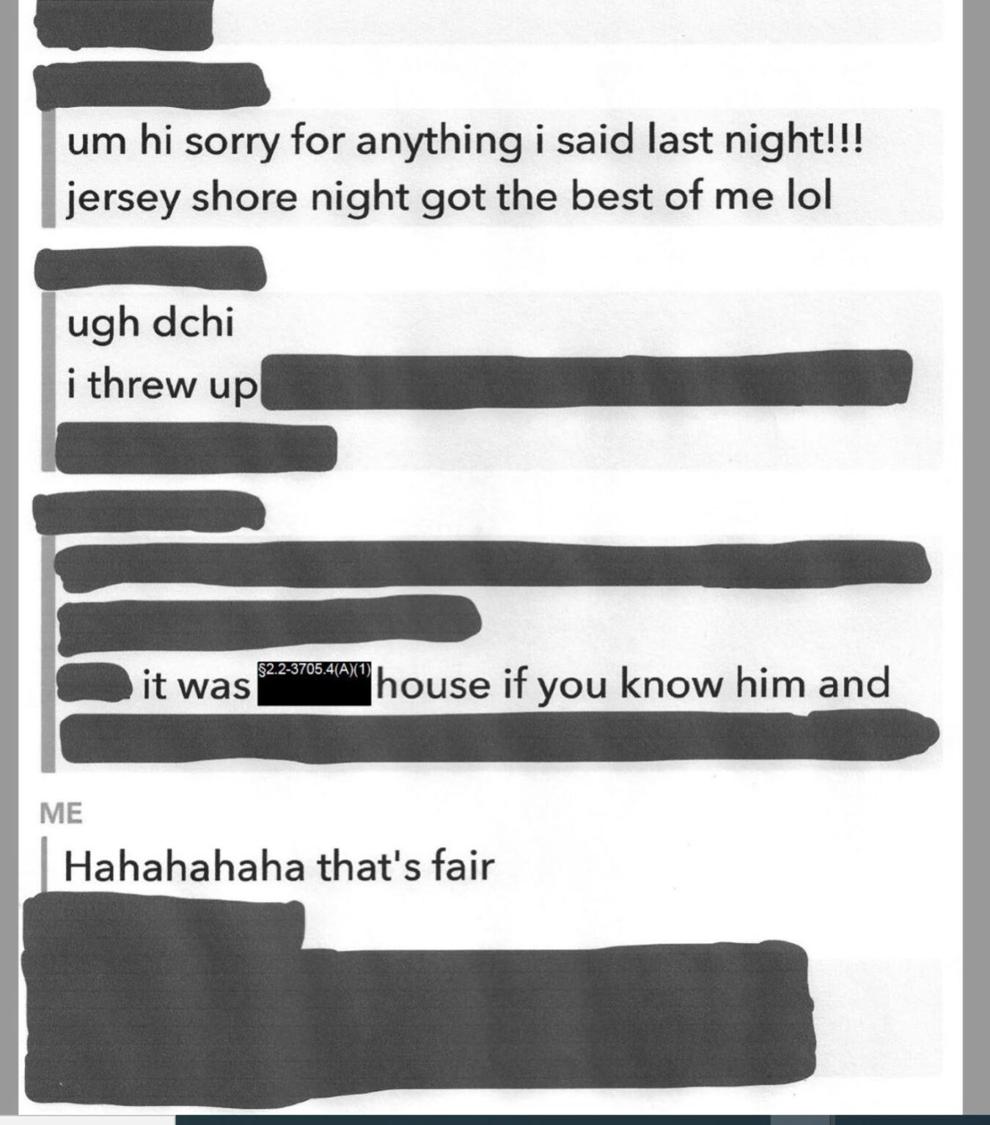 VCU responded by ceasing all fraternity activity for three months. The following semester, the university accused Delta Chi of throwing an unregistered birthday party and serving alcohol to underage students. VCU later scratched the accusation of underage drinking because it didn't have enough evidence, a VCU spokeswoman said.
The university's accrediting department gave Delta Chi a "fair" rating in the spring of 2018, stating the fraternity was "meeting the bare minimum expectations" and "providing little to no programming, community service and or membership development opportunities."
Jennifer Riso, a Texas-based lawyer for the firm Cokinos Young who specializes in representing Greek organizations, wrote a 12-page letter to VCU. She accused the school of making procedural errors, misinterpreting its own rulebook and handing down a "grossly inappropriate" punishment.
She wrote that it's unclear if a birthday party qualifies as a "social event," claimed there was no evidence to back certain allegations, and dismissed other evidence as "hearsay from a disgruntled potential new member." Riso, who declined to comment for this article, called a four-year punishment "in essence a death penalty."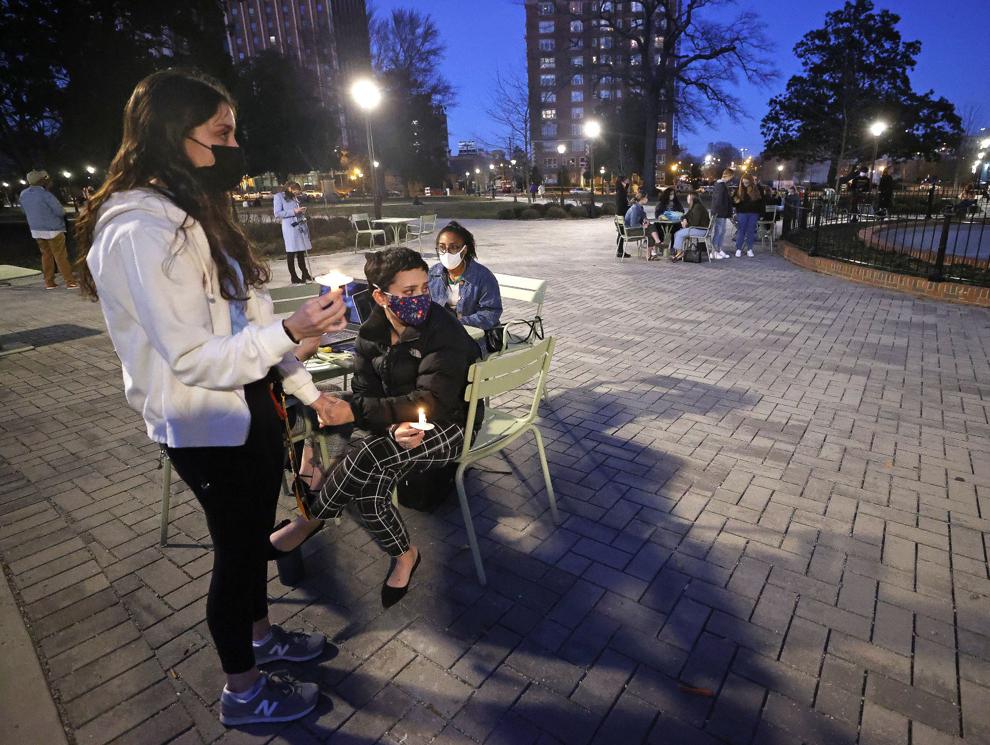 Change will come 'from the inside out'
Eight days after Oakes' death, Stone Foltz, a student at Bowling Green State University in Ohio, died from an alleged alcohol-related hazing incident, and eight men were arrested. Police have made no arrests in Oakes' case, and the investigation continues. A police spokesman did not address why the investigation hasn't led to criminal charges.
Hazing isn't specific to any one fraternity or university, said Lipkins, the hazing expert. Like alcohol and drugs, it exists almost everywhere.
Hank Nuwer, a former University of Richmond professor who has written five books on the topic, has counted 276 deaths attributed to hazing in the U.S. dating to 1838. Last year, when campus activities stopped because of the pandemic, there was no alleged hazing death for the first time in more than 60 years.
In the past decade, five Virginia students, all men, have died in alleged hazing incidents: Oakes; Harrison Carter Cole, who died of alcohol intoxication at Hampden-Sydney College in 2017; Michael Anthony Walker, who allegedly was deprived of sleep and forced to drink alcohol at Ferrum College in 2016; and Marvell Edmondson and Jauwan Holmes, who drowned trying to swim across a river near Virginia State University in 2013.
UR suspended the Sigma Chi fraternity for four years in 2019 for potential hazing violations, reported the school's student newspaper, The Collegian. That same year, the national headquarters for Alpha Kappa Lambda suspended its VCU chapter for four years after an allegation of hazing.
To end hazing, a mass of people will need to form a grassroots effort to change the country's culture, Lipkins said. It will require a movement comparable to #MeToo or Black Lives Matter.
"The answer is going to be from the inside out," she said.
Cornell University has attempted to end the culture of secrecy, publishing all of its alleged hazing incidents on its website. Virginia Tech commissioned an investigation on Greek life and in 2019 reported that nine student organizations were responsible for hazing in the past five years. Tradition and alumni networks support a mindset that fosters hazing, the report concluded. The cycle "is difficult to break."
Virginia Tech suspended seven of the nine fraternities, but some continued operating off campus with the blessing of their national headquarters. These rogue fraternities were "a serious threat to the reputation of Virginia Tech," the report stated.
At least six VCU fraternities and sororities have been suspended for hazing since 2010.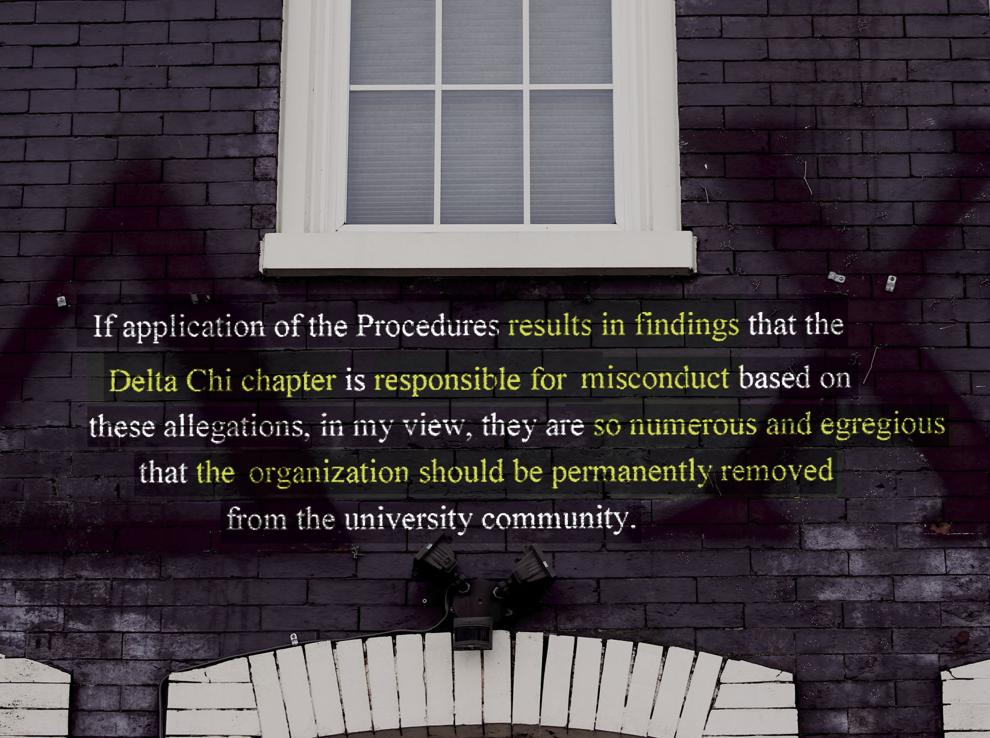 A permanent ban
By February of this year, Delta Chi had been forbidden from throwing parties again. It had missed the minimum GPA, and VCU had canceled all fraternity social events because of the pandemic.
But Delta Chi hosted an event on Feb. 26 anyway, calling it an associate member initiation ceremony. Gilbert, the chapter adviser, said he attended from 7 to 7:30 p.m. for a pinning ceremony, and he never saw Oakes there.
"I'm not at social events with 21-year-olds," he said.
It was just two days after VCU had given an anti-hazing presentation to Greek organizations. The first example of hazing the university listed: forced alcohol consumption.
At 10:10 p.m., someone called 911 complaining of noise, according to the call log. The caller believed students were pledging, the report said. At 11:24, a second person phoned, saying the music could be heard through the walls. The next call came at 9:11 a.m. from inside the house. Oakes wasn't breathing.

VCU and Delta Chi headquarters immediately suspended the fraternity. In VCU's report, dean of students Reuban Rodriguez wrote Delta Chi "allegedly violated VCU policies repeatedly."

Last month, the chairs of the Student Organization Conduct Committee found Delta Chi responsible for charges of hazing, abuse, serving alcohol to minors and other rule violations. VCU permanently banned the fraternity from campus.
Though Greek organizations have their problems, there are reasons why universities allow them to exist, Lipkins said. They provide housing, social circles for students, and alumni who contribute financially to the university.
But hazing and excessive drinking continue, despite the efforts to stop them.
After Oakes' death, members of the fraternity kept throwing parties, said Bishins, who lives near two Delta Chi residences.
"They moved on as if nothing happened," she said.