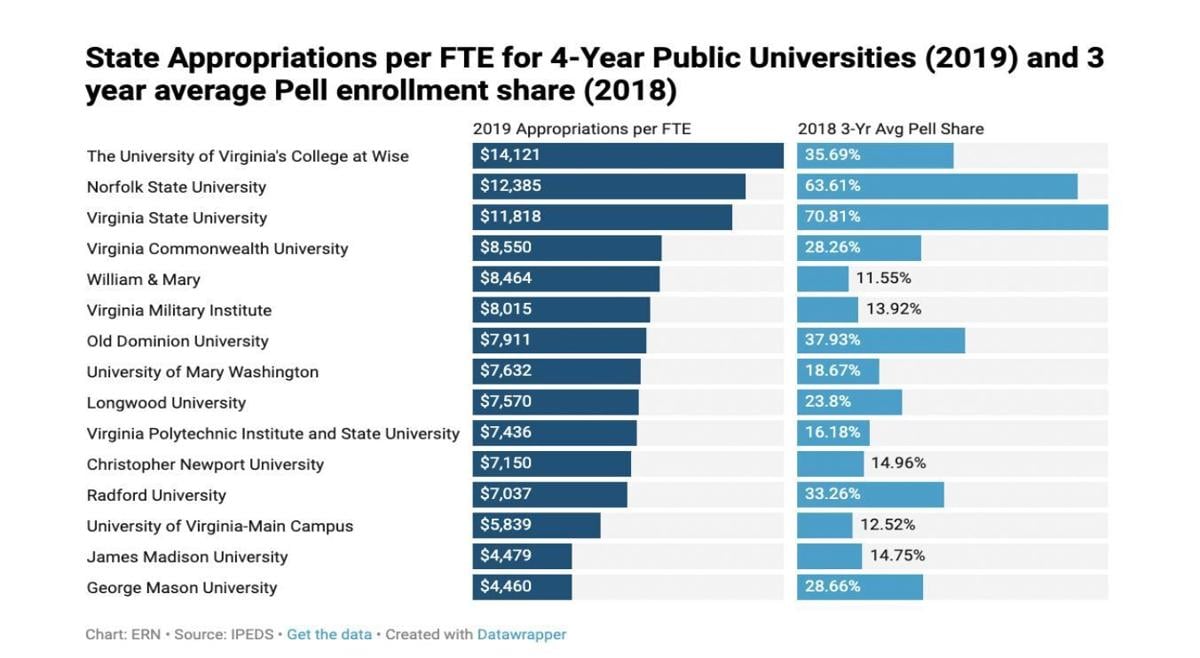 A new think tank report says the way Virginia funds its colleges is "irrational, inequitable and unjust" and criticizes the state for not giving enough money to the students who need it the most.
The report, released last week by Education Reform Now, singles out the College of William & Mary, a wealthy university that receives more money per student than Old Dominion University, Radford University and George Mason University, which all enroll higher shares of low-income students.
Too often, the report says, limited funding is going to already wealthy families, and the method the state uses for awarding money lacks transparency and consistency.
"Our view is that colleges that need the most should get the most, not the least," said Michael Dannenberg, a co-author of the report.
Underfunding needy students has serious effects after college when graduates are unable to pay off high loan costs, and the impacts disproportionately affect Black students. The report comes at a time when the State Council of Higher Education for Virginia is already reviewing how schools are funded and whether they're receiving fair amounts.
Some universities receive high levels of funding despite enrolling a small share of low-income students. William & Mary is the fifth-highest funded university in the state, based on 2019 state appropriations per full-time student. It received $8,500 per student, despite enrolling the smallest percentage of Pell Grant-eligible students in the state. Just 12% of its students were low-income, based on the 2018 three-year average. (Federal Pell Grants are given based on financial need.)
Virginia Military Institute is right behind, receiving $8,000 per full-time student with a student body that is just 14% low-income.
Meanwhile, universities that have higher shares of low-income students are getting less in state funding. Old Dominion receives less than $8,000 per student but has a student body that is 38% low-income. Radford, where 1 out of every 3 students are low-income, gets about $7,000 per student. George Mason receives the least funding in the state, about $4,500 per student, but 29% of its students are low-income.
While William & Mary receives a large amount of state funding, some of it goes toward reinforcing a mission of equity, a school spokeswoman said. The upcoming year's budget gives William & Mary money to increase the number of underrepresented minority faculty in its data science program. The university also seeks state funding to support need-based financial aid for Pell-eligible students.
"While William & Mary's percentage of in-state undergraduate Pell recipients compares favorably among its peers — highly selective private colleges and universities — the university also remains committed to increasing it," the spokeswoman said.
The university's percentage of in-state, low-income students has increased from 15% to 17% in the past four years, according to SCHEV. Looking at in-state students who are also low-income, William & Mary enrolls a higher share than Virginia Military Institute, the University of Virginia and Christopher Newport University. 
The impact of not helping needy students is a big one, Dannenberg said. According to a 2018 New York Times article, 30% of student loan borrowers go into default, are late making payments or have stopped making payments after six years. Among Black students, it's 49%, Dannenberg said.
More students are borrowing to pay the cost of their education, and they're borrowing more. The average amount borrowed by a Virginia public school student has more than tripled from $3,000 in 1992 to $10,500 in 2018. Accounting for inflation, the size of a student loan has nearly doubled.
Del. Luke Torian, D-Prince William, head of the House Appropriations Committee, disputed the notion that college funding isn't transparent or consistent. Each university has its own formula for determining its need, he said, and colleges have different needs, sizes and curricula. The General Assembly tries to keep funding equitable based on each university's request and need, but some disparity is unavoidable.
"It's up to each institution to make their own request to the commonwealth and be able to justify their request to the commonwealth," Torian said.
Before the state allocates funding for each of the 15 public universities, each school makes a request. The governor's office reviews the request and proposes funding levels. Then, the General Assembly reviews the requests and proposals and makes adjustments as it sees fit. Universities also submit six-year plans that include general funding requests so all groups know the institution's needs.
That system is broken and opaque, said James Murphy, a co-author of the report.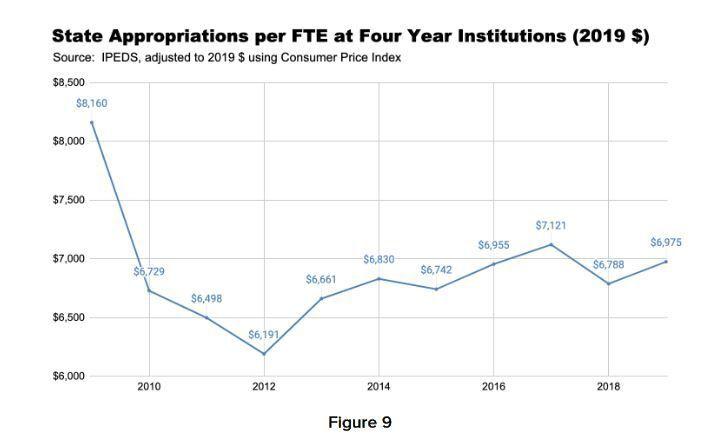 Virginia has some of the most expensive tuition and fee levels in the country, and state funding is diminishing. In 2001, students paid 23% of the cost of public higher education, with the state paying the remaining 77%. But state contributions have dwindled in the past two decades. In 2019, students paid about half the cost of college education, with the state covering the other half.
The high costs lead to high debt. More than half of the students at public four-year schools in the state graduate in debt, and 1 in 4 of them owe more than $50,000.
Students who graduate from Virginia's two public historically Black universities, Norfolk State and Virginia State, have some of the highest debt; 90% of them graduate in debt, and half owe more than $40,000.
Fewer students at William & Mary and the University of Virginia graduate with debt, and those who do graduate owing less.
Former Gov. Doug Wilder called for the state to give $50 million to each of the state's four HBCUs from American Rescue Plan dollars. HBCU funding should be a priority, Dannenberg said.
SCHEV is currently studying how schools are funded. This year's budget allocated $300,000 to review higher education costs, funding needs, appropriations and efficiencies. The review also will address the impact of funding on underrepresented student populations. A preliminary report is due in December, and a final report is due by July 2022.
The state's current funding model doesn't completely ignore need. The state's highest-funded universities, based on per-student dollars, are UVA's College at Wise, Norfolk State and Virginia State, which enroll some of the highest shares of low-income students. UVA-Wise has a student body that is 36% Pell-eligible.
At Norfolk State and Virginia State, the student bodies are 63% and 71% Pell-eligible, respectively.
Virginia Commonwealth University is the fourth-highest funded school, and it enrolls the seventh-most low-income students. VCU receives about $9,000 per student and has a student body that is 29% low-income.
A university doesn't have to sacrifice quality to recruit a diverse, equitable student body, Dannenberg said.
"Equity and quality are not mutually exclusive," he added. "Diversity and equity are components of quality."
The report also criticizes how much funding the state awards to community colleges. Virginia ranks 44th in the country in state funding for two-year colleges when considered on a per-student basis. Four-year schools receive about $7,000 per full-time student, while two-year schools get about $4,000. Many two-year schools serve a high number of low-income and Black students.
Tuition Assistance Grants, which go to Virginia residents attending the state's private schools, were also identified in the report. Recipients don't have to prove need or meet a level of academic merit to receive a grant, whose average value was $3,000 in 2018.
The state spent $71 million on the Virginia Tuition Assistance Grant program in 2020, and the report argues that a chunk of that money goes to wealthy families who don't need it; in 2018, $10 million went to students who didn't qualify for financial aid or didn't apply, and more went to students of families making over $100,000 than students whose families earn $50,000 to $100,000.
VTAG money, Dannenberg said, should be need-based.
VTAG was enacted in 1972, beginning as loans and then transitioning to grants a few years later. Historical accounts suggest legislators wanted to support Virginia residents in higher education beyond those who attended public schools, a SCHEV spokeswoman said. A VTAG grant costs the state less per student than if the student enrolled in a public four-year school.
(804) 649-6109
Twitter: @EricKolenich