The University of Richmond's board of trustees made a conciliatory move Monday in the ongoing conflict over two campus building names associated with racism.
"The board is reviewing options for a broader, more inclusive process to determine how decisions are made about questions of renaming, and we expect to communicate our plans shortly," the board said in a statement.
Tension at UR has been high since February, when the university announced it would leave the names of two historical figures with ties to racism on university buildings. Douglas Southall Freeman, a UR trustee and rector from 1925 to 1950, supported segregation, white supremacy and eugenics.
"Some of us are fortunate enough to receive from our parents that greatest inheritance — clean blood," he once said.
His name has stood on a UR dorm since 1965. Earlier this year, the university changed the building's name to Mitchell-Freeman Hall, adding John Mitchell Jr., a former enslaved man who rose to editor of the Richmond Planet newspaper.
Robert Ryland was instrumental in founding what is now the University of Richmond and was the school's first president. He owned at least 24 slaves. Academic building Ryland Hall bears his name.
Through a "braided narrative," UR would tell both sides of its history, the proud and the ugly, school President Ronald Crutcher said in February. The board affirmed in March that it would not change its mind.
Students responded by "disaffiliating" from student organizations. Scores of student groups across campus ceased their normal operations in protest. The faculty senate issued a statement condemning the board's decision.
On March 26, board representatives met with faculty, staff and students. Afterward, members of the faculty and staff lodged complaints at the board's highest ranking member, rector Paul Queally, criticizing his comments and behavior.
Faculty representatives said Queally referred to students as Black, Brown and "regular students." Jessica Washington, a UR employee who attended the meeting and is Black, said she was singled out, interrupted and condescended to. She called the interaction the "single most horrific and traumatizing work experience I have ever had."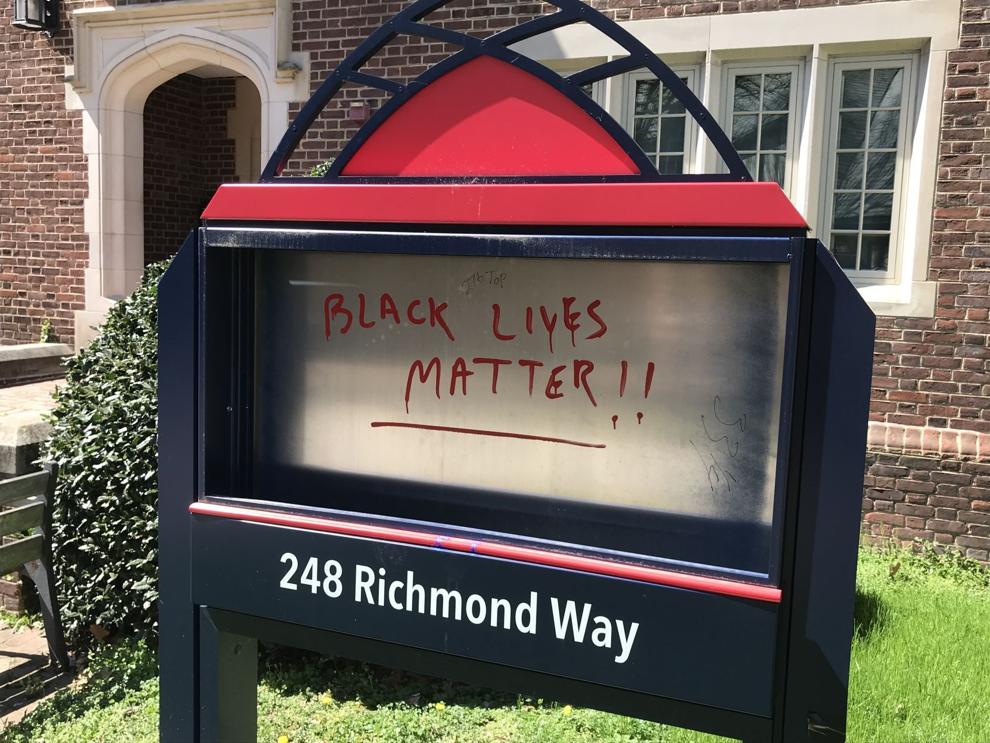 The 17-member faculty senate unanimously voted to censure Queally on Friday. Crutcher apologized and admitted the renaming process hasn't been held as smoothly as it should have.
The board issued a response Monday, saying its intention was to chart a path that was honest about the university's history and respectful of the differing views of the community.
"We respect the deep convictions about these issues among faculty, staff, students and alumni, and we accept that our process and the proposed decision have not achieved our objectives," the board wrote.
The board came to Queally's defense, saying his words, tone and intent were mischaracterized.
"The conversations were candid and passionate but in the spirit of mutual respect," the board said. "We are saddened but hear clearly, that some parties interpreted certain comments as disrespectful."
Thad Williamson, the president of the faculty senate, said he wouldn't comment until after the senate has met and discussed the board's response. Washington did not immediately respond to a request for comment.
Kathleen Skerrett, a professor of religious studies, said the board's decision to suspend its earlier decision shows progress. "But their defense of Mr. Queally's conduct, including his reference to 'Black, Brown and regular students,' shows the depth of the problem."
Anthony Polcari, who was a student government co-president until last month, called the board's actions a positive step forward. But he said the board owes Washington an apology.