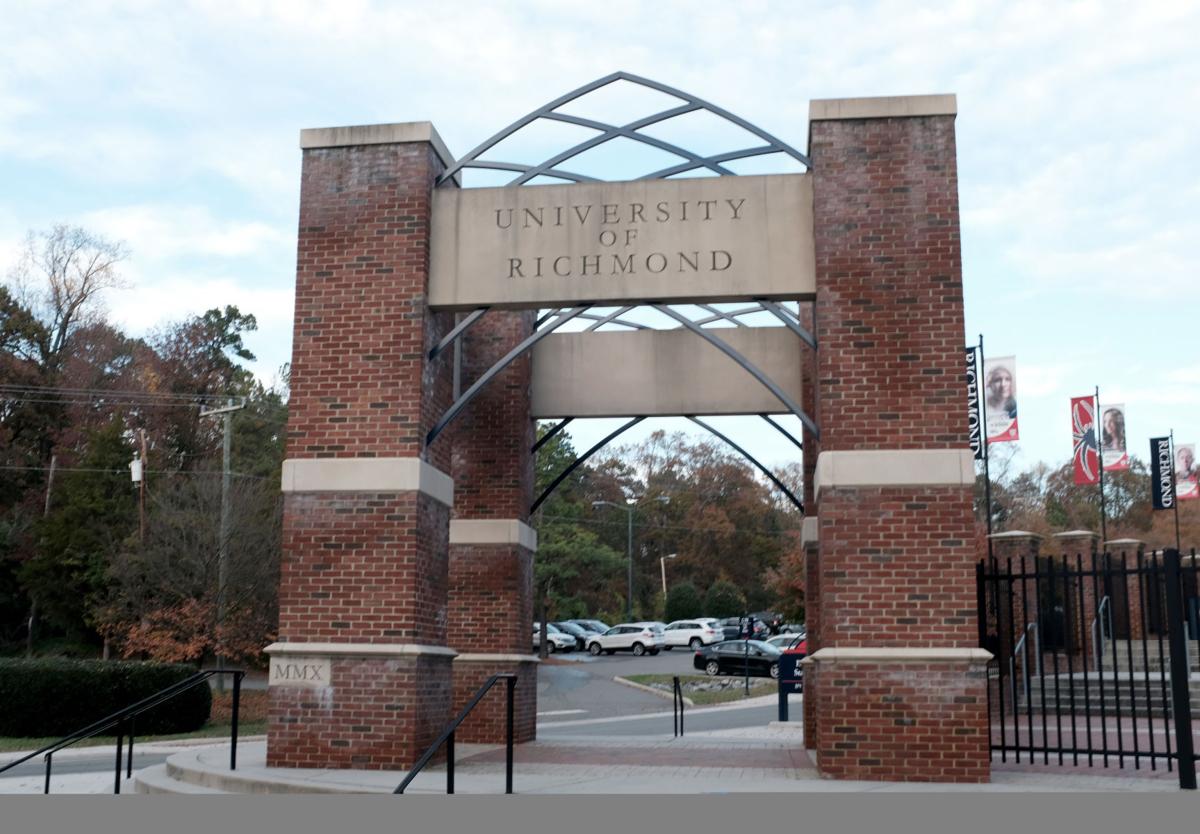 A few hundred University of Richmond students and staff, mostly wearing black, stood in silence for an hour and 25 minutes Friday afternoon to protest the names of two campus buildings the university says it won't change.
The only sounds to be heard were engines, saws and hammers as the renovation of Ryland Hall continued behind them. Ryland is one of the two buildings whose names won't be changed, the university's board of trustees said last week, despite fierce pushback from students and employees.
As protesters watched, trustees met with student representatives in a roped-off white tent in a corner of the quad. From where protesters gathered, the conversation between students and trustees could not be heard.
While other universities in Virginia have changed the names of their buildings recognizing Confederates or enslavers without much controversy, at UR, the process has taken a different turn.
Laura Browder, a professor of American studies, held a green neon sign that read "Do the right thing!" She said UR never had its moment of social upheaval in the era of the Vietnam War like so many other colleges.
"In some ways, this is 50 years later than every other university in the country," she said.
When president Ronald Crutcher explained the decision to keep the names, a decision made by the board of trustees, he said the aim was to provide a "braided narrative." The names would tell the university's entire history, warts and all.
Robert Ryland was the university's first president, beginning in 1840. He was instrumental to the university's creation, and he owned slaves. The board decided last month his name would remain on Ryland Hall.
Douglas Freeman was a UR trustee and rector from 1925-1950. As editor of the Richmond News Leader, he advocated for segregation and eugenics. The board renamed Freeman Hall to Mitchell-Freeman Hall, recognizing John Mitchell Jr., a former enslaved man who became editor of the African American newspaper, the Richmond Planet.
But the braided narrative is a contradiction, said Kamryn Jones, a UR sophomore studying media studies who is Black.
"It's time for the university to pick a side," she said. "You can't preach Black lives matter and celebrate slaveholders."
Jones said she doesn't blame Crutcher, who is also Black. She believes he would change the names if the rest of the board would allow him. Crutcher, 74, will step down from the presidency this summer. Browder said he could have used the timing as an opportunity to resign in protest.
Student groups across the university have voted to "disaffiliate" from the university in protest. Two student government organizations have suspended operations. Jones is a member of Spider Advertising, which had entered a national advertising contest with other colleges. The group conducted surveys and focus groups and wrote a 20-page marketing plan for the assigned company, dating app Tinder. But they pulled their submission from the contest. Standing up for what they believe in is more important, Jones said.
Student organizations have stopped promoting themselves to the public. A theatre group changed its performance from public to private. A campus sustainability organization stopped publicly broadcasting its research.
Mary Finley-Brook, a geography professor, said professors will continue to teach, and students will continue to learn.
"We all want to do our jobs," she said.
Professors have discussed how to work in Ryland Hall without ever uttering its name. Currently under renovation, the building is set to reopen in July and be the home of four academic departments.
"We hope the board will see the light before then, because this shows no signs of petering out," Browder said. "It's just escalating."
Mitchell-Freeman Hall is a dorm located on the other side of Richmond Way. Its sign was vandalized earlier this month, with Freeman's name scribbled over in spray paint. On Friday, the sign had been removed and someone had written the words "Black Lives Matter" in its place.
"Can you imagine being a student of color and being asked to live in Freeman Hall?" said Dorothy Holland, a theater and dance professor.
Tashira Iverson, a sophomore psychology major who is Black, said she doesn't always feel welcome at UR. She'd like to see more class readings and conversations that recognize her identity and culture. She said the university should teach its history in the classroom, not with the names of its buildings.
Of the 4,000 students at the university, 6% identify as Black, according to the school.
Holland stood at the front of the protest holding a sign over her head that read, "I stand in solidarity with the UR Black Student Coalition."
She stood in the sun, wearing all black, as the silent protest wore on. She put down the sign to take a sip of water. Then she readjusted her mask and emphatically raised the placard above her head.