The pausing of the Johnson & Johnson vaccine could hinder local health departments' ability to fully vaccinate college students by the end of the spring semester next month.
As local health departments switch from the one-shot Johnson & Johnson to the two-shot Pfizer and Moderna vaccines, students may receive their first shot at college and their second shot in another health district or state after they've returned home for the summer.
The College of William & Mary informed students Tuesday that if they move home in between shots, and they live in Virginia, they can present their vaccine card to other health districts to schedule a second shot.
The state health department is still working on how out-of-state students should proceed with receiving a second shot, Amy Sebring, the university's chief operating officer and COVID-19 director, wrote to students.
"You should also reach out to your home state health department for additional guidance if you anticipate not being in the local area at the time of your second dose," Sebring said. "The commonwealth, W&M and local providers are working hard and quickly to provide student vaccine opportunities before the semester ends."
Almost 3,000 of William & Mary's 8,900 students have received a shot already, Sebring said. The last day of spring classes there is May 7, and exams end May 18.
The Centers for Disease Control and Prevention recommend Pfizer recipients wait three weeks for their second shot and Moderna recipients wait four, which gives health departments and universities little breathing room.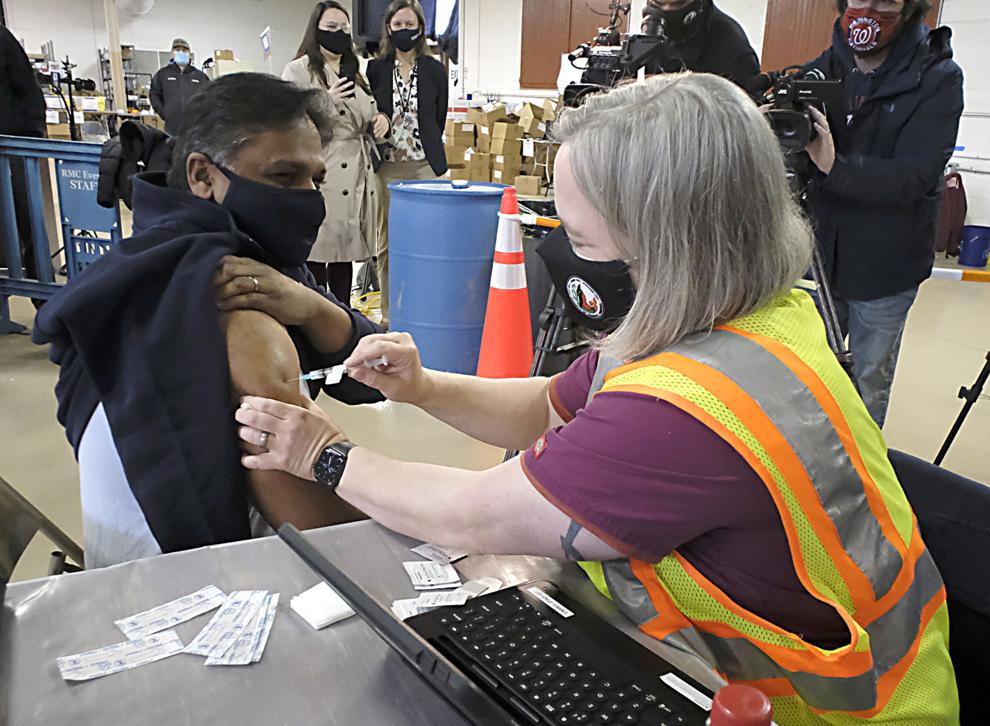 Whether Virginia Tech can vaccinate all of its students by the end of the semester depends on supply of the vaccine, a university spokesman said.
Virginia Tech offered 1,000 students and employees vaccine appointments on Monday and Tuesday. An event for students is scheduled for Thursday, when health officials intend to inject 3,500 Moderna shots. The New River Valley Health District, which encompasses Virginia Tech, moved to Phase 2 on April 8, opening vaccinations to adults 16 and up.
More than 7,000 Virginia Tech employees have been vaccinated already, and another 3,500 students who work at the university in some capacity were also offered vaccines. Virginia Tech has about 37,000 students.
Virginia Commonwealth University also hopes to vaccinate all of its students by the end of the semester, but that depends on enough doses existing, a spokesman said.
VCU has opened vaccines to non-medical students and employees. There were two Johnson & Johnson events scheduled this week, and the university has enough Pfizer doses to keep those events on schedule, the spokesman said. VCU is working with the state health department for future events.
The state health department announced Tuesday it would pause the distribution of the Johnson & Johnson vaccine after six recipients in the U.S. reported rare and serious blood clots shortly after receiving the dose. It is unclear if the blood clots are related to the shot, which has been given without serious adverse effects to nearly 7 million Americans.
A spokesman at the University of Virginia said students will begin receiving vaccines this week, which will give them enough time to receive their second shot before the end of final exams, which run May 7-15.
Students at UVA began receiving invitations Monday for vaccine appointments for the Seminole Square Shopping Center. Before Tuesday, UVA students were told they would receive any of the three vaccines. But Johnson & Johnson won't be offered in the immediate future, the spokesman said. The vaccinations will continue with the existing supply of Pfizer and Moderna.
Randolph-Macon College will hold a vaccination event this weekend for all students, faculty and staff, a university spokeswoman said. Without Johnson & Johnson doses to give, the private university is working with the state health department to secure another vaccine.
Dr. Danny Avula, the state's director of vaccine distribution, said he isn't necessarily concerned about the health impact of young, healthy college students not receiving the vaccine as quickly as possible. What does concern him is that college students can transmit the virus to others.