Student demonstrators marking Earth Day descended on the office of Virginia Commonwealth University President Michael Rao on Friday, carrying a symbolic coffin, protesting the school had gone back on its promise to reduce the school's greenhouse gas emissions by 2025.
"VCU has a responsibility to its students, the greater Richmond area, and as an institution of higher learning wielding power in our society, to look out for our futures," freshman Carolyn Hindle said in a statement before the march. "Last semester, when faculty met with Rao's administration about declaring a climate emergency, they said they didn't want to get political. Our future isn't political."
But Rao was not in his office and the students, carrying a coffin with a model of the planet Earth, were met instead by two faculty members from the office of student affairs — Aaron Hart and Meredith Weiss — met the student protesters in Rao's stead.
"We agree that VCU plays a critical role in addressing the significant climate and ecological challenges we face, which is why we are in the midst of developing a thoughtful, evidence-based sustainability plan. We anticipate that the plan, when complete, may address many of the points raised in the declaration," Hart and Weiss said in a prepared statement.
The protest, which was student-organized by Green Action! VCU, was supported by the Richmond Sunrise Movement and Third Way. Hindle, carrying a bullhorn, led the students from Cabell Library through Monroe Park before stopping outside Rao's office.
The demonstrators staged the protest even though the school has 22 LEED-certified buildings, meaning they are environmentally friendly. VCU also received a "gold" rating from an independent environmental auditing group that rates universities based on their transparency around sustainability initiatives.
But protesters say the university has faltered on its commitments in the past decade, including watering down a commitment to reduce greenhouse gases by 2025. VCU's own data substantiates the claim.
The university has quietly rolled back that target. VCU's current climate action plan tasks the school to achieve a 17% reduction by 2025, according to several more current news releases. Michael Porter, a university spokesperson, did not return requests for comment on the change in objectives.
More current data is not available. Many transparency tools it once provided online — such as the tracking dashboard — appear to be defunct and no longer publish data around VCU's greenhouse gas emissions.
Student protesters also called on VCU to disaffiliate with Wells Fargo. Wells Fargo is financially involved with the Mountain Valley Pipeline, a project that will expand an existing pipeline from West Virginia into Virginia's Pittsylvania County.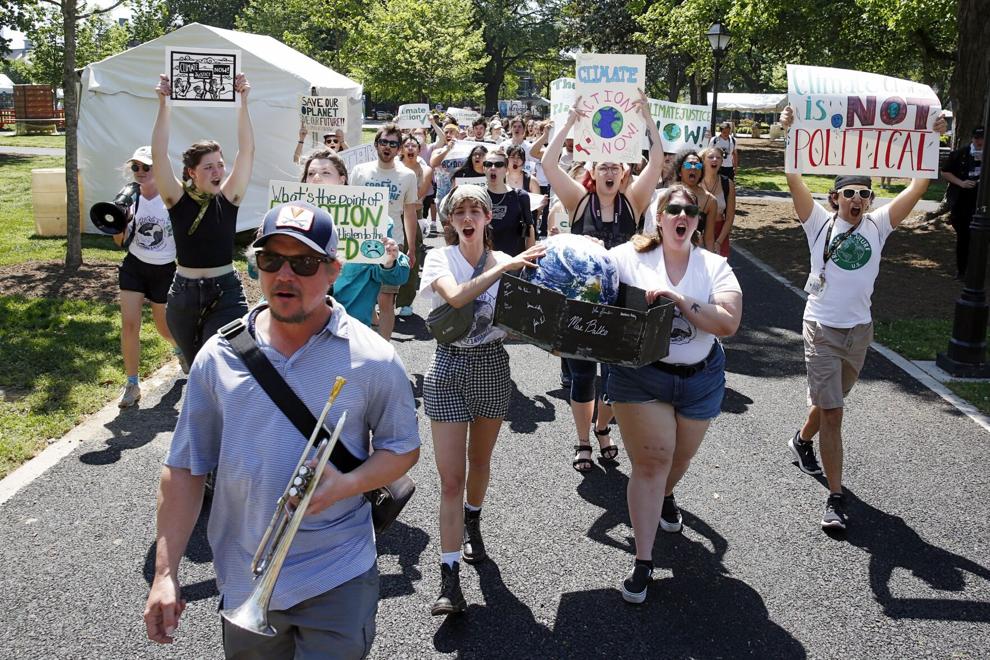 The protest was also attended by members of Third Act, a national organization founded by environmentalist Bill McKibben. The group rallies environmentalists over age 60 to work on issues of climate and racial justice.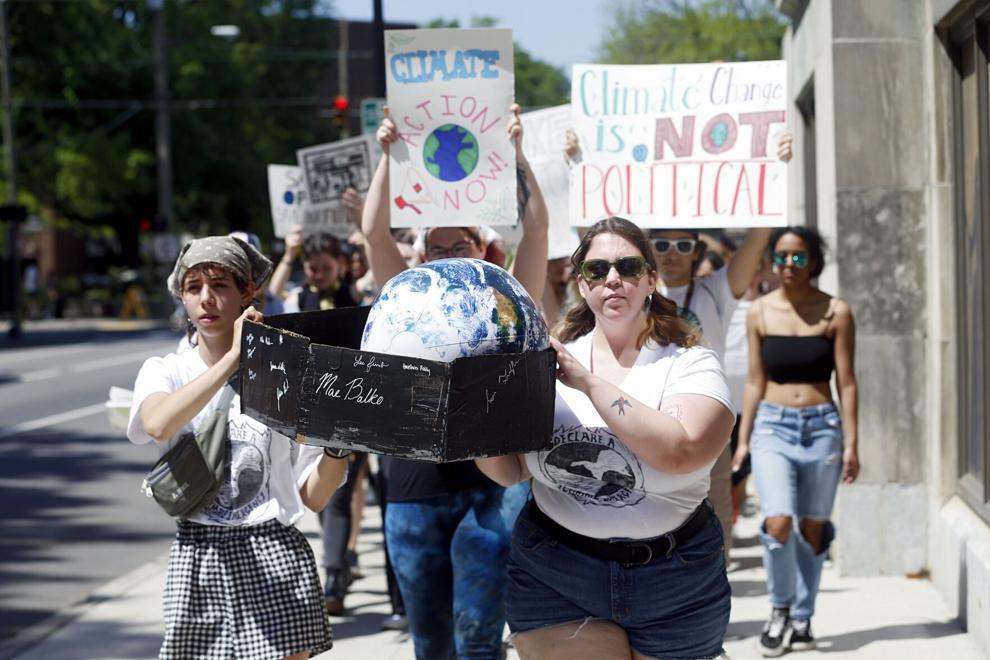 "Our focus is on the banks and the financial institutions," said Christiane Riederer, a Richmond member of the group who said she attended the protest because she feels like her generation bears responsibility for the current climate crisis.
Another member and attendee, VCU professor emeritus Bill Muth, said the uptick in gas emissions was a let-down from Rao's administration.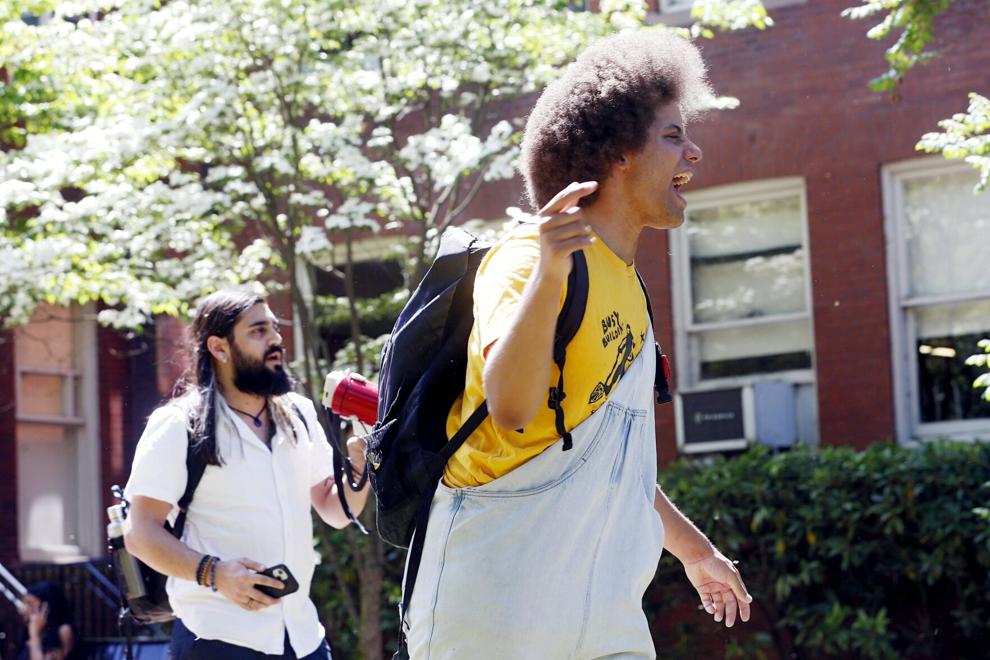 "It was improving at first. It was transparent, and it was really sophisticated," said Muth, who taught climate literacy instruction in VCU's School of Education. "But in 2020, the tracking system went offline. That was a hugely disappointing moment."
Protesters gathered outside Rao's office and were disappointed he was not there. When they entered with the makeshift coffin, Hart said he admired their passion, that they would prioritize the group for communications, and asked that the students write up a statement explaining their gift to the university president.
"The president has a lot of power," said Eddy Schoenborn, a freshman from Northern Virginia who was inspired to join the rally after an urban planning class. "You have the power to put up new buildings that are sustainable, that are green. And it all needs to come from the top down."
25 terms you should know to understand the climate change conversation
25 terms you should know to understand the climate change conversation
Weather
Climate
Ice sheet
Global warming
Carbon dioxide
PPM
Methane
Emissions
COP and UNFCCC
Tillage
Fossil fuels
Ocean acidification
Particulate matter
INDC
Sea ice
IPCC
Greenhouse gas
Global average temperature
Biofuels
Pre-industrial levels of CO2
Ozone
Sea level rise
Algal bloom
Renewable energy
Mitigation
Luca Powell (804) 649-6103
@luca_a_powell on Twitter