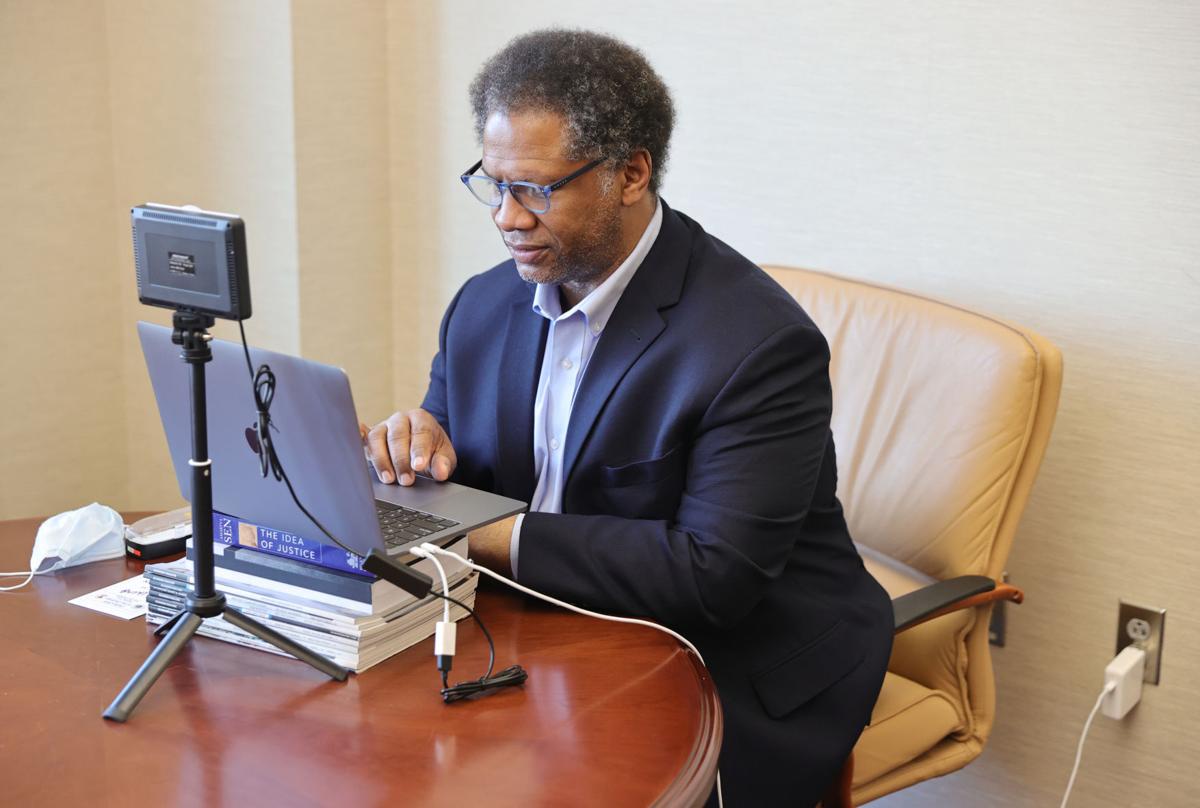 The building for the Massey Cancer Center sits atop a hill overlooking Interstate 95 in downtown Richmond. From his first-floor office window, Dr. Robert Winn can see the cars whizzing by, Shockoe Bottom and the place where people were sold as slaves 200 years ago.
Last year, Virginia Commonwealth University appointed Winn the director of its cancer center. Among the 71 federally designated cancer centers in the U.S., Winn, 56, is the only director who is Black.
Because he grew up in a modest neighborhood in eastern Buffalo, N.Y., he approaches the role of cancer center director differently. He has a vision of bringing Massey to the Richmond community, especially its most vulnerable, and on this early December day, he explained his vision to Massey's junior faculty. He placed his MacBook on a stack of magazines and books, removed his mask and gazed into the camera.
It's not enough to build a cancer center and wait for sick people to come, he told the 50-plus observers on the call. You have to go out to the community. There is a mistrust toward the medical industry, he said, especially from the Black community. It needs healing.
Doctors in the infamous Tuskegee experiment lied to Black patients infected with syphilis and let their disease go untreated for decades. James Marion Sims, known as the father of modern gynecology, experimented on Black enslaved women without anesthesia, believing they could not feel pain. Doctors in the 1970s took the cancerous cells of a Black woman named Henrietta Lacks and published her medical records without her permission.
"That medical mistrust extends even to today," Winn told his audience.
In an effort to build a bridge between the Black community and the medical community, Winn speaks with Black religious leaders in Richmond on a weekly conference call. Earlier this month, he recommended pastors continue to hold church services over Zoom and that everyone walk at least 15 minutes four times a day.
He makes in-depth radio appearances on WKJS KISS-FM. When actor Chadwick Boseman died over the summer, he spoke about the disease that killed Boseman, colon cancer. Winn told listeners that they should consider getting screened before the recommended age of 50. Boseman, after all, was just 43 when he died.
To combat the widespread mistrust of the COVID-19 vaccine, Winn is bringing vaccine experts on to his weekly conference calls. He explains the difference between efficacy and effectiveness — efficacy is how well the vaccine succeeds in a clinical trial; effectiveness is how well it succeeds in the real world. He was one of the first health care providers at VCU to receive the injection in his upper arm earlier this month.
But he knows what he's up against. A Pew study from November found that only 42% of Black adults intend to receive the vaccine. Hesitancy is understandable, he said, because the Centers for Disease Control and Prevention and the Food and Drug Administration have issued constantly changing advice throughout the pandemic.
"I think this is the most perfect opportunity to start rebuilding trust," he said.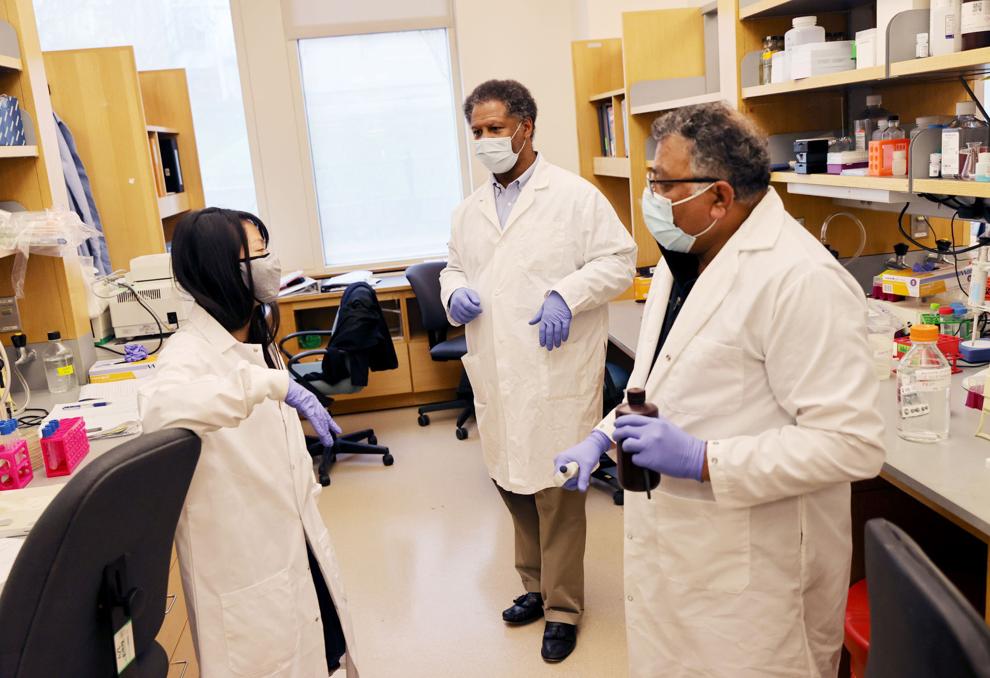 When he was a kid living in Buffalo, Winn and his father, Harrison, made extra money on the weekends by hauling junk and selling the scrap metal. If someone down the road had thrown out their stove, Winn and his dad would borrow a pickup truck, lift the stove into the bed of the truck and haul it to the junkyard.
Winn never knew how much money they earned, but his dad would give him one dollar, and Winn would use it to buy Swedish Fish candy. Growing up disadvantaged made him more resourceful.
"That part made me," Winn said.
His mother, Vertia, gave birth to him at age 15 and worked as a senior clerk typist. Harrison was a sharecropper and later operated a crane at a salvage yard. He had a third-grade education and took night school classes to learn to read.
When he was in high school, Winn aspired to be a foreman at the nearby General Motors plant that built V-8 engines. Notre Dame offered him admission, and he figured college would get him a good job at the plant. He was the first member of his family to attend college, and he didn't exactly fit in among the mostly white, Catholic and often wealthy student body.
In the fall of 1983, he walked on the football team as a fullback. The following spring, he walked on the lacrosse team as a long-stick defender.
Two priests who ran the university's pre-medical school track, Fathers Robert Austgen and Joseph Walter, convinced Winn to try biology and organic chemistry. They saw something in him that he didn't see in himself, Winn said.
During his sophomore year, he realized that he wanted to be a doctor. After graduating from Notre Dame, he earned his M.D. at the University of Michigan and became a pulmonologist, a physician whose specialty is the respiratory system. After working 13 years at the University of Colorado, he became the University of Illinois Cancer Center director in 2015.
Thanks to his innovative research, his focus on health disparities, his enthusiasm and his way of communicating in lay terms, he became a hot commodity in the field of cancer treatment. Every cancer center in the country that had an opening seriously considered him, said Dr. Victoria Seewaldt, a research collaborator in Los Angeles.
He chose Massey, he said, because of its commitment to treat every patient, whether the patient is rich or poor. It aligned with his values.
"Virginia is very lucky to have him," Seewaldt said.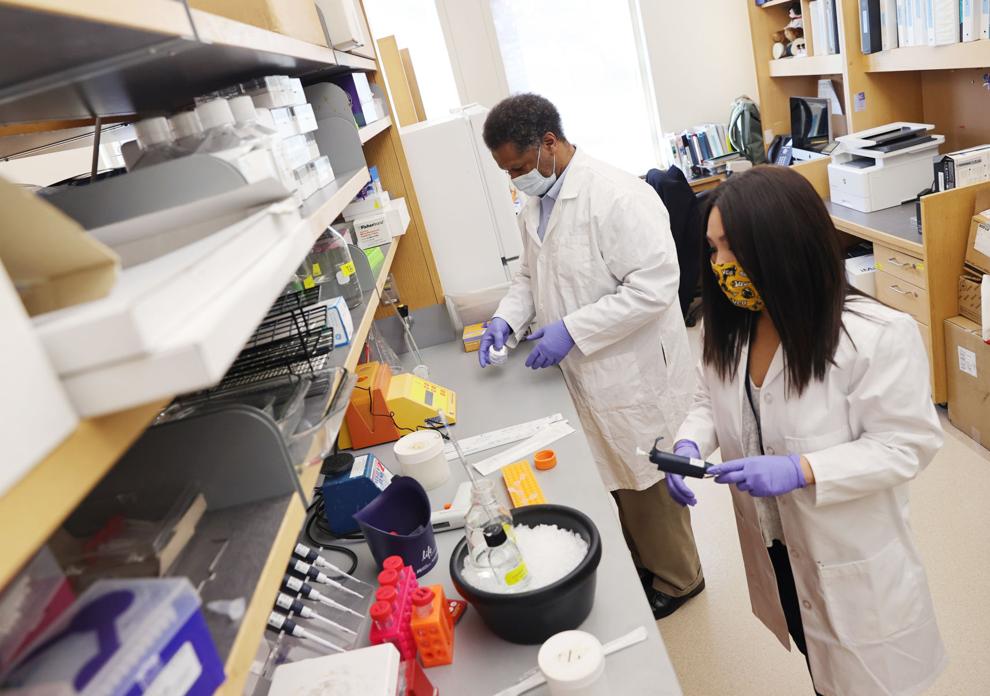 VCU appointed him in December 2019, and he became the second Black director at a nationally designated cancer center in the 50-year history of the National Cancer Institute's cancer centers program.
There are two worlds in which he lives, as a cancer director and as a Black man living in America. They don't always align. Three times in his life, he said, he was stopped by police officers with guns drawn.
During college, he visited friends in Chicago and was walking back to the 1972 Cadillac DeVille his father gave him when police stopped him. They pushed him against a wall and took him to the ground, he said. He heard the sound of a handgun click behind his head.
During medical school, he was driving home from a shift in Detroit with his white coat and stethoscope next to him when he was pulled over, he said. He was put in the backseat of a police car and questioned.
During residency in Chicago, he was pulled over, cuffed and put in the back seat of the cruiser, he said. He told the officers he was a doctor at the hospital, but they were skeptical. They asked him the phone number for the hospital, and Winn recited it by heart. They dialed the number and asked if a Dr. Winn worked there. Yes, the person on the other line said. Officers let him go, gave him a warning and never apologized. He was never arrested or charged.
These incidents still upset him. But he isn't anti-police, he said. His brother is a New York State Police investigator. The experiences reinforced the idea that he should work in a place where he can make a difference.
He still wonders what would have happened had he not followed his father's advice to de-escalate the situation and stay calm. He has passed along the same advice to his own children, an act he called a macabre rite of passage for Black people. Earlier this year, Winn wrote about his brushes with law enforcement on a cancer news website. He titled his story "I could have been George Floyd — many times."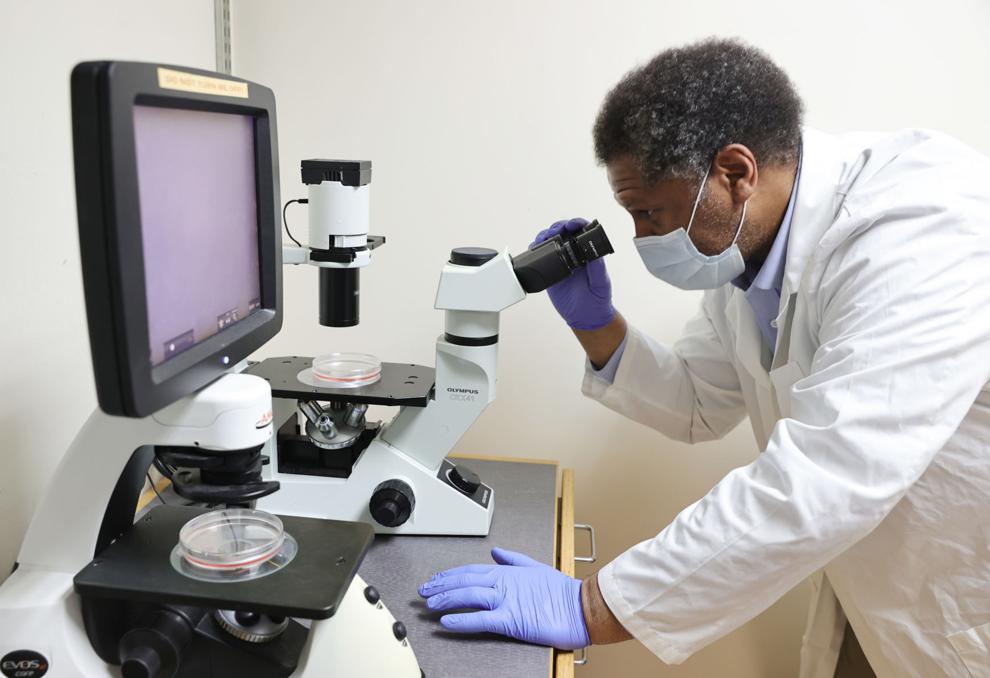 The trajectory of Dr. Winn's career changed in mid-April when a prominent Black pastor refused to close his church. Bishop Gerald Glenn, who founded the New Deliverance Evangelistic Church in Chesterfield County, told his parishioners that he would preach "unless I'm in jail or the hospital" and that God was larger than the coronavirus.
In early April, Glenn contracted the virus and died. He was 66.
Now, Winn was fighting a war on two fronts, cancer and COVID-19. He volunteered to start a weekly conference call with Richmond's Black faith leaders. He had already connected with a Richmond lawyer and a pastor who spread the word.
Winn figured that people were more likely to trust their pastor than a doctor or a government agency news release. So they meet each Friday and begin and end with a prayer. They titled their gatherings Facts and Faith Friday, and Winn updates listeners with the latest number of cases, positivity rate and hospitalizations. He gave advice on how to attend racial injustice protests safely and how to vote in person with the least risk. He brought on guests like Mayor Levar Stoney and Gov. Ralph Northam. Next month, Dr. Anthony Fauci will join the call.
Each month, Winn appears on KISS-FM to talk about cancer and good health. He brought on a cancer survivor to talk about what kind of help cancer patients need from their friends, like babysitting or wrapping Christmas gifts.
"When people talk about cancer, they're usually not talking about this," he said after the recording. "If we can reach someone that's going through this, that's going to be tight."
Years earlier, Winn was speaking at a town hall event in Chicago and, afterward, a woman stopped him to call him "illiterate." Yes, Winn could talk science, she said. But he knew nothing about the neighborhoods. Now, he makes it a point to listen. His colleagues credit him for being "bilingual," talking both the language of science and everyday conversation.
"There are not a lot of doctors who can move between different worlds," said Dr. Art Kellermann, CEO of VCU Health.
Learning about the community makes for better science, too, Winn said. When he was in Chicago, he learned that in Englewood, a South Side community beset by violence, prostate cancer deaths were three times higher than the rest of the country. The Black men who lived there knew it, if anyone bothered to ask.
He's working on collecting the same kind of data in Richmond. Too often, he said, data collected by cancer researchers is useful for the researcher but not for the general public.
He wants to understand the cancer risk factors that go beyond a person's race, gender and propensity for smoking. Stress, pollution, access to healthy food and exercise all affect a person's cancer risk. To understand a person's risk, you need more than just his or her DNA, he said. You need their ZNA — ZIP code and neighborhood association.
Neighborhoods that were redlined 90 years ago still display higher risks of cancer. A 2015 study by VCU's Center on Society and Health found the life expectancy in Gilpin Court, a public housing community, was 63. Less than 6 miles away in Westover Hills, one of Richmond's wealthiest neighborhoods, the average resident lives to 83.
For too long, he said, cancer centers believed patients would simply come to them. Doctors believed that if they developed a vaccine, everyone would take it.
Earlier this month, Winn was on the phone for another Facts and Faith Friday conference call. The question was asked, "Do any of you have a concern with the vaccine?"
There was a long pause. Then finally, a male pastor answered.
"Yes," echoed another woman. "We don't want it done at warp speed," she said, referencing the name of the government's partnership with pharmaceutical companies. "We want it done right."
The best Winn can do is be honest. It'll be months until most of the general public is eligible for vaccination. Things could get worse before they get better. An expert recently predicted that life wouldn't get back to normal until the fall of 2021.
"December, January and February are going to be rough," he said. "Let's buckle in. We did it once, and we can do it again."
Five memorable stories from 2020 by reporter Eric Kolenich
Support strong local journalism like these stories by subscribing to the Richmond Times-Dispatch in print or online.