In the summer of 2018, the Delta Chi fraternity at Virginia Commonwealth University faced a four-year suspension. It had been accused by VCU of committing a litany of infractions, according to documents obtained in an open-records request: twice giving alcohol to underage students; throwing illegal and unregistered parties; conducting an underground recruitment while banned from adding new members and failing to achieve sufficient grades.
The fraternity "demonstrated patterns of failing to comply" with university rules, David Greene, VCU's director of student activities, said in a letter to the chapter.

VCU and the Interfraternity Council judicial board handed down a number of small punishments, issuing two cease-and-desist letters, twice banning the fraternity from throwing parties and barring it from welcoming new members for a semester.
Realizing those measures were having little effect, VCU issued a four-year suspension of Delta Chi, lasting until the fall of 2022. But Delta Chi appealed, and the suspension was reduced to one year.
On Feb. 26, 2021, the fraternity threw a booze-filled party in a duplex on West Clay Street, a few blocks from campus. Forty-some members of Delta Chi attended, including freshman pledge Adam Oakes, his cousin Courtney White later said. He was one of 10 new members who met his "big brother" that night. Oakes, 19, was given a large bottle of Jack Daniels whiskey and told to drink, his family said. The next morning, he was found lying on a couch, not breathing. Someone dialed 911, but there was nothing paramedics could do. Oakes was dead.
In response, VCU indefinitely suspended Delta Chi and hired a consulting firm to investigate the university's Greek culture.
Emails obtained by the Richmond Times-Dispatch make clear the university was aware of troubling behavior at the fraternity. They don't reveal precisely why VCU reduced the planned four-year suspension in 2018. A VCU spokesman said last week that the decision was part of a standard appeals process.
By the fall of 2019, Delta Chi was back.
"That infuriates me right now," said Eric Oakes, Adam's father, who wasn't aware of the longer suspension until informed by The Times-Dispatch.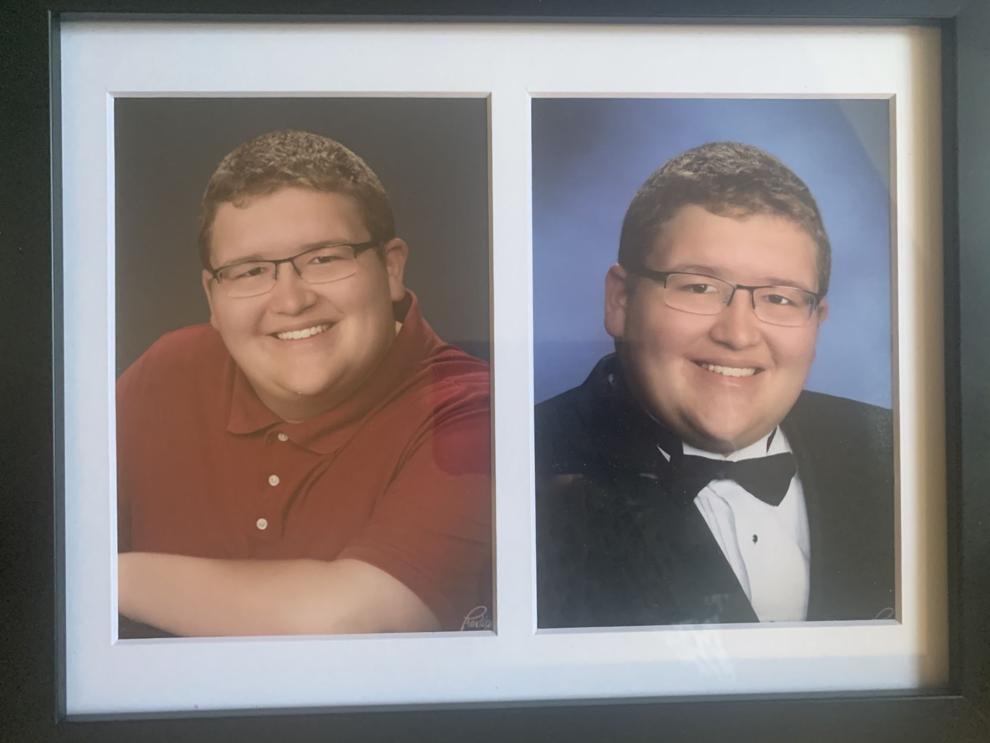 In early 2017, Delta Chi had an academics problem. At the time, a fraternity or sorority at VCU had to maintain a grade-point average of 2.5, and Delta Chi had missed the mark three semesters in a row.
After the second semester, VCU put the fraternity on probation. After the third, it referred the case to the judicial board, which issued new grade requirements and a social suspension. Delta Chi couldn't throw parties anymore – only philanthropy, rush events and fundraisers.
Six months later, Delta Chi was in trouble again. In September 2017, VCU accused it of using alcohol during the recruitment process, which is banned. The fraternity held a "meet the brothers" event where beer and wine were offered to underage students, a student alleged. The fraternity also offered membership to students before they were allowed, a university employee said.
Delta Chi's president didn't deny the allegations in an email to VCU activities staff.
"We have never had any allegations like this during recruitment during my 4 recruitments at VCU or before that," he wrote.
"That is the usual response," VCU employee Lindsey Dombert wrote to a colleague. Dombert did not respond to a request for comment.


VCU again referred Delta Chi to the judicial board, which issued punishments. The board released the fraternity's new members, known as pledges. They could either join another fraternity or wait until the next semester to be a part of Delta Chi. The board also imposed other restrictions, and it required Christian Tiernan, the chapter's president, to attend a meeting with the chapter adviser, national headquarters, VCU staff and the judicial board to discuss the fraternity's problems. Tiernan, who has since graduated, did not respond to a request for comment.
Delta Chi's next alleged infraction came a month later. The university accused the fraternity of holding three social events and offering memberships to prospective students, even though Delta Chi wasn't allowed to throw parties or welcome new members. VCU called it an "underground" recruitment. Delta Chi also had partnered with the Phi Mu sorority for homecoming, another violation.
In response, VCU issued a cease-and-desist order on Oct. 30, 2017, halting all fraternity activity.
By December, the chapter's disciplinary problems had reached the desk of Delta Chi CEO Keith Shriver. He tried to pour cold water on VCU's allegations, calling them "unspecified" and "informal." He accused VCU of denying Delta Chi's right to due process, and he accused Dombert of improperly punishing the chapter.
The chapter's adult advisor, Aaron Gilbert, requested the cease-and-desist order be lifted, "considering the chapter did everything that was asked by your office" over the past month. Shriver and Gilbert did not respond to requests for comment.
In January 2018, VCU lifted its cease-and-desist order. Staffer Jennifer Chapman warned that further violations could trigger a suspension of two to four years. Chapman declined to comment for this story.
A week after its punishment was lifted, Delta Chi was again accused of breaking a rule. The fraternity had extended membership offers before it was supposed to, VCU said, so VCU handed down another cease-and-desist order, Delta Chi's second in four months. VCU later acknowledged that several fraternities or sororities had broken this rule, and it did not punish Delta Chi.
Infractions persisted through the spring of 2018. In April, Delta Chi was cited for not attending a mandatory meeting. Days later, it was accused of holding an unregistered birthday party for several brothers in which it gave alcohol to underage students. The judicial board restricted Delta Chi from throwing parties for the rest of the semester.
By August, it appeared Delta Chi was at the end of its rope. Its conduct caused VCU to grow concerned for the health and safety of its students. The university issued a four-year suspension, which would lift in the fall of 2022. Small punishments weren't working, Chapman wrote.
"It is clear that these efforts have been ineffective, and I have no other option but to suspend the chapter," Chapman wrote to the fraternity.


But the four-year suspension never took effect. Delta Chi appealed, and Greene, the student activities director, reduced the suspension to one year. It's not entirely clear why — VCU hadn't committed a procedural error, Greene said in his letter, and it hadn't misunderstood university policy, as the appeal claimed.
Greene also cited the chapter's accreditation, which is set by a group of VCU faculty and staff. They listed Delta Chi's status as "fair," meaning the fraternity was not contributing to the community but wasn't a hindrance either.
"Delta Chi's repeated failures to comply with applicable requirements raise serious concerns about the health of Delta Chi as a registered student organization," Greene wrote.
But there was one piece to Delta Chi's appeal that Greene didn't dispute. He didn't object to the chapter's claim that a four-year suspension was "grossly inappropriate" and having "no reasonable relationship to the charges."
Lowering the punishment would "support the organization on a better path for success," he wrote.
Asked why the suspension was reduced, a VCU spokesman said it was a "standard appeal process and subject to the chapter completing the conditions of the reduced suspension." Greene did not respond to a request for comment.
Delta Chi served its one-year suspension. The following spring, a representative for Delta Chi headquarters visited VCU's campus for a membership review. There were nine men who would be active members of the fraternity the following fall, the representative said.
A year after Delta Chi was reinstated, Oakes accepted an offer of membership.
According to the records provided by VCU, the university did not charge Delta Chi with another disciplinary measure until Oakes was found dead.
After Adam Oakes' death, VCU was not transparent about the reason for Delta Chi's previous suspension. In a statement from university spokesman Michael Porter on Feb. 28, VCU listed "event registrations, attendance policies and academic performance" as reasons for the chapter's suspension. It didn't mention accusations of underage drinking, illegal parties or an underground recruitment.
"To me, that's a lie," said White, Oakes' cousin. The records provided by VCU tell a fuller story. "It concludes exactly what we thought. All of these things led to Adam's death. Had they kept that four-year suspension, he'd still be here with us on earth today. This tells us they went against the rules, they manipulated the system and they got away with it.
"To me, all of these things gave forewarning that this fraternity was no good on campus… and that they truly didn't care about the boys that were rushing the fraternity."
Immediately following Oakes' death, VCU provided the information it had available at the time about Delta Chi, Porter said.
"The safety of our students is paramount, as is thoughtful consideration of actions to address this tragedy," he added. "Adam's death is a tragedy. VCU is dedicated to our independent, thorough review of fraternity and sorority life."
The review, which will be led by Dyad Strategies, began recently. VCU will provide updates to the investigation on its website.
Oakes' family said they wish they had known the reputation of the fraternity before Adam joined. Some universities, such as Cornell University, list the misdeeds and punishments of their fraternities and sororities on their website. Students and parents then have a better idea what kind of organizations pledges are joining, Eric Oakes said, and the Greek organizations are held more accountable. Maybe Adam Oakes would have made a different decision if he knew Delta Chi's history, White said.
Oakes' family said he probably didn't know much about the chapter's past. In the last days of his life, he was excited yet apprehensive. He enjoyed the one-on-one attention. The brothers gave him a sense of belonging and didn't judge him.