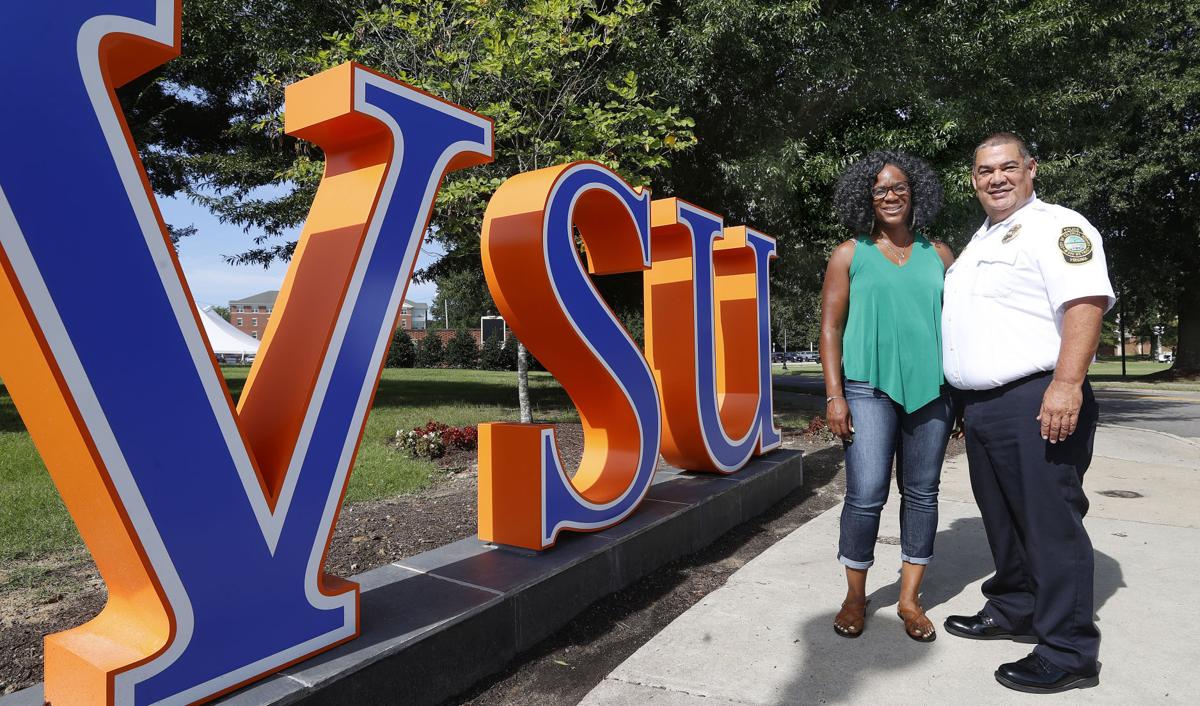 At Virginia State University, members of the Black community and police officers have spent the past year working to mend their frayed relationship.
It began last summer, after the death of George Floyd, when criminal justice professor Zoe Spencer started phoning police chiefs and asking them to talk.
Now, in what is believed to be a first-of-its-kind initiative in the United States, VSU has announced formation of the Center for Policing Leadership and Social Justice. Its scope will be wide: to conduct research and training and to conceive new policies and new programs.
But the premise from which it started, was small: putting police officers in the same room as Black leaders, conducting uncomfortable conversations and trying to get everyone to see things from the other person's point of view. Their objective: preventing another George Floyd.
"At the end of the day, the goal is to make sure we don't have anymore tragedies in Virginia," Spencer said.
After Floyd died Memorial Day of 2020, protesters hit the streets of Richmond, Colonial Heights outside the campus of VSU and the rest of the country. Spencer started calling police chiefs in the area and asking if they wanted to talk. She called Colonial Heights, the counties of Chesterfield and Henrico, and more.
Then she called community and social justice organizations, such as I Vote for Me, Community 50/50 and RVA League for Safer Streets. She also invited students and faculty.
To her surprise, the police chiefs showed up, first on Zoom calls, and later for an in-person conference. They were eager to talk. Twelve local departments responded, plus the Department of Criminal Justice Services, which oversees policing in the state.
Richmond police participated some, Spencer said, but not as much as others. Richmond police have faced the most scrutiny since teargassing protesters at the Robert E. Lee statue in 2020. Two Richmond officers will head to trial this fall, charged with assaulting three teenagers when the officers sprayed a chemical irritant into a car.
The police leaders who showed up recognized there was work to be done.
"That conversation needs to be had, because there is a disconnect with law enforcement and minority communities," said Jeffrey Faries, chief of police in Colonial Heights. "To me, you really need to acknowledge that if you want to open those lines of communication."
Faries calls himself a realist. All you have to do is look at Ferguson, Mo., where a Black man was fatally shot six times by a white police officer, to know police treat minorities differently.
He didn't always see things that way. When he joined the Colonial Heights police department in 1989, he was naïve, and he's not afraid to admit that.
In the 1980s, Colonial Heights was overwhelmingly white. Just 0.2% of the population was Black according to the 1980 census. The city's high school didn't produce its first Black graduate until 1986, according to The Washington Post, and in 1987, the Ku Klux Klan and other like-minded organizations marched the city's streets.
On occasion, Faries still hears the city's old derogative nickname "colonial whites," which he hates.
Adjacent to the city's southwestern border is a historically Black university, VSU.
The police would set up speed traps for drivers leaving campus on Dupuy Avenue and crossing into Colonial Heights, Spencer said. Those speed traps, she believes, targeted Black VSU students.
But the city has grown more diverse, and its share of Black residents is now 15%. The night after Floyd died, 100 or so protesters assembled in nearby Petersburg and marched north on the Boulevard. They crossed into Colonial Heights, where police were waiting, the road blocked. The message they sent to protesters: Don't go any farther.
The city, its police force and their decades of simmering racial tension were about to reach a turning point.
One of the protesters, Jhovan Galberth, was determined to keep the protest peaceful. This was his home, and there was no need to riot. He made a decision and sat down in the middle of the Boulevard. Other protesters followed.
When Faries approached, Galberth made a conciliatory gesture. He told the chief not every cop is a bad cop, he supports good officers and he wasn't there to protest police. The target of the protest was racism and brutality.
The night ended without any arrests, and there weren't arrests in subsequent protests throughout the summer, either.
Galberth doesn't know what would have happened had he not sat down in the road and told Faries why he was there.
"Oh, man, it was a powerful moment," said Galberth, 30. "It was a scary moment because you don't know what law enforcement is going to do, and I don't have control of the people behind me."
Galberth and Faries developed a relationship, and now Galberth helps interview police officer applicants and officers seeking promotion. He tries to determine whether the applicants have good character and if they're the kind of people who have the community's best interest at heart.
Both of them got a call from Spencer, who asked them to bring their conversation to VSU. In the spring, nearly 50 police department leaders and community members showed up at VSU's basketball arena to start the conversation face to face.
Each officer was paired with a community member. JaNeese Jefferson, a VSU student at the time, was paired with Henrico County Chief Eric English. They sat together and had conversations together.
Jefferson grew up in a small town, Manassas Park, where the head of police was her classmate's father, and the school's resource officer was her Facebook friend. She had never conceived of police abuse. Then she got to college, watched the incidents nationwide on the news and heard stories from her VSU classmates of racial profiling.
Seated next to English, she listened to officers share their side. They talked about how not every officer has bad intentions, how plenty want to protect and serve their communities, and how they must make life-and-death decisions in the flash of a moment. They deserve to come home at the end of the night, too.
"My perspective definitely changed in terms of being willing to move forward with those who do want to change," said Jefferson, now a law student at North Carolina Central. "Everybody has a side. Everybody has a story. But are you willing to hear the other person's?"
There are a lot of misunderstandings about police, English said. For one, departments don't all have the same policies. After Floyd's death, activists suggested eight changes to how police confront crisis situations, called 8 Can't Wait. It called for banning chokeholds, prohibiting shooting at moving vehicles and requiring a warning before shooting.
But in Henrico, all eight suggestions were already in the rule book. Police departments across the country have different needs and capabilities and should be afforded some flexibility, English said. But when it comes to use of force, there should be universal approaches to policing. The kind of mental health and diversity training officers receive should be legislated at the national level.
Last year, Virginia's General Assembly banned the use of chokeholds and established uniform, minimum training standards for police officers, including education on systemic racism, bias, de-escalation and crisis intervention.
That's exactly the work VSU's center wants to tackle. It's unclear if the center will have dedicated office space, but its vision is clear. The next conference is scheduled for October.
A physical location isn't so important because the work needs to be done in each community, said Lorraine Wright, the executive director of social justice organization I Vote For Me and a participant in the university's work.
To Wright, it's all about achieving justice. The story of Brock Turner comes to mind. Turner was a Stanford University swimmer when he was arrested and convicted of sexually assaulting an unconscious woman. Turner was sentenced lightly — he served only three months — and during sentencing the judge cited evidence of Turner's good character and the "severe impact" a prison sentence would have on him.
The same considerations aren't given to Black defendants, Wright said.
"It's not an us-versus-them," she said. "We're all in this together."
The work done in the last year has changed Spencer's perspective. Before 2020, she had a negative perception of Colonial Heights police. Then she saw Faries show up again and again and participate honestly.
"I'm actually glad to call him a friend," she said.
With a better understanding of police, she is no longer afraid when an officer approaches her. The work she wants to continue is to show police officers that not every Black person is a threat and to show Black people not every officer is a threat.
She has more comfort her VSU students are being treated fairly, too. She doesn't see the speed traps outside campus anymore.