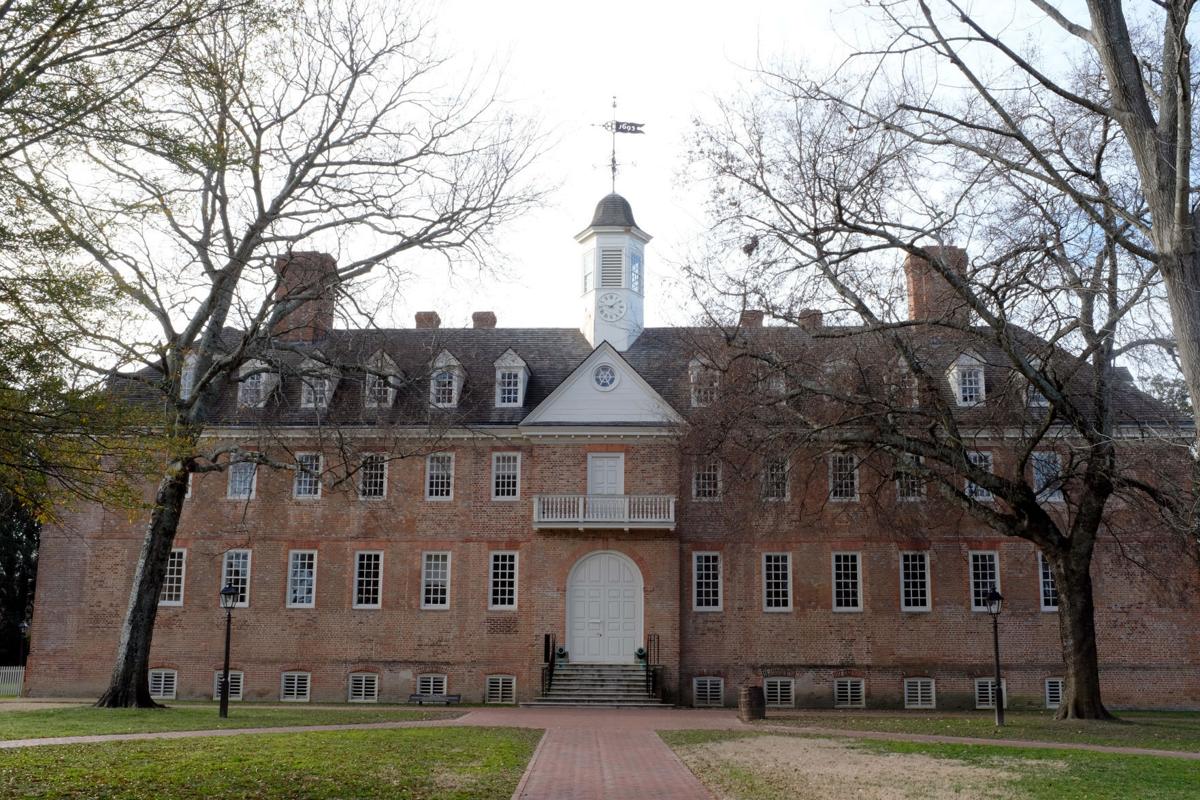 WILLIAMSBURG — The College of William & Mary has renamed three buildings and a department that currently honor supporters of the Confederacy, the school's latest move in a yearslong process to shed references to men who supported the Confederacy, enslavement and racism.
Instead, the university will honor the school's first Black student, a man who studied LGBTQ traditions and a descendant of a U.S. president.
"The past is the past, but how we know it and how we tell it evolves as we learn more and as our community changes," President Katherine Rowe said at Friday's board of visitors meeting. "William & Mary must pursue truth-telling."
But one member of the board and the university's student government president criticized the university for not removing every name that honors an enslaver and not moving fast enough.
"I'm going to have a problem with racism on this campus until we eliminate all of it, and I don't think we're eliminating all of it," Brian Woolfolk told his fellow board members.
Colleges across Virginia have made similar decisions removing building names, plaques and statues that honor members of the Confederacy and those who endorsed Jim Crow policies or segregation. In the past year, Virginia Commonwealth University, Virginia State University and James Madison University have renamed buildings on their campuses.
The University of Richmond initially said it would not remove two controversial names on campus buildings, which led to protests by students and faculty. The board said earlier this month it would restart its renaming process.
William & Mary will rename dormitory Taliaferro Hall for Hulon L. Willis Sr., who was the first Black student to enroll at William & Mary, graduating in 1956. William Booth Taliaferro was rector of the university and a general in the Confederate Army.
The academic building known as Morton Hall, named for a former chair of the history department who defended segregation, will now be called John E. Boswell Hall. A gay man, Boswell studied LGBTQ people and traditions during the medieval period. He graduated from William & Mary in 1969.
Another academic building, Tyler Hall, will be called Chancellors' Hall, its former name, which honors the school's chancellors, a ceremonial position. The eponyms for Tyler Hall were John Tyler, the 10th U.S. president who was named to the Confederate States Congress shortly before his death, and Lyon Gardiner Tyler, the president's son, who defended the Confederacy.
William Tyler, the great-grandson of the president, said his family wasn't involved when the building was named for his ancestors, and he doesn't object to the renaming.
These three new building names come after William & Mary's move last year to rename Maury Hall and Trinkle Hall, which were named for a Confederate naval officer and a Virginia governor who signed Jim Crow legislation.
The board also voted to rename the Lyon Gardiner Tyler Department of History. Lyon Tyler, who was a president of William & Mary, wrote in 1929 "A Confederate Catechism," which defended the South's position in the Civil War.
The department's new name will be Harrison Ruffin Tyler, Lyon's son, who in 2001 gave the university $5 million and asked the department be named for his father. Harrison also gave the university 22,000 books and documents that his father had left to him.
Harrison Tyler, 92, was a co-founder of ChemTreat Inc., a Richmond-based water treatment company. He instituted an employee stock ownership plan for the company, and when the business was sold, his employees earned large chunks of money. He lives with dementia.
William Tyler, Harrison's son who runs the John Tyler historic site, Sherwood Forest, said he supports the university. He allowed the terms of Harrison's deal to be amended so that the department's name could change. Also in support is his daughter, Frances, who has been studying her ancestors' connection to slavery.
"It's a symbolic change, which definitely reflects the changing values of the community," Frances Tyler said. "Lyon prohibited the entry of Black people to the school, and that has clearly changed in 100 years."
So far, William & Mary has identified 51 former employees or board members who were slave owners. Many of their names still appear on university streets, awards, plaques and buildings, said Anthony Joseph, the school's student government president, who is Black. The university opted not to change the name of Ewell Hall, named for former university president and Confederate officer Benjamin Ewell. Rowe called his story complex and redemptive.
Joseph told the board of visitors on Friday that there was more work to be done and that the university needed to "work faster."
"Don't allow the shadow of our past to continue to grow," he told the board.
Brian Woolfolk, a member of the board of visitors who is Black, echoed those sentiments. He said there are portraits and sculptures of slaveholders that haven't been addressed, and he questioned why the university wasn't confronting the problem in its entirety.
John Littel, the rector of the board, defended the university's progress in an interview. He noted that William & Mary formally began studying its involvement with enslavement in 2009 when it founded the Lemon Project, which is named for a man enslaved by the university. In 2015, it started removing Confederate emblems from campus.
Every decision the university makes, he said, needs to be rooted in meticulous research and facts. "I think it's been the right pace of deliberation," Littel said.
The work of telling more complete stories of the founders and alumni is ongoing, Rowe said. The university can't sweep away the ideas of liberty and democracy that the country's founders launched. But it can't ignore their relationship with slavery and racism, either.
"We are part of history, and we are a part of change," Rowe said.
---
A previous version of this article incorrectly identified John Randolph, a 1964 alumnus whose name is on the William & Mary football stadium.
(804) 649-6109
Twitter: @EricKolenich