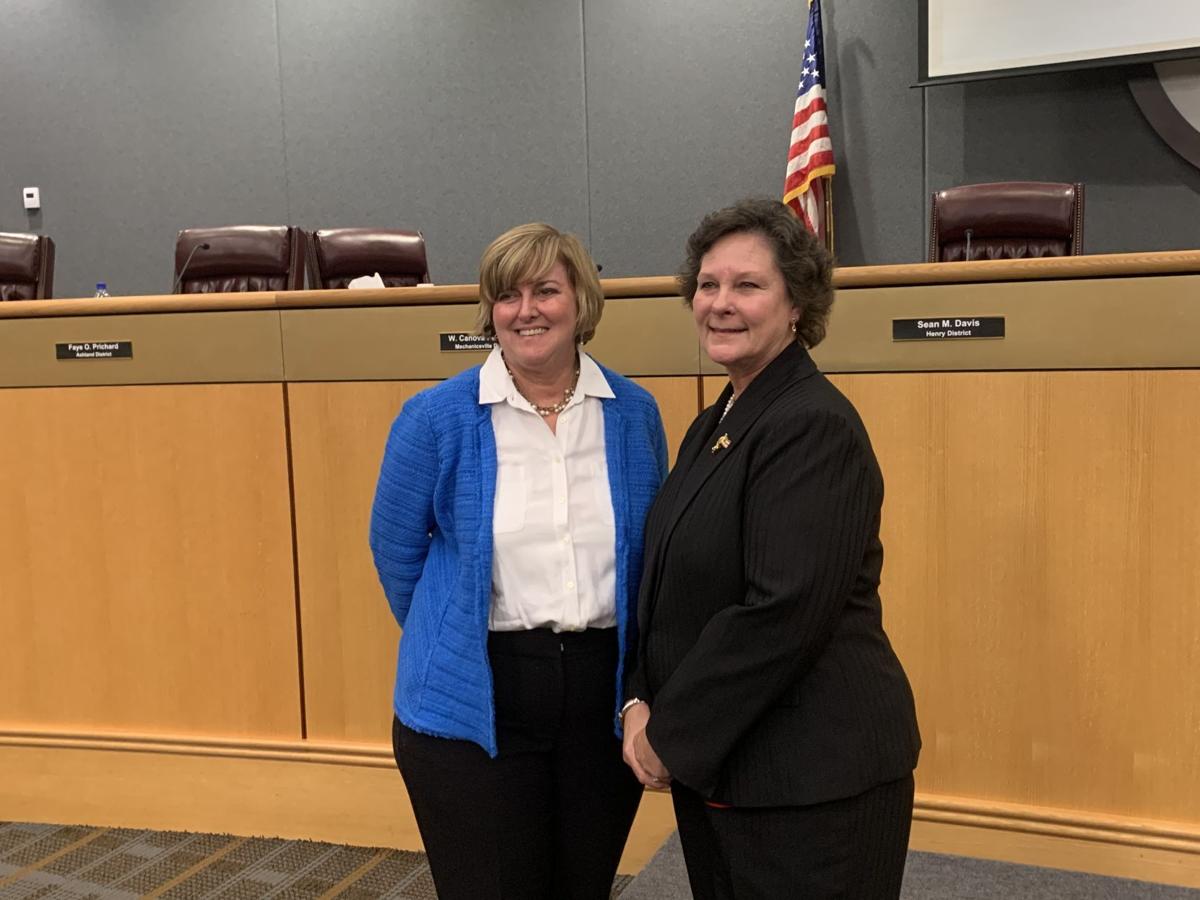 When Kelly Evko replaced Sue Dibble on the Hanover County School Board, Dibble — who'd graduated to the Board of Supervisors — sounded like a fan.
"I believe that she will hit the ground running and will definitely represent South Anna with the same passion and dedication that I have had for six years," Dibble said in January 2020.
But Wednesday, Evko was told in so many words to hit the road.
Bob May was appointed as the new South Anna representative on the school board, effective July 1.
Evko was among a 4-3 board majority that voted to rename Lee-Davis High School and Stonewall Jackson Middle School in July 2020. Dibble, at the time, wasn't shy in voicing her displeasure. As chairperson of the school board, she'd supported keeping those school names.
An NAACP lawsuit and the racial reckoning that followed the murder of George Floyd by a Minneapolis police officer made keeping those school names bad for business and the county's image. But that didn't stop Dibble and fellow supervisor Canova Peterson from detonating into outrage after the board voted to rename the schools.
But asked Friday if that vote played a role in her decision not to reappoint Evko, Dibble replied: "No, not at all. It was simply based on credentials. Work experience as well as professional experience. I don't think anyone should really be judged based on one vote at all."
I'm not buying any of that.
Evko never had a chance after that vote.
"Having myself served on the board 6 ½ years, I know what it takes," Dibble said. "And Mr. May is more qualified."
That's subjective. And the word "qualified," like "pregnant," should not need a qualifier.
Asked Friday if she knew her vote to rename the schools had sealed her fate, Evko said: "There was no way for me to know for certain, but I had a feeling (I was going to lose the post)."
Dibble confirmed that feeling to Evko on the day of the vote.
This sort of change of heart about a school board member following a vote to separate the Hanover school district from Confederate iconography is not without precedent.
Marla Coleman's credentials were called "impeccable" by her patron, Henry District Supervisor Sean Davis. But after joining Ashland representative Ola Hawkins in 2018 in their unsuccessful vote to rename the Confederate-named schools, Coleman similarly was fired.
Evko says she has no regrets.
"My job as school board member is to do what is in the best interest of the students. I did not take on the role for a political future or anything else. I moved to Hanover because of the schools, I'm grateful to be a part of the board, I think we did a tremendous job over the past 14 months. And I felt it was in the best interest of the students to make that decision," she said.
"Was it difficult? Absolutely. Did I catch a lot of grief? Absolutely. But I had a lot of people that reached out to me that are very well known throughout the county, that don't speak politically because it'd be harmful for them, that were very much in favor of that decision."
When she looks back, she will be proud that Hanover opted at the start of this school year to offer five-day, in-person learning — the only locality in Virginia to do so — in addition to offering the option of virtual learning during the pandemic.
She said the board worked well together during "probably the most challenging year for K through 12 education. We faced just unbelievable challenges.
"Hanover was the shining star over the last 14 months. We did things that no other county has done," Evko said. "So what did I do that wasn't good?"
Dibble did not sound terribly impressed at the experience Evko gained helping to oversee a school district during a pandemic that happened to coincide with a tumultuous moment of racial reckoning.
"I certainly appreciate her 14 months, and I know that they weren't necessarily easy, but it's never easy being on that type of a board," she said.
When Evko leaves, the Hanover School Board will have one woman: Hawkins, its lone African American member. That's a gender imbalance that doesn't bother you if you heavily weigh military experience as a prerequisite for school board membership, as the supervisors appeared to be doing Wednesday.
"Of course, I'm disappointed. I really would have loved to have had a full term," Evko said. "We've tackled the biggest challenges. So I feel like I'm well-equipped at whatever comes my way."
What's coming the way of Sterling Daniel, the Mechanicsville representative who also voted to rename those schools, remains to be seen.
Somehow, I doubt that the score settling over this lost cause is done.
(804) 649-6815
Twitter: @RTDMPW