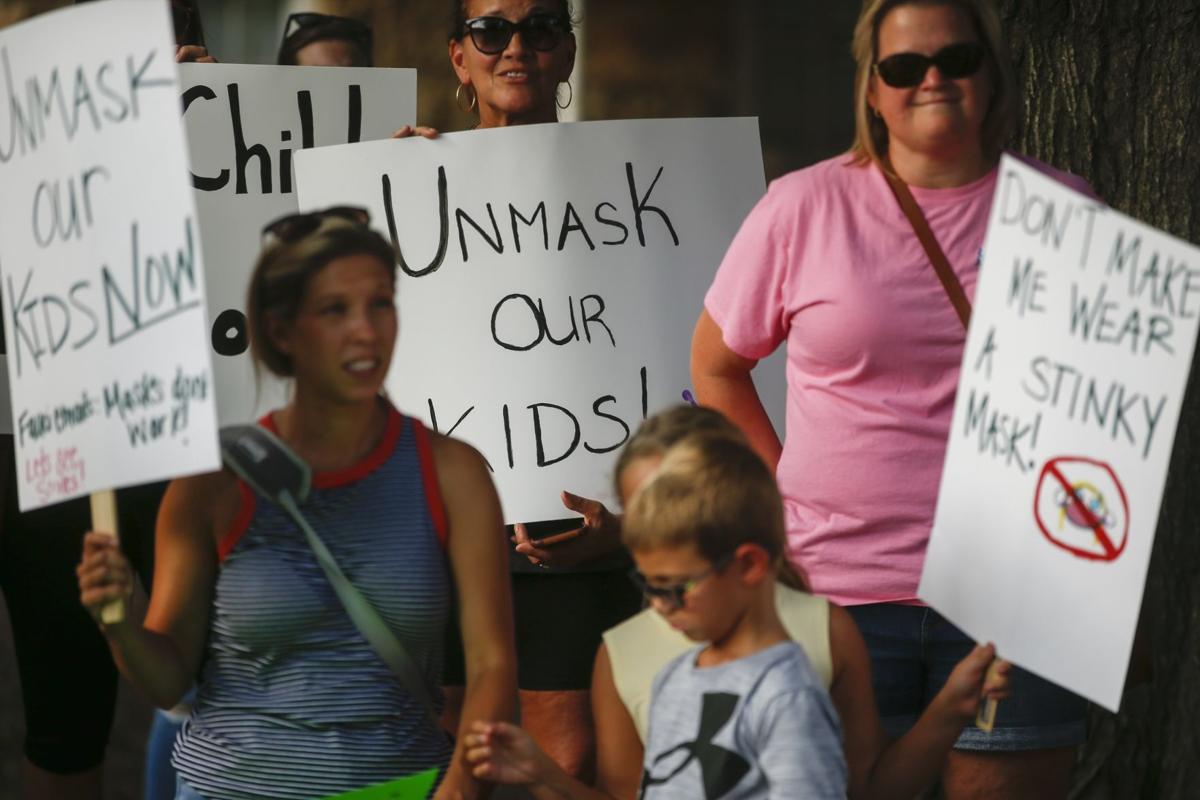 I'm waiting for a Virginia locale to shut down schools in defiance of the state's universal mask mandate. Who's willing to be the Prince Edward County of the pandemic?
Prince Edward closed its schools from 1959-64 rather than desegregate them, a legacy of enduring shame. History will toss similar shade at COVID-19 deniers.
As we learn more about the delta variant, evidence mounts that this version of the virus might be affecting children more severely than the one that shut down schools in 2020.
"Today, as delta infections mount, some front line doctors suggest children are being hospitalized at higher rates and with more serious illnesses because of the new variant — a still-unproven hypothesis," The Washington Post reported Friday.
The Post also reported Friday that more than 10,000 students and teachers across 14 states have been quarantined after exposure to the virus. Those numbers include students at Patrick Henry School of Science and Arts, a South Richmond charter school where 53 fourth-graders were quarantined after four positive COVID-19 cases among students.
The vitriol over masks is unsettling as our nation battles a deadly and cleverly mutating virus. The delta variant is twice as transmissible as the coronavirus that closed schools in 2020. Meanwhile, the Lambda variant is lying in wait to strike. This massive resistance to mask-wearing, by people and politicians, is ill-timed.
In Florida, Gov. Ron DeSantis, in his zeal to block mask mandates from the schoolhouse, appears intent on becoming the George Wallace of the pandemic. His message might as well be "coronavirus now, coronavirus tomorrow and coronavirus forever."
In Virginia, elected officials are distancing themselves from legislation they helped craft: Senate Bill 1303.
The summary language is straightforward:
"The bill requires each school board to provide such in-person instruction in a manner in which it adheres, to the maximum extent practicable, to any currently applicable mitigation strategies for early childhood care and education programs and elementary and secondary schools to reduce the transmission of COVID-19 that have been provided by the federal Centers for Disease Control and Prevention." (Emphasis mine.)
But legislators like state Sen. Siobhan Dunnavant, R-Henrico, a sponsor of the bill, say it does not mean what it says.
Perhaps they didn't foresee the CDC moving toward stricter guidance — a stunning lack of foresight given the volatile nature of this virus. But their equivocations moved the needle at the Hanover County School Board meeting Tuesday.
The board voted 4-3 to make mask-wearing optional, despite the CDC's Aug. 5 update recommending universal indoor masking for all teachers, staff, students and visitors of K-12 schools, regardless of vaccination status.
Superintendent Michael Gill had recommended mandatory mask-wearing for all elementary students and unvaccinated secondary students and staff — a position that produced loud and angry dissent from the anti-mask audience. Board Chair Ola Hawkins threatened to clear the room. Instead, it was the board that left.
When they returned, board member John Axselle admonished the audience for its rudeness — and then handed them everything they wanted. The children in the room got a lesson on bullying that I doubt carries the educator's seal of approval.
Mask-wearing could become a defining issue in the gubernatorial campaign, says Bob Holsworth, a longtime commentator on local politics and a former professor and dean at Virginia Commonwealth University.
"In 2021, schools have increasingly become the battleground where Republicans are choosing to fight their political battles — critical race theory, treatment of transgender students, masks. The opposition to masks in schools is now the venue where last year's argument about required face coverings in public places is playing out."
GOP gubernatorial candidate Glenn Youngkin opposes mask mandates as an infringement on parental choice; Republicans believe this mandate from the administration of Gov. Ralph Northam will compound last year's frustration over remote learning and hurt the Democrats, Holsworth says. "Highlighting the culture war in the schools is the essence of the GOP's 2021 strategy."
Hanover was the only school division in the region — and one of the few in the state — to offer in-person instruction during the entire 2020-21 school year. Fewer than two-thirds of its students took the district up on the offer, and masks were required.
Tuesday, it was again an outlier, as the city of Richmond and Chesterfield and Henrico counties are requiring masks. Close to 100% of Hanover's students were slated to return in-person and face a far more transmissible virus. And yet, the board was willing to relax mitigation. It's no wonder that the U.S. leads the world in confirmed COVID-19 infections, ahead of India, which has more than three times our population.
Our politics is killing us. If we don't stop playing games with this virus, resistance might become futile.
(804) 649-6815
Twitter: @RTDMPW