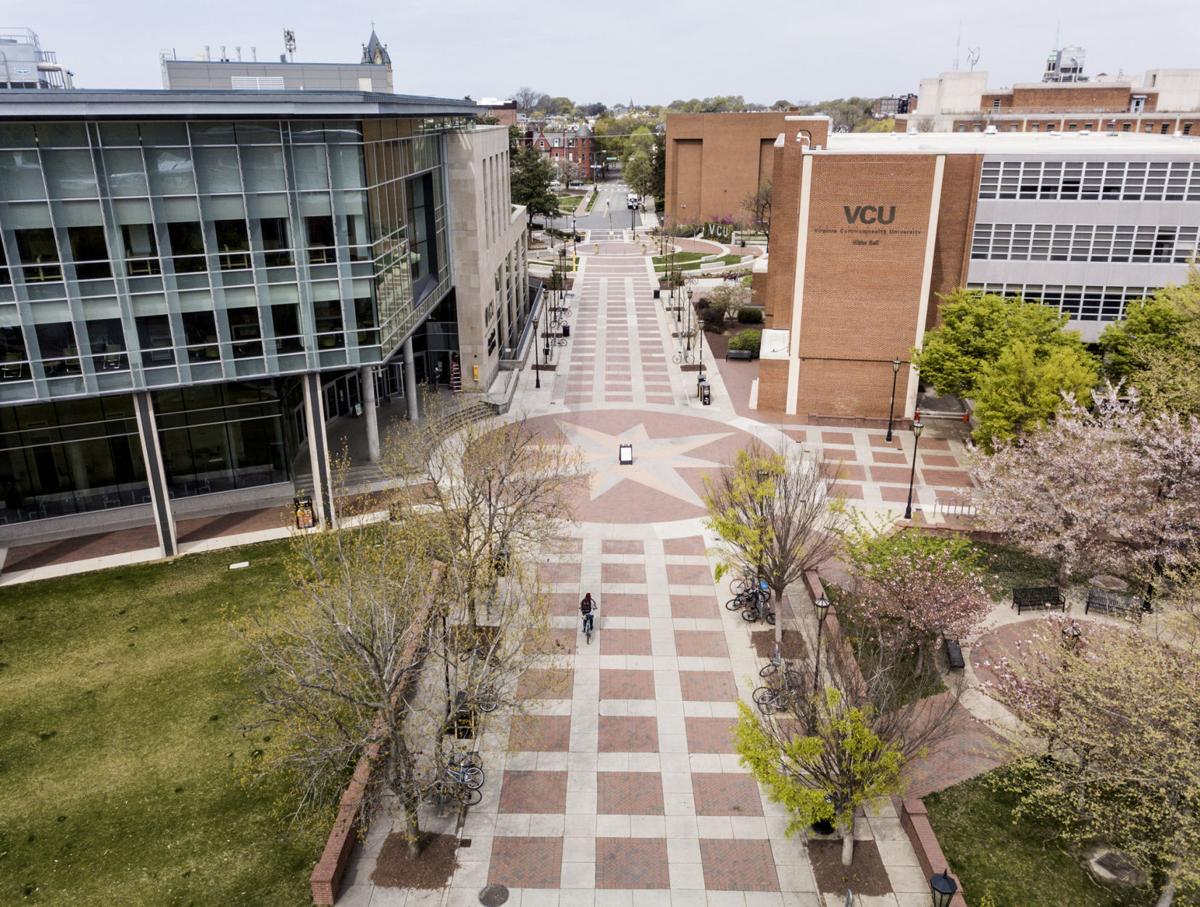 With the campus often deserted in 2020, most crime decreased significantly at Virginia Commonwealth University.
On its Monroe Park campus, sexually based crimes decreased, according to the university's annual report, published recently. Instances of rape fell from 10 to five. Claims of dating violence dropped from 20 to five. Fondling, domestic violence and stalking all declined.
Robbery and burglary dropped, too.
VCU closed its campus and abruptly switched to remote classes in March 2020. VCU returned the following fall with only a minority of its classes in person. Most instruction stayed online, and social events were relocated to Zoom.
Liquor and drug arrests plummeted after VCU changed how it approaches those violations. Liquor law arrests dropped sharply from 171 in 2019 to 36 in 2020. There were 131 drug abuse arrests in 2019 and only 39 in 2020.
When VCU residential staff encountered a drug or alcohol violation in a dormitory, they declined to call the police for every incident, a VCU police spokesperson said.
"The change was in an effort to reduce unnecessary student interactions with law enforcement," the spokesperson said.
Referrals — where a student enters the university's judicial system instead of being arrested or indicted — didn't drop so precipitously. Drug abuse referrals increased from 70 to 80, and liquor law referrals went down slightly, from 167 to 154.
Each fall, universities that receive federal money are required to publish security reports mandated by the Jeanne Clery Disclosure Act. The universities publish the past three years of crime statistics.
The act is named for a Lehigh University student who was raped and killed in her dorm room in 1986. The data is counted by calendar year, not school year.
While most offenses subsided, some did not. Arson cases increased from one to seven. Across Richmond, there were 48 fires set in the first 18 days of Black Lives Matter demonstrations following the death of George Floyd. One dumpster fire caught the wall of dormitory Brandt/Rhoads Hall, causing an estimated $1,000 in damage, the Richmond Times-Dispatch reported.
Three fires were intentionally set in Rhoads Hall, according to VCU's report, but damage was either minor or nonexistent.
Aggravated assault increased from eight to 12. Motor vehicle thefts more than doubled from six to 13. Weapons law violations were flat.
On the School of Medicine campus, where VCU Health System is located, the most frequent crime reported is drug abuse. Arrests declined, there, too, from 56 in 2019 to 23 in 2020.
Ninety-seven percent of VCU students and employees reported feeling "safe" or "very safe."
The deaths of students Adam Oakes and Cody Woodson, which occurred in 2021, were not reflected in this report. Oakes died in February at a Delta Chi fraternity party. Eleven former members of the fraternity have been charged with unlawful hazing or providing alcohol to a minor and hazing.
Woodson was shot in April on Gilmer Street, a day after a 17-year-old boy was shot and killed on the same block. Woodson's girlfriend said she believed Woodson was a random victim.
At the University of Richmond, instances of rape dropped from 13 in 2019 to three in 2020. Burglary declined, and there were no arrests for dating violence, liquor law violations or drug violations. The number of liquor law referrals plummeted from 112 to 66. Drug referrals nearly disappeared, dropping from 66 to seven.
UR reported four hate crimes in 2020 after reporting none in 2018 or 2019. Of the four, one was anti-Islamic vandalism, one was simple assault on an Asian/Pacific Islander, another was vandalism classified as "other race/ethnicity/ancestry" and one was anti-Black or African American vandalism.
Three of the crimes occurred in a dormitory over the course of two days in January 2020, the Times-Dispatch reported. In one incident, a photo provided to the newspaper showed the n-word written on a pink and blue door sign bearing the words "proud first-generation college student."
In two others, the door signs of two Middle Eastern students were defaced.
No one was ever arrested, a UR spokesperson said Wednesday.
At Virginia State University, instances of burglary dropped from 15 in 2019 to six in 2020. Dating violence dropped from 31 in 2018 to 14 in 2019 to five in 2020. There were two instances of domestic violence in 2020 after none in 2018 and 2019.
There were five drug abuse arrests, down from 19 a year earlier, and seven drug abuse referrals, down from 49 a year earlier.
VSU dorms were closed from March 17, 2020 until late January 2021. But University Apartments, an off-campus facility owned by VSU, remained open. Incidents that occurred on public property immediately adjacent to campus were also included.
Virginia Union University's security report was not available, and a university spokesperson did not respond to a request for it on Tuesday.
At Randolph-Macon College, there were seven instances of rape, an increase of three from a year earlier. There were nine liquor law referrals, down from 47 a year earlier, and six instances of dating violence, which increased from four the year before.
(804) 649-6109
Twitter: @EricKolenich