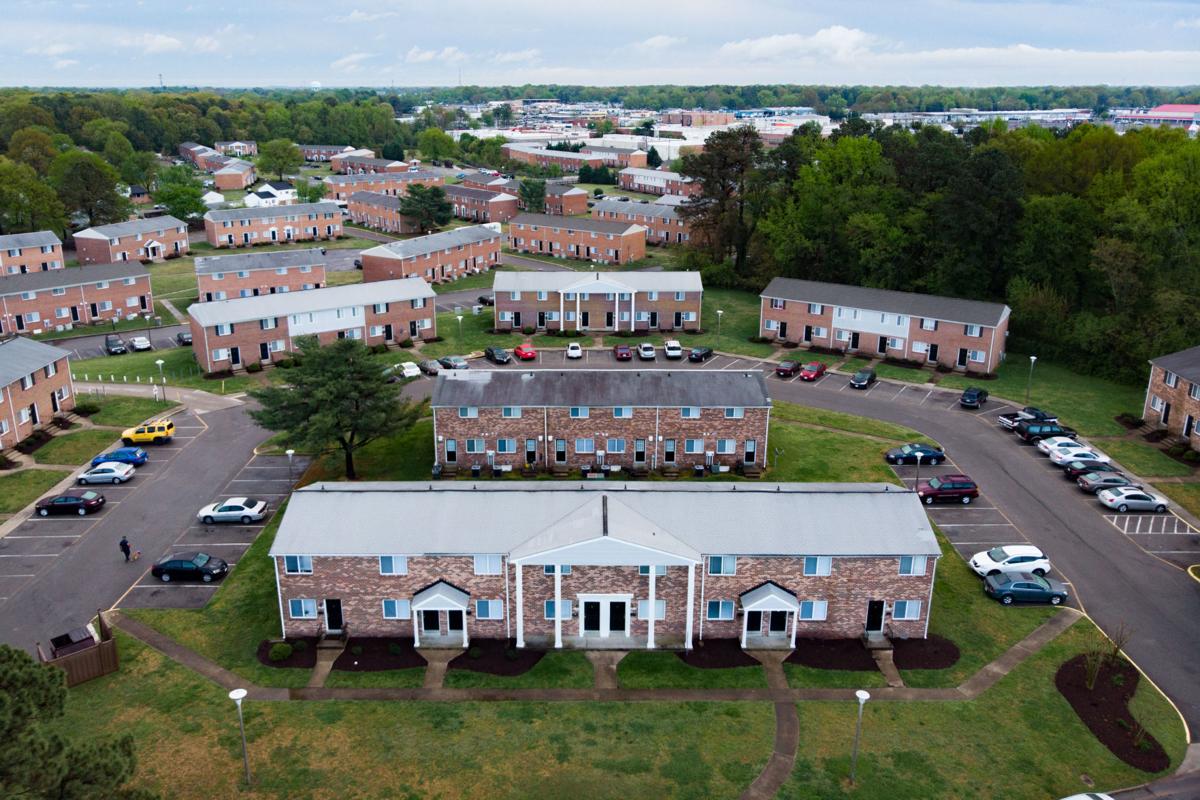 When he limped into a Richmond courtroom last week, Ronald Dabney was no closer to coming up with the money he owed his landlord than at the start of the pandemic.
Since then, things had gone from bad to worse.
As COVID-19 upended life across the state, he lost his job as a cook. Then his side work as an in-home caregiver dried up. With those went any chance he had of paying back the $889 he initially owed for his apartment at the Aden Park Townhomes in South Richmond, let alone what had compounded in the months since. A lawyer representing the apartment complex said his balance was more than $5,300.
"I don't know what I'm going to do," said Dabney, 54. "I really don't."
The Supreme Court of Virginia on Friday rebuffed a request from Gov. Ralph Northam to extend a temporary freeze on physically removing tenants from their homes amid the public health crisis. A new federal moratorium would keep that from happening, but only if tenants take action to trigger its protections. Otherwise, landlords can still pursue their eviction and, now, removal.
Dabney's was one of more than 600 eviction cases scheduled in Richmond court last week, even before the state freeze expired. As written, the now-expired freeze only postponed the final step of the eviction process, meaning landlords could still secure an eviction judgment against tenants as federal unemployment assistance fell away and thousands remained jobless.
As many as 262,000 households across Virginia are at risk of eviction, according to the RVA Eviction Lab at Virginia Commonwealth University.
"You're talking about thousands of people who are going to be impacted, if not ultimately displaced," said Palmer Heenan, an Equal Justice Works housing justice program attorney working at the Central Virginia Legal Aid Society.
Through the Centers for Disease Control and Prevention, President Donald Trump's administration established a partial eviction moratorium through the end of the calendar year. It is not a blanket ban. A tenant must attest to their inability to make rent payments and meet other criteria in a sworn declaration to their landlord to secure the protection.
Heenan worried it would sow more confusion for tenants already trying to understand what they must do under differing court orders.
State lawmakers have worked during a special General Assembly session on an eviction moratorium that could replace the federal one, if passed. It would halt most evictions through next April. That bill is expected to be heard in a Senate committee this week.
Northam established a $50 million rent relief program over the summer that can pay off up to six months of back rent for tenants who qualify.
To date, the state program has paid out $1,008,520 to 412 households in the region, said Billy Poarch, CEO of ACTS, the nonprofit administering the program in the Richmond area. That figure includes $95,000 in requests Poarch's slammed staff processed Friday alone.
Getting approved for assistance through the program can be a challenge for some tenants, Heenan said. Many don't keep on hand the records necessary to secure a quick approval.
Dabney said he didn't even know the relief program existed until Heenan handed him a fact sheet about it at court.
Like Dabney, many tenants on last Thursday's docket faced eviction at the hands of large complexes for sums tallying in the thousands. Dozens of tenants from Aden Park, Southwood Apartments and Ashton Square in South Richmond were on the docket. However, few tenants showed.
With many of the cases continued over several months during coronavirus-prompted court closures, Heenan and another legal aid attorney openly wondered whether tenants knew they had hearings scheduled that day.
For those who had not settled their balances and secured a dismissal, a no-show meant a default judgment. The landlord's lawyer read a tenant's name, the amount the landlord said they owed and a judge ruled in the landlord's favor with seldom any questioning.
Of the more than 200 eviction cases on the docket last Thursday, Dabney was one of about 10 people who appeared in court to dispute the money their landlord said they owed, or to request a continuance because of loss of wages.
That's well above the roughly 45% of cases in Richmond that would result in a default judgment in a typical month, Heenan said, citing an annual accounting Legal Aid does to benchmark the outcome of eviction cases. Whether confusion about the varying eviction protections or concern over the ongoing public health crisis has driven that figure up is an open question.
Showing up helped Dabney avoid a judgment Thursday. When the clerk called his name, he hobbled to the front of the courtroom in a protective boot.
On top of his pending eviction, a bad infection in one of his toes led to an amputation he was still recovering from. The surgery hindered his mobility, and he worried it would make it harder to find work.
He handed over a sworn affidavit, affirming he had lost wages during the economic tumult. The General Assembly passed a measure earlier this year guaranteeing any tenant who lost income due to COVID-19 a 60-day delay to their eviction proceedings. The judge granted Dabney's request and scheduled his next hearing in mid-November.
In the meantime, he will still owe rent that he cannot afford.
"There's no way I can get caught up," he said. "But at least it gives me some time to try and find some help, or someplace cheaper."
Editor's Note: This story has been updated to reflect the correct number of those who are at risk of evictions, according to the RVA Eviction Lab at Virginia Commonwealth University.  
(804) 649-6734
Twitter: @__MarkRobinson