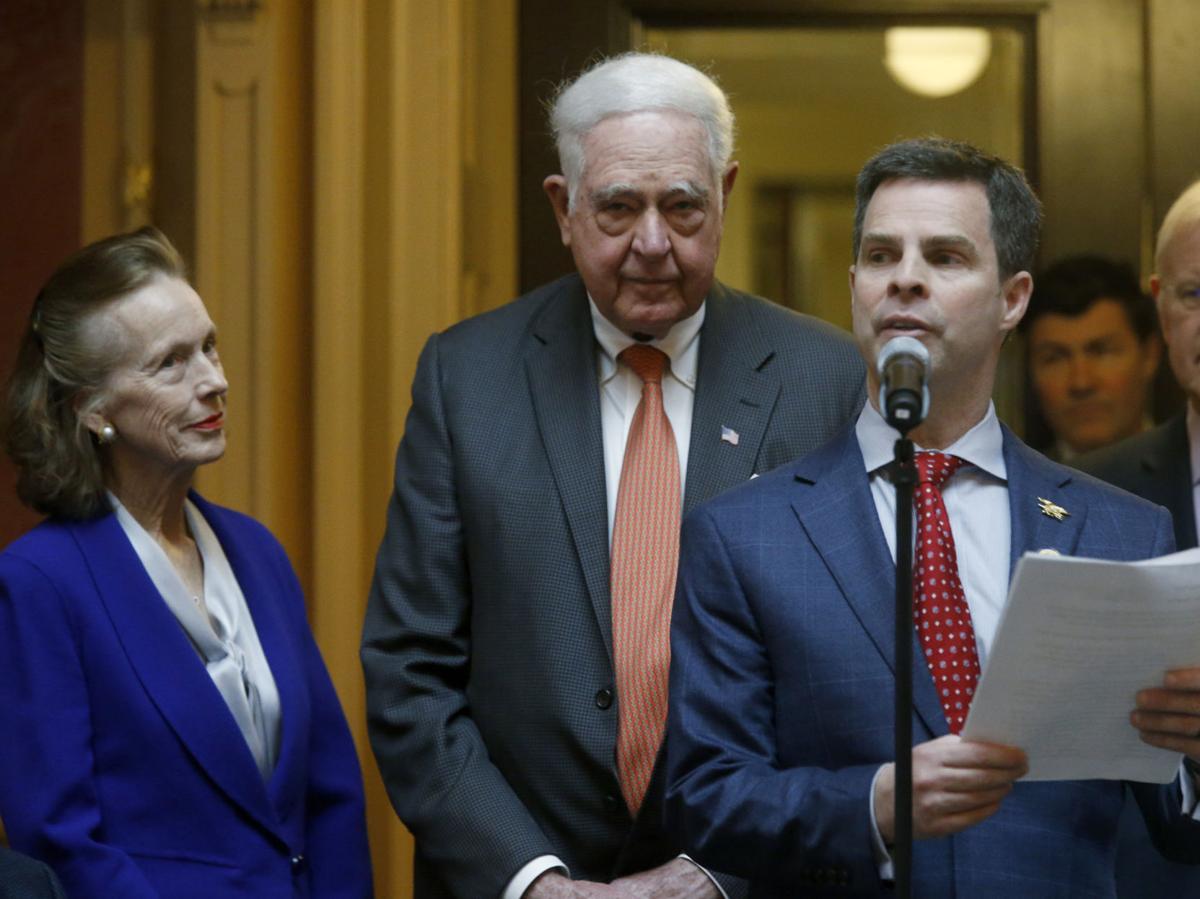 The family of Richmond philanthropist William H. Goodwin Jr. has pledged $250 million toward the creation of a cancer foundation, which represents one of the largest gifts ever in cancer research.
The foundation, Break Through Cancer, will bring together researchers from five cancer centers across the United States to focus on four of the most challenging types of cancer: pancreatic, ovarian, glioblastoma and acute myelogenous leukemia.
Half the financial contribution comes from Goodwin and his wife, Alice. Before his retirement, William Goodwin, 80, was the chairman and president of Riverstone Group LLC, whose holdings include the three-building James Center complex in downtown Richmond, The Jefferson Hotel and other properties.
The other half comes from the estate of his late son, Hunter, who died of cancer in January 2020.
"When you go through it with close people, you realize how devastating a disease it is," William Goodwin said in an interview.
The idea for a new collaborative foundation came in the fall of 2017. Goodwin hosted 100 scientists for three days at his resort on Kiawah Island, S.C. He urged them to work together in order to avoid duplicating efforts. Johns Hopkins University has begun collaborating with other organizations, and the results have been promising, Goodwin said.
Hunter Goodwin attended the summit, too, and was active in the foundation's implementation until his death. He served as chairman of CCA Industries, a division of Riverstone, and was 51 when he died.
The five cancer centers are:
Harvard University's Dana-Farber Cancer Institute;
Sidney Kimmel Comprehensive Cancer Center at Johns Hopkins;
the University of Texas's MD Anderson Cancer Center;
Cornell University's Memorial Sloan Kettering Cancer Center; and
the Koch Institute for Integrative Cancer Research at the Massachusetts Institute of Technology.
William Goodwin has supported cancer research for 19 years and previously served on the National Cancer Institute's advisory board. In 2015, he told the Richmond Times-Dispatch that he prefers supporting "things that would not otherwise get done right now, either because there is not enough of a payoff right now or it is more research-oriented."
It can take years and $2 billion to $3 billion to test the efficacy of a single cancer drug, Goodwin said. Even then, there's no guarantee the drug will be safe and effective. The foundation's aim is better and longer lives for those living with cancer.
"We owe a debt of gratitude to the Goodwin family and the late Hunter Goodwin, whose vision and generosity made this powerful collaboration possible," said Dr. William Nelson, chairman at Johns Hopkins. "Their contributions have been key both financially and conceptually, as we worked together to create a research model that will provide a compelling advantage in the search for cures. We are fortunate to have such strong commitments from all of the parties involved."