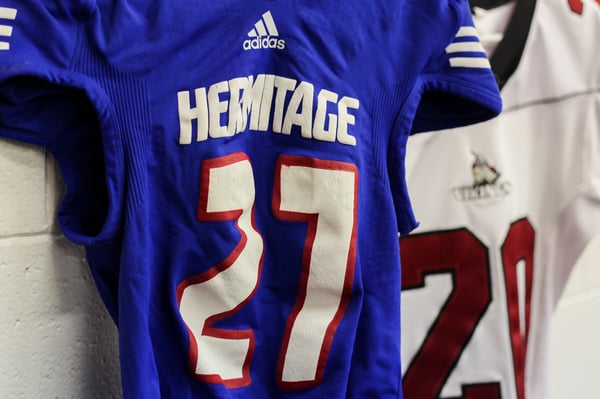 For high school football teams, purchasing uniforms is a major financial undertaking. One set of jerseys and pants can easily cost $150 per person. Multiply that by 60 football players, and the bill can reach $9,000. Buy road uniforms, and the cost just doubled.
Some schools rely on extensive fundraising to pay for jerseys. But schools that command the greatest exposure can get them free or greatly discounted.
At Varina, the football team raises money by selling ads and game programs. It sells coffee and hosts a yearly golf tournament. When they can, players volunteer to clean Monument Avenue after the 10k or Richmond International Raceway after a NASCAR race. But many teams and civic organizations apply for the big events, and only a few are chosen.
Perhaps the most popular form of fundraising is the spirit card, which resembles a credit card and has discounts to restaurants and stores. Teams all over Richmond use them, including Varina, L.C. Bird and Manchester.
Varina works hard to raise money, even though it has an agreement with Nike. The athletics outfitter sells Varina jerseys that retail at $80 for about $38, coach Stu Brown said.
"Nike has been very good to us," he added.
At most schools, a uniform is meant to last at least three years. Varina, however, gets new uniforms every year so players can keep them as mementos. Without the school's fundraising and Nike contract, that might not be feasible.
Last year, Hermitage entered into an agreement with adidas. The company gives the school discounts on uniforms and merchandise. In exchange, Hermitage agrees to look to adidas as the first option when purchasing new uniforms.
When the Panthers were chosen to play on ESPN in August, the company gave Hermitage new blue uniforms and red pants free of charge. The jerseys have adidas' signature three white lines on each sleeve.
"When Hermitage was on TV, and even The Times-Dispatch, with that big picture on the front, that adidas logo was glaring," Hermitage athletics director Chris Rollison said. "It was a win-win for both groups."
The savings Hermitage gets from the deal doesn't stop there. Some uniforms for other sports were purchased with a buy-one-get-one-free deal. If Hermitage wants to buy other items, such as T-shirts, caps or soccer pennies, the school gets a 35 percent discount.
Altogether, Rollison estimates the athletics department has saved about $10,000 since entering its agreement with adidas.
"It's a tremendous savings, in lots of ways," Rollison said.
The deal began when adidas approached Hermitage. Rollison said adidas always has approached the agreement in a "What can we do for you?" sort of way. That says a lot about Hermitage's exposure and how successful the team has been in recent years.
The value of a good-looking uniform extends beyond aesthetic enjoyment. A good uniform can rally and motivate kids. Some argue the recent success of the University of Oregon football team can be traced to its chic uniforms.
Phil Knight, the co-founder and chairman of Nike, is an alumnus of Oregon, and he outfits the team with some of the sport's most unusual and splashiest uniforms. Among all the colors of jersey, pants, helmets, socks and shoes sported by the team, Oregon has more than 500 uniform combinations.
And football players have flocked to Oregon, in part because of the uniforms. When Chad Hornik started revitalizing the Thomas Jefferson football team in the spring, he knew he needed to buy new uniforms to help spark interest within the school.
"The kids love looking good," Hornik said.
Hornik and the team's booster club raised $5,500 to buy 40 new road uniforms. Now he intends to buy the home jerseys. The number of available styles seems endless.
"A few years ago, all you had were one or two options," Hornik said. "It's all over the board."
Jerseys are becoming customizable, too. Monacan and Cosby opted to add player names to the backs of their jerseys. L.C. Bird and Hanover have taken a similar approach to their road jerseys. Each has a dark pattern on the sleeves. When you zoom in, you see the pattern is actually a small school logo that fades out on the top and bottom.
"I'm sure there will be more of them next year," L.C. Bird coach David Bedwell said of his Russell-designed jersey. "Everybody's going to be doing something, because Russell's got some pretty cool stuff."