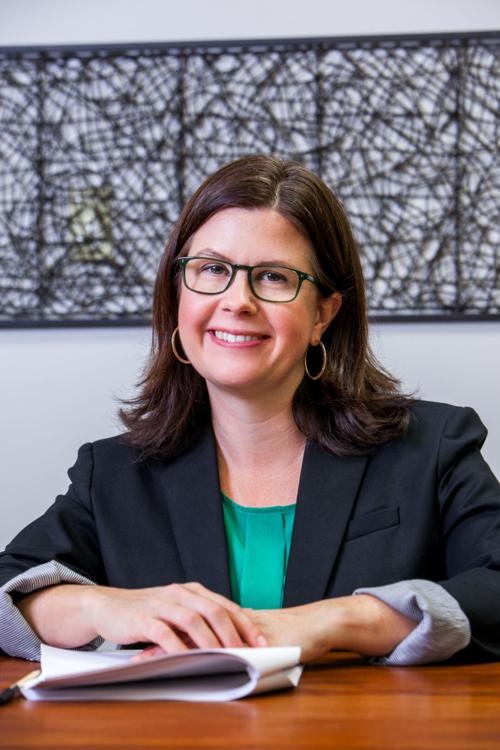 This week marks the fourth in a series of weekly questionnaires the Richmond Times-Dispatch will publish with responses from City Council candidates running in each district.
The only candidate seeking election to the 4th District seat is incumbent Kristen Larson, who has been on the council since 2017.
We asked her to answer five questions, with a limited word count. Answers were edited for length and clarity.
QUESTION: What is the most important issue facing residents of the 4th District, and what do you plan to do about it if elected?
Larson: Citywide I believe our residents need to come together and find healing from the current Black Lives Matter movement and the painful history of enslavement in Richmond. Although monuments have been removed, there is still a need for expression and dialogue on the history of race in Richmond. We also need to ensure that our students are taught lessons from an accurate, all-encompassing point of view. With the changes on Monument Avenue, we have an opportunity to understand the history of our city and find a way to come together, learn from our past and move our city forward.
In the 4th District specifically, we have made progress over the last several years on basic city infrastructure. However, significant work is still needed. Much of our district has decades of deferred maintenance. We have streets that have not been paved in more than 20 years and areas with continued drainage issues. During my term on City Council, I have fought hard for more dollars in our budget for repaving and have explored constructive ways to address drainage issues. I am going to continue to pursue having the City of Richmond join a Soil & Water Conservation District, which will open up more resources for property drainage issues and reduce runoff in the James River.
QUESTION: Do you support raising the city's real estate tax rate to fund improvements to Richmond Public Schools? Why or why not?
Larson: No. I did not support this proposal when Mayor Stoney proposed a 9-cent real estate tax increase in 2019. I don't plan to support further increases moving forward. For the past years, Richmond has had an increase in real estate revenue via assessments which are driven by market sales. Instead of implementing an increase in 2019, City Council opted to work within our existing budget and find a way to fund Richmond Public Schools (RPS) with our existing funds. I think we can continue to do that moving forward.
From an overall budgetary perspective, it is important to note that City Council has approved an increase for RPS every year I've been on council. Last year, I led the effort to create an annual baseline for RPS that is based on the previous year's allocation (Res. No. 2019-R009). The resolution states RPS will get what is received the previous year in real estate revenues, and if the percentage of real estate taxes increases for the upcoming budget cycle, the RPS allocation will increase proportionally. It received unanimous support from City Council passed in March 2019. This model creates stability to the annual RPS operating budget that has not previously existed. It also takes some of the annual "budget fight" out of the equation, since the city is providing a baseline for the school system's annual allocation.
QUESTION: Do you support the use of tax dollars to build a new downtown arena? Why or why not?
Larson: The economic outlook of our city is extremely uncertain. Using tax dollars to build an arena would not be a smart use of taxpayer dollars at this point. We need to develop our downtown area, and I have advocated for a public discussion of the future use of this space. We need to listen to residents and utilize their input if we are going to fund something with their tax dollars.
QUESTION: If elected, what legislation or policies will you propose to promote racial equity?
Larson: The real estate market in Richmond has seen a lot of growth over the last several years. While this has benefited some of our residents and business owners, other longtime residents are being challenged with dramatic increases in assessments and real estate taxes. I have been working with my colleagues on City Council, as well as our state delegation, on creating a homestead program that would provide financial assistance to residents who are impacted by neighborhood gentrification that is disproportionately forcing out Black families. I will continue to work with my colleagues on this issue and do what I can to help residents of color maintain homeownership in our city. We are a diverse city, and we need to continue to do what we can to maintain and encourage that diversity.
QUESTION: Do you believe Mayor Levar Stoney deserves a second term? Why or why not?
Larson: The voters of Richmond need to take a strong look at what has consumed the time of the mayor over the last four years. A significant amount of time was spent pushing a real estate tax increase and the Navy Hill project, neither of which came to fruition. I have done my best to work within our city structure to advocate for 4th District priorities including parks, education, smart economic development and efficient spending. I look forward to working with a mayor who will listen and be responsive to the needs of the 4th District.