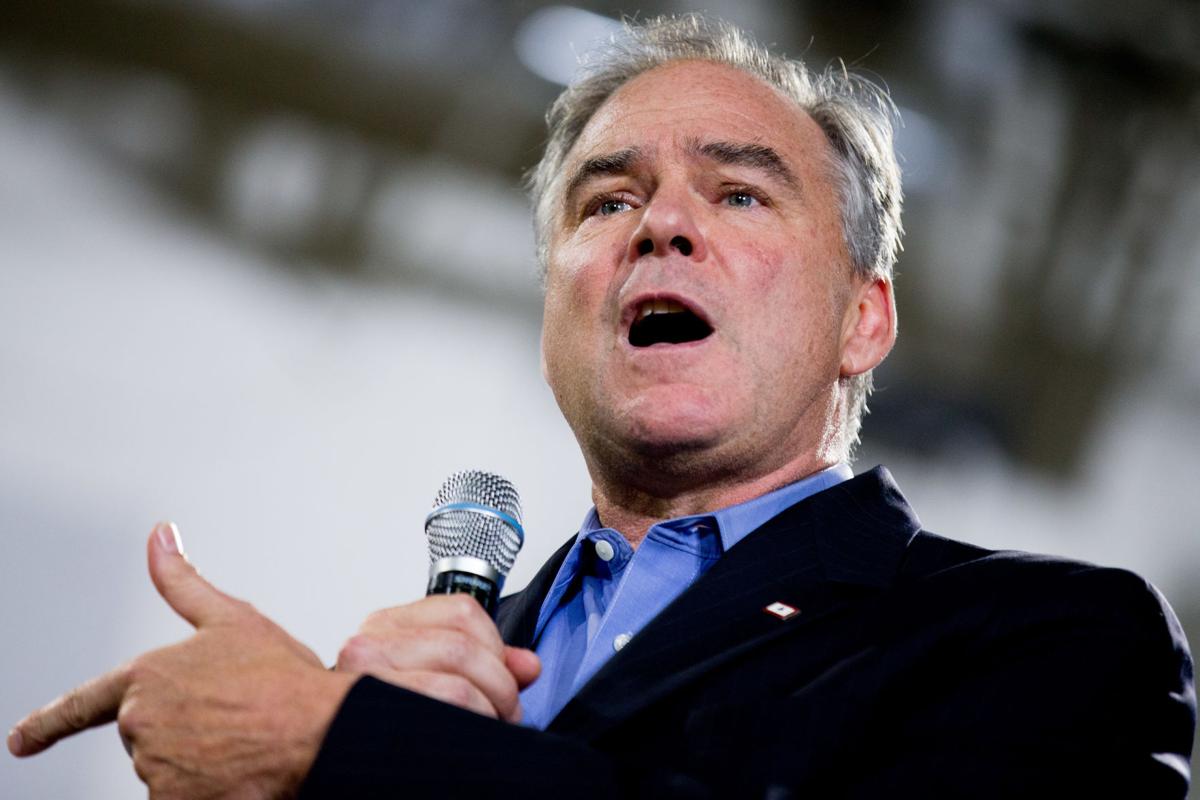 Life and career of Tim Kaine
Here are some milestones in the life and career of Tim Kaine:
1976: Graduates from Rockhurst High School.
1979: Graduates summa cum laude from the University of Missouri with a degree in economics.
1980: Serves as a missionary and principal of a vocational school in Honduras.
1981: Meets Anne Holton, a fellow student at Harvard Law School who is a daughter of former Virginia Gov. Linwood Holton.
1983: Graduates from Harvard law school.
1983-84, Law clerk for Judge R. Lanier Anderson, United States Court of Appeals for the 11th Circuit (Macon, Ga.)
1983-84: Associate attorney at Little, Parsley & Cluverius, P.C. (Richmond)
1988: Joins faculty at University of Richmond.
1987: Becomes director at Mezzullo & McCandlish, P.C.; (Richmond, Norfolk and Paris).
1993: Represents Housing Opportunities Made Equal in a federal housing discrimination case. In 2000, Nationwide Insurance agrees to pay HOME $17.5 million to settle the case. Kaine's law firm gets one-third of the settlement.
1994: First elected to Richmond City Council, beating incumbent Benjamin P.A. Warthen by fewer than 100 votes.
1995: Daughter Annella is born.
1996: Re-elected to Richmond City Council.
1998: Elected mayor in an 8-1 vote by the City Council, re-elected to City Council; Anne Holton becomes a judge in Richmond's juvenile and domestic relations district court.
2000: Re-elected to City Council, which again selects him as mayor.
2001: Resigns from City Council to campaign for lieutenant governor; defeats Del. Jay Katzen, R-Fauquier.
2005: Elected governor, beating Republican Jerry Kilgore, a former state attorney general; and independent Russ Potts, a state senator from Winchester.
2007: On Feb. 17, Kaine becomes the first governor outside Illinois to endorse Barack Obama for president.
On April 16, Seung-Hui Cho kills 32 students and faculty members at Virginia Tech before taking his own life. Kaine and his wife fly home from a trade mission in Japan. Kaine and President George W. Bush address a memorial service on campus.
2008: Obama vets Kaine as a potential running mate, before picking Sen. Joe Biden of Delaware. Obama becomes the first Democratic presidential candidate to carry Virginia since 1964.
2009: Obama picks Kaine to be chairman of the Democratic National Committee.
2010: Obama signs the Affordable Care Act in March. That November, Democrats lose control of the U.S. House of Representatives.
2011: Sen. Jim Webb, D-Va., announces he will not seek re-election. Kaine resigns as DNC chairman to run for the seat.
2012: Kaine wins the Senate seat, beating former Gov. and U.S. Sen. George Allen.
_______________(tncms-asset)c21ee0e2-5028-11e6-8898-00163ec2aa77"}}
_______________(tncms-asset)8e6034a0-3e2a-11e6-a2a3-00163ec2aa77"}}