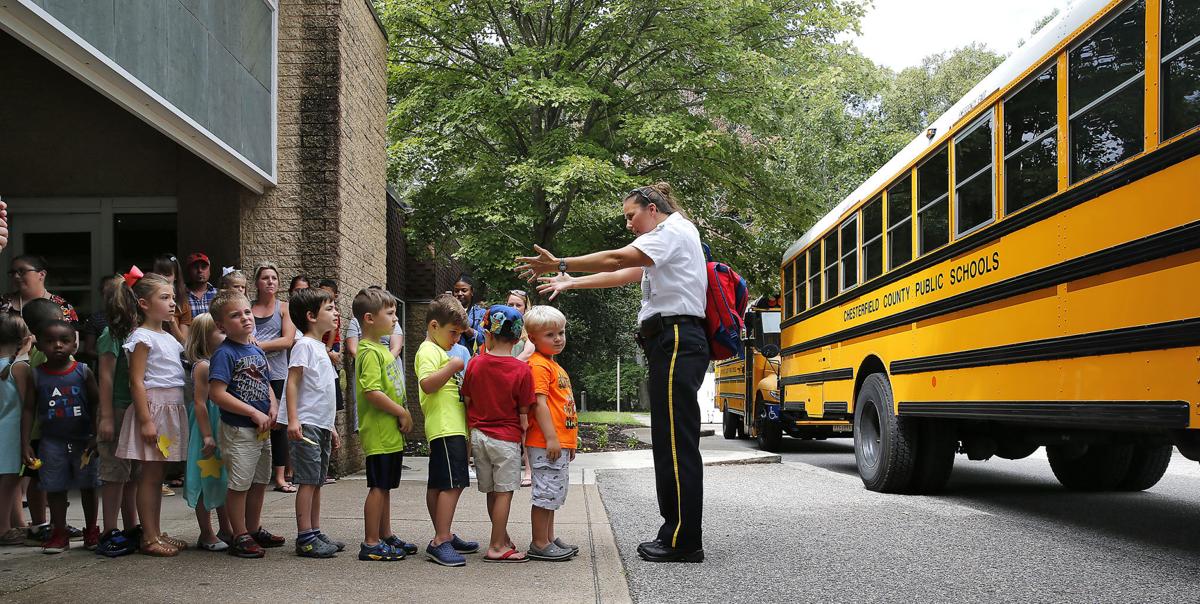 The Chesterfield County School Board will monitor several COVID-19 trends every two weeks to determine when a hybrid plan for returning to school can begin.
The school system's Health Committee has recommended a phased-in, in-person learning approach, with the youngest students heading back into the classroom first. The timeline depends on coronavirus metrics, including a seven-day average of cases, positivity rate and hospitalization numbers.
During a School Board retreat Tuesday afternoon, Chesterfield schools Superintendent Merv Daugherty said: "I think it's important the community understands that this board did not decide to place a timeline [on returning to in-person learning] … but [instead] to meet every two weeks to move forward, and I want to commend them for that."
When students return to school, it will not be for five days a week. Instead, the population will be split in two, with one group attending in person on Mondays and Tuesdays, with virtual learning the remainder of the week. The other group will engage in virtual learning Monday through Wednesday, while attending school on Thursdays and Fridays.
During Tuesday's retreat, the recommendations were discussed for nearly four hours. The board unanimously adopted the recommendations during its meeting later in the evening.
Tuesday's vote came three weeks after the School Board voted 4-1 to implement virtual learning for the fall. School Board member Ryan Harter was the dissenting vote.
A review of COVID-19 data and trends will take place every two weeks, during a School Board work session, to determine when the next phase can begin. The metrics will be categorized by four colors:
green, which allows for full in-person instruction;
yellow, which allows for a hybrid mix of in-person learning and virtual;
orange, which is virtual while allowing for phased-in groups of students back at school; and
red, which is fully virtual.
Currently, Chesterfield's seven-day case average and percent positivity rate for COVID-19 are considered orange, while hospitalizations are classified as yellow. As of Tuesday, according to state health data, there have been 4,439 total cases in the county and 80 deaths.
The Health Committee is recommending to start bringing students back when trends are in the "low orange" range. For example, the orange positivity rate is between 7.5% and 9.9%, so low orange is in the bottom half of that range.
Chesterfield's phased-in return to the classroom will involve these groups of students, which the school system is calling cohorts:
Cohort 1: Select K-12 special education students, as determined by individualized education programs, commonly called IEPs.
Cohort 2: All pre-kindergarten through second-grade students, along with Cohort 1.
Cohort 3: All students in third through fifth grades, along with Cohorts 1 and 2.
Cohort 4a: All students in sixth and ninth grades, along with Cohorts 1-3.
Cohort 4b: One week after Cohort 4a goes back, all students in seventh, eighth, 10th and 12th grades will be the final group to return, joining all the other cohorts.
Expectations for virtual learning include taking daily attendance; real-time instruction with teachers; graded assignments; and an abbreviated schedule that mirrors a typical school day.
For in-person learning, students will not have access to playgrounds or be allowed to use communal water fountains, and will not sing or play wind instruments. The school system is looking to install water bottle filling stations, Chief Operations Officer Josh Davis said.
There are 400 hand sanitizer stations to be distributed countywide, with an estimated nine stations in each elementary school, 12 in each middle school and 15 at high schools.
In terms of busing, social distancing and sanitizing measures are less than ideal.
Davis said it will not be feasible for school buses to be cleaned after every route — instead, buses will be cleaned twice a day, at the conclusion of morning routes and again after the last afternoon route. If a bus is exposed to COVID-19, it will be removed for approximately two to three days for disinfection.
A regular bus can hold 77 students. The target seat capacity will be one student per seat, for a total of 26 children per bus.
"However, this often won't be the case," said Calvin Frye, director of school transportation.
During Tuesday's retreat, School Board member Kathryn Haines said: "The community wants to help, and I think one easy way the community can help is if we need 5,000 more seats on a bus that we could find 5,000 people that would voluntarily agree to give up their seat. I have four kids; I would surrender my four seats."
The Chesterfield Education Association has recommended that all school system employees have the choice to work either in their respective schools or from home. While the group was on board with the virtual start to the school year, it disagrees with the decision to require all employees to work out of school buildings five days a week.
It remains unclear whether the school system will give employees a choice.
The school system is anticipating spending up to $30 million on the reopening plan, including transportation, instruction and student health costs. The school system's nearly $6 million Coronavirus Aid, Relief and Economic Security funding will go toward the expenses.
The School Board is scheduled to have an Aug. 25 work session to kick off its evaluations of COVID-19 metrics. Chesterfield schools begin virtual learning Sept. 8.