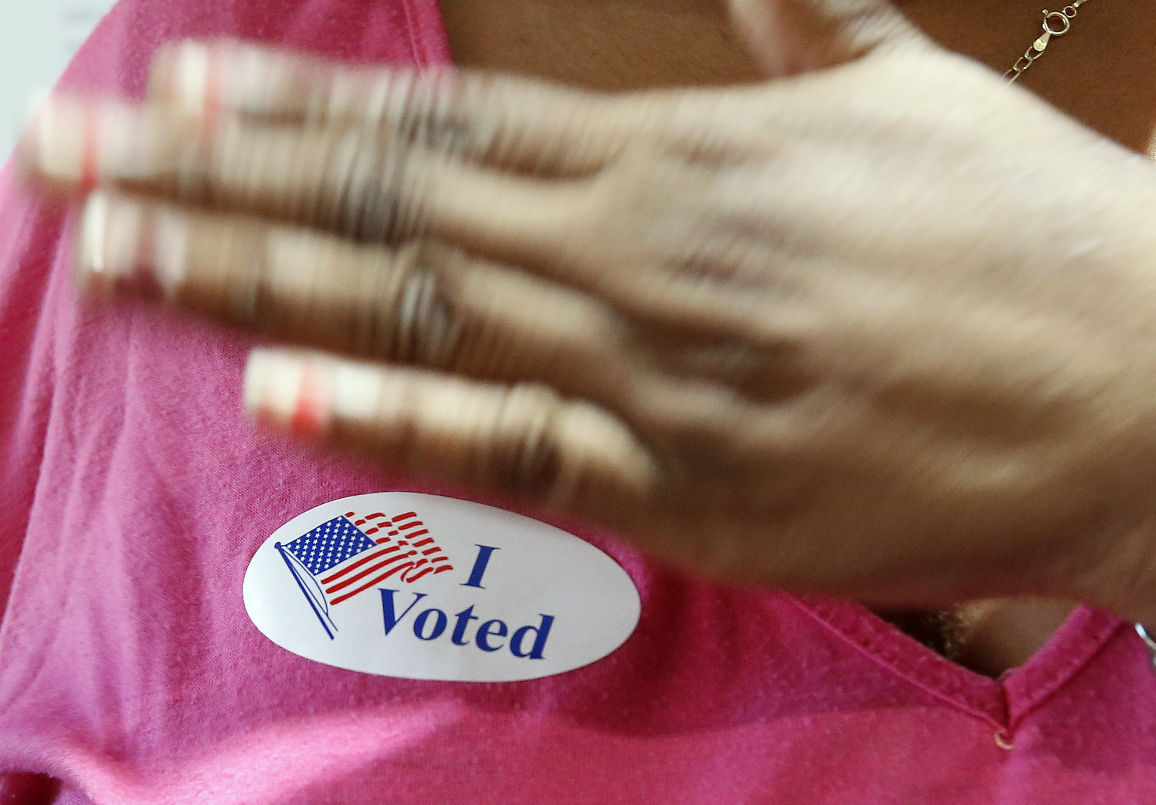 A civil rights group filed a federal lawsuit Tuesday night against Virginia election officials over outages in the state's online voter registration system that prevented some Virginians from signing up to vote in the presidential election.
The suit, filed in federal court in Alexandria by the Washington-based Lawyers' Committee for Civil Rights Under Law, argues that would-voters who could not access the system Monday were deprived of their constitutional right to vote because Virginia officials failed to provide a working system. The suit asks for a court injunction ordering the Virginia Department of Elections and the State Board of Elections to extend the registration deadline by at least three full days.
"This lawsuit seeks to prevent the disenfranchisement of eligible prospective voters in Virginia, whose right to vote has been impeded due to technological problems with and the systemic breakdown of Virginia's online voter registration website, and the refusal of Defendants to remedy the situation," the complaint states.
Election officials said the online system was down Monday due to "unprecedented activity," with more than 21,000 registrations successfully submitted in a single day. Much of the online traffic came from voting promotions on Facebook and Google, which state officials said took them by surprise.
Election officials and Gov. Terry McAuliffe's office said Tuesday they had no authority to extend the deadline, which is set by state law and passed at 11:59 p.m. Monday.
The plaintiffs in the lawsuit are two voter mobilization groups - the New Virginia Majority Education Fund and the Virginia Civic Engagement Table, as well as a Charlottesville couple, Michael and Kathy Kern, who say they were unable to register through the online system after multiple attempts Sunday and Monday.
New Virginia Majority was allied with McAuliffe earlier this year over the governor's efforts to expand voting rights for felons. The lawsuit argues that the system outages may have disproportionately impacted 26,000 ex-offenders whose rights the governor has restored since Oct. 1.
"These individuals had only about two weeks to receive notice by U.S. postal service that their rights had been restored, and register to vote," the suit states.
The Washington office of law firm Arnold & Porter LLP is representing the plaintiffs, according to the complaint.
It's not clear how many people may have been unable to access the system, but several failed registrants voiced frustration Tuesday in interviews with the Richmond Times-Dispatch.
When Sarah Aguiar-Wallis moved from California to Chesterfield County a few months ago, she thought she had been registered to vote when she changed her driver's license at the DMV. She was told she'd get something in the mail, but it never came. When she confirmed that her registration did not go through, she, along with many others, scrambled Monday to register at the last minute.
The 29-year-old speech pathologist, currently staying at home to care for her young daughter, began trying to register online at 3 p.m. She kept seeing the same message: "File not found." She kept trying from multiple devices and multiple locations but, when the midnight deadline arrived, nothing had changed.
"I even set alarms on my phone to wake up because I knew I had until 11:59. But every time I tried, I got the same result," Aguiar-Wallis said. "This is a huge election. To not be able to vote or have a say in my future or my daughter's future — not because I chose to but simply because I'm being restricted and my rights are being infringed on — that's scary."
The ACLU of Virginia noted that state law makes accommodations for people standing in line when registration closes, and argued that similar accommodations should be made for those who tried to register online. The ACLU said the state is legally required to have functional registration systems in place.
McAuliffe's office said the governor has limited power to order an extension because the deadline is set in state law. McAuliffe spokesman Brian Coy said an extension would require action by the General Assembly.
"Unfortunately, the registration deadline is set by the code, and we processed as many as we could," Coy said.
McAuliffe has spent much of the year trying to make it easier to vote for Virginia felons who have served their time.
On Monday, Virginia Department of Elections Commissioner Edgardo Cortés sent an email to voter registrars across the state saying his agency was in "triage mode" to get through the election and will pursue long-term fixes afterward.
"We are working right now to assess what happened and identify what additional resources can be brought online before the election to assist in resolving system performance issues," Cortés said in an email Tuesday. He said officials "understand the frustration" voters experienced with the website problems, but noted that the system worked for "more than 21,000 voters."
At a hearing last week, General Assembly members and city and county registrars raised concerns about the spotty performance of VERIS, the computer system used to register voters and process absentee ballots.
Cortés was asked several times to consider adding extra server capacity to improve the system's speed and reliability.
During the hearing, Del. Timothy D. Hugo, R-Fairfax, called on McAuliffe to replace Cortés, a gubernatorial appointee. McAuliffe's office said it had no plans to do so.
"We have every confidence in Virginia's local registrars, but we are concerned that Governor McAuliffe's Department of Elections has barely recognized let alone responded to the registrars' concerns about the technical systems needed to administer the elections," House Speaker William J. Howell, R-Stafford, said Tuesday in a prepared statement. "The administration needs to take immediate corrective action to ensure that local registrars have the necessary technical and support resources for the November election."
Coy said: "We'll look at it and if there are additional resources that need to be made available, we'll make them available."
Howell spokesman Matt Moran said the legislature has not considered a special session on an emergency fix.
"Not only would that create procedural and logistical nightmares for local registrars, but it would also set a problematic precedent," Moran said in an email.
At a House of Delegates budget meeting Monday morning, a state IT official was asked about the voter system's performance issues. Eric Link, deputy chief information officer, said VERIS is "not an ideal fit" within the state's IT infrastructure. He too pointed to Facebook's registration push as contributing to the problem.
"The system isn't really designed to work with that sort of a surge," Link said.
Kristen Clarke, president and executive director of the Lawyers' Committee for Civil Rights Under Law, said states know full well to expect spikes in last-minute voter registrations.
"To try and point the finger at someone else or at another third party that's working to help the state register people to vote seems very disingenuous," she said.
The registrar in Fairfax County, Virginia's most populous locality, said Monday was a "perfect storm" for local election officials trying to process registrations and oversee absentee voting.
"It was pretty much a lockout," said Fairfax Registrar Cameron Sasnett. "We didn't see a complete and absolute system failure, but it was essentially close to it."
Sasnett said that as the system slowdown worsened, transactions that normally take a second or less began taking five minutes or more. He said it took his office 14 minutes to look up the status of an in-person absentee voter, meaning that voter had to stand in the office 14 minutes before getting a ballot.
Sonya Morris, 39, was supposed to go to the Fairfax voter office when she tried to register in person Monday. As a recent transplant from New England, she went to the Alexandria office because it was closest on her GPS. When Alexandria officials told Morris she was at the wrong office, they suggested she could save the hassle by registering online, Morris said. She tried from noon to midnight to no avail.
"It kept circling around and redirecting me," Morris said. "They have to give us another extension. It was a glitch. It was ridiculous."