Depending on whom you believe, Bob and Maureen McDonnell were either gift-grubbing and financially desperate enough to conspire to sell the governor's office, or so dedicated to public service that the stresses of a gubernatorial term wrecked their marriage.
Depending on whom you believe, Jonnie Williams Sr., the dietary supplement impresario, was a "vitamin salesman" who looked at the thousands of dollars in gifts, trips and loans he gave the then-first family as part of a business transaction.
Or he was a "master manipulator" who deceived the governor and charmed his attention-starved spouse to aid his company — ultimately fooling the U.S. government into granting him an immunity deal in a $10 million securities fraud probe in exchange for his self-serving testimony in the corruption case against Virginia's highest officeholder.
Those were just a few of the elements embedded in the opening statements of the first day of the federal corruption trial of the former governor and his wife.
But the day held even more drama than the historic nature of the first trial of a Virginia governor would suggest, with defense statements delving into the personal narrative of the former first couple's relationship and the role Williams played in the Executive Mansion soap opera.
Defense attorney William Burck told the jury of eight men and four women that the evidence will show that former first lady Maureen McDonnell had a crush on Williams and considered him her favorite "playmate."
Burck, the attorney for Maureen McDonnell, asserted that she was "collateral damage" in the case and had no official power. The former governor's lawyer, John Brownlee, portrayed Williams as a schemer who manipulated the former first lady and took advantage of the couple's troubled relationship.
But to prosecutor Jessica Aber, the McDonnells "lined their pockets" and accepted favors of cash, gifts and travel in exchange for their help in promoting his dietary supplement Anatabloc, which he hoped would be the salvation of a failing business.
In her opening statement, Aber said the former governor had "a duty not to sell the power and influence of his office to the highest bidder."
But along with his wife, McDonnell accepted more than $150,000 in cash, gifts, trips and loans from Williams instead of just doing his job, Aber said, outlining the government's 14-count indictment against the McDonnells.
Burck said that long before Williams came along, the McDonnells' marriage was in trouble. He said Maureen McDonnell was under pressure as the first lady, a role she never sought, while her husband worked long hours.
Williams, meantime, "showered her with the attention she craved," said Burck, who like Brownlee suggested a level of intimacy between the first lady and Williams but stopped short of saying they had a physical relationship.
Aber said the interaction between Williams and Maureen McDonnell "was always … a business relationship, and nothing more."
Brownlee said the marriage's disintegration, which accelerated in fall 2011, was further evidence that the couple had not conspired to help Williams or hide what they took from him.
Brownlee told jurors that McDonnell had spent virtually half his term away from home, and that his hard work and dedication took its toll on his relationship with his wife.
"She said she hated him," Brownlee told the jury.
"He did everything he could to help Maureen and give her confidence and self-esteem," Brownlee said, but there wasn't enough time spent at home, or enough money.
The result, said Brownlee, was "a rift so wide" that "an outsider could invade and poison the marriage."
Williams' generosity, Brownlee said, was "a sham" — and the testimony he has to provide is also the product of a manipulation of federal prosecutors, designed to "save himself" from going to prison for securities and tax fraud.
"Bob McDonnell is an innocent man," Brownlee said.
Burck said the government's case begins and ends with Williams, who he alleged gave nine versions of events. "Which Jonnie Williams are you supposed to believe?"
He said Williams duped Maureen McDonnell and Mary-Shea Sutherland, the then-chief of staff to the first lady.
Burck said Williams drove a hard bargain and won not only transactional, or complete, immunity for his alleged dealings with the McDonnells, but also immunity for a $10 million transaction involving the sale of stock in his company, Star Scientific Inc., to a friend who was under investigation.
"Jonnie Williams had a $10 million problem, and he found his way out with the McDonnells," said Burck. "It got him a get-out-of-jail card worth $10 million."
But prosecutors painted a much different portrait of the relationship between their star witness and the defendants.
Before a courtroom packed with reporters, lawyers and McDonnell family and friends, Aber walked the jury through the highlights of the McDonnells' interactions with Williams, from the facilitation of a meeting for Williams in October 2010 with state health officials to a $20,000 New York City shopping spree and designer dress for Maureen McDonnell.
"Mr. Williams began to understand that buying things for the McDonnells had its benefits," Aber told the jury, as the McDonnells, separated by their legal teams and dressed in dark suits, looked on in silence.
What followed was a $50,000 loan, without paperwork, in May 2011 and a $15,000 check to cover the catering expenses of the Executive Mansion wedding of the couple's daughter Cailin. The McDonnells, said Aber, used $30,000 of the loan to buy Star Scientific stock and $20,000 to pay down credit card debt.
The prosecutor detailed a $2,380 golf outing for the former governor and his twin sons at the exclusive Kinloch Golf Club in Goochland County, followed up by a trip taken by Maureen McDonnell to Florida with Williams in which the first lady allegedly promised to host a reception at the Executive Mansion to help promote Anatabloc.
Jurors were also told about a 2011 summer vacation for the first family, which Maureen McDonnell memorialized in a photo of her husband in sunglasses and behind the wheel of Williams' Ferrari on the drive back to Richmond from Smith Mountain Lake. Aber showed the photo of the smiling McDonnell to the jury.
The government also flashed images of emails written later by the governor and first lady in the first half of 2012, requesting more money to prop up their sagging real estate investments.
Aber additionally detailed stock sales and transfers and amended loan applications made by the McDonnells that prosecutors allege were an attempt to keep the activity from being revealed on state economic disclosure forms. And she explained how Maureen McDonnell arranged a return of a designer dress and accessories she had received from Williams in an attempt to make it appear they had been on loan.
Aber said the case against the McDonnells was "not about Mr. McDonnell's performance as governor," his political status or the role a governor should play in trying to help businesses.
Rather, she said, that activity is "what he was supposed to do — just not in exchange for money." The former first couple, she said, "lined their pockets" and hid it because they knew they were breaking the law. They "knew what Mr. Williams wanted, and they gave it to him."
If convicted, the McDonnells could become Virginia's first Executive Mansion couple to go to prison. Their corruption trial starts July 28th.
But Brownlee said there was no evidence that Williams had prospered from his dealings with the McDonnells, which he argued were "routine, appropriate and perfectly legal."
Moreover, he said prosecutors were trying to criminalize McDonnell's job as governor to support Virginia companies, an approach that "would make felons of virtually every person who has held public office."
"Saying positive things about a Virginia business is what Bob McDonnell always did," Brownlee said, showing the jury two videos of the former governor's appearances at an event at Hardywood Park Craft Brewery in Richmond and in Martinsville for a business that announced 500 jobs.
"No one had to pay Bob McDonnell. ... Bob McDonnell eats Virginia ham, he drinks Virginia wine, and my guess is if the man smoked, he would smoke Virginia cigarettes," said Brownlee.
He said McDonnell was not financially desperate and that Williams "was not his only option" for assistance. He added that in a Jan. 23, 2013, meeting, Williams himself said that the governor had promised nothing in exchange for the gifts and loans he had provided.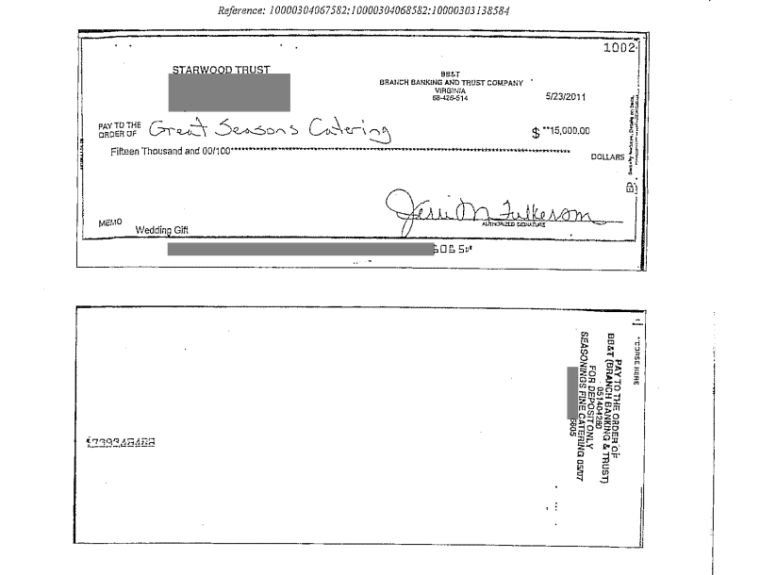 One of the government's first witnesses Tuesday was Cailin McDonnell Young, whose June 2011 wedding reception at the Executive Mansion was paid for by Williams with a $15,000 check.
She testified that she and her husband, Christopher Young, wanted to pay for the reception and was furious after learning her father had made two $3,974 installment payments toward the total. "I called my father and yelled at him," she said.
She said the first time she met Williams was on April 29, 2011. She and her mother had gone skydiving that day, and she went to the Executive Mansion to pick up a copy of a video made of the jump and to see her parents.
Her parents were eating dinner with Williams and his wife. They were introduced and chatted for 10 or 15 minutes. Sometime later, her mother called her and told her that Williams wanted to pay for the reception as a wedding gift.
"I was shocked. … It was a hugely generous gift," she said.
She testified that she had assumed her father would be reimbursed for what he had paid toward the wedding. But she said her mother visited her in February 2013 and told her the FBI had spoken with her and asked about Williams and the wedding.
Her mother told her that her father was very upset when he learned that her mother had received a refund for the reception and not her, Cailin. Her mother then gave her a check for $7,316 dated Feb. 14, 2013.
Asked why she took the check, Cailin Young said: "There was no point fighting with them about it." Under questioning by Aber, she said she and her husband had spent $12,000 of their own money on the wedding, but conceded that they did not pay for much or all of other wedding items, such as the wedding rings and her gown, thanks to the generosity of others.
Among the benefactors was Del. David Ramadan, R-Loudoun, a jeweler by trade, who provided free silver-plated picture frames for wedding guests.
Asked whether she knew how her mother purchased the dress she wore to the wedding, Young said: "I do now."
Shown several photos of the wedding, including two of her dancing with her husband, Young became upset and began to cry, leading to a 10-minute recess.
Later on the stand, she was asked on cross-examination by defense attorney Henry Asbill about that day. She said her wedding "now has a black cloud over it."
Before dismissing the jury for the evening, U.S. District Judge James R. Spencer cautioned them that because of the heavy news media coverage of the trial, they would be under a great deal of pressure from family and friends to talk about it. He warned them not to read, watch or listen to media coverage, or talk to anyone about the case.
He said he knew many of them were thinking, "I'm going to be in this courthouse for the rest of my natural life." He promised the them case would begin to move more quickly. "We will get through this," he said.