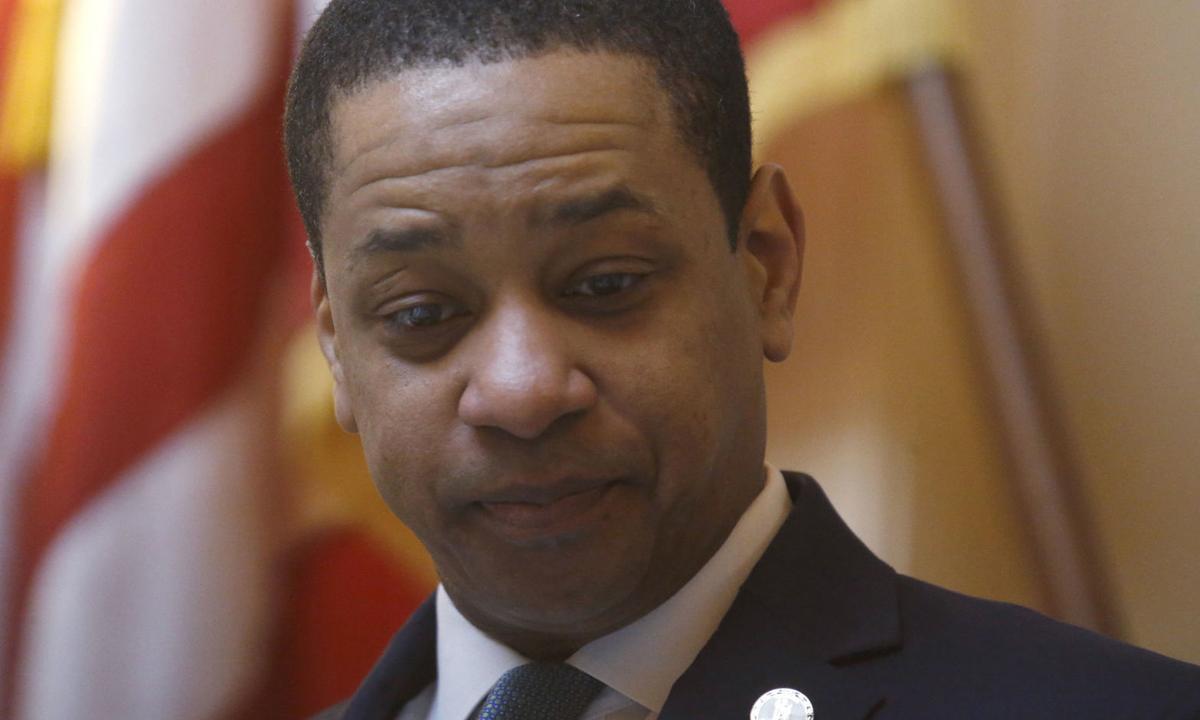 In a solemn and compelling speech at a Take Back The Night rally this week, the former policy director for Lt. Gov. Justin Fairfax described being sexually assaulted 14 years ago. She said that due process is not a standard created to allow someone to remain in political power and that Fairfax has "lost the moral legitimacy to hold public office."
Adele McClure was among a majority of Fairfax staffers and aides who resigned in February after a second allegation of sexual assault against him was made public.
Fairfax has insisted the sexual contact with his two accusers was consensual, gave a speech from the Senate dais decrying "political lynchings without any due process" and has said he is the victim of a "vicious and coordinated smear campaign."
Vanessa Tyson, a college professor, has accused Fairfax of forcing her to perform oral sex in a Boston hotel room in 2004. Meredith Watson has accused Fairfax of raping her while the two were students at Duke University in 2000.
In response to a question about McClure's speech, Fairfax spokeswoman Lauren Burke on Friday released a statement repeating Fairfax's claims of innocence. It also repeated his call for a law enforcement investigation that he believes would exonerate him.
McClure spoke at the seventh annual Take Back The Night NoVa+DC at Gateway Park in Arlington County on Thursday. The blog Blue Virginia posted a video and transcript with her permission.
She described being sexually assaulted 14 years ago, saying she did not report it to police or tell anyone.
"Many people we know around us are also suffering in silence," McClure said.
She said she stood by Fairfax after the first allegation was made, by Tyson.
"I first began to have my doubts about the side I was standing on when I first heard from Dr. Vanessa Tyson. Her story began to sound too familiar to me and I became ill at the attempts to discredit her, to attack her, to threaten her with defamation suits and criminal prosecution."
After Watson made her allegations public, McClure said, she knew the allegations could not be written off.
"I wondered if my abuser were ever elected to public office ... and I decided to speak out, how would I be treated? Would people attempt to label me as crazy, as a partisan pawn? Perhaps as an opportunist? Would I be threatened with lawsuits and legal action and would my abuser use the power of their office sitting on top of the dais to condemn me as a modern-day lynch mob that's tantamount to those who murdered Emmett Till?"
She said she wondered if her colleagues would say "believe women," except "not when it's politically inconvenient and not when it's challenging power of someone we like."
McClure is a graduate of Virginia Commonwealth University, where she was student government president for the 2010-11 academic year. Last year, she earned a spot on Forbes magazine's eighth annual "30 Under 30" list.
Through their lawyers, Tyson and Watson asked for a bipartisan hearing in the Virginia General Assembly. House Republicans proposed a process for holding such a hearing, but House Democrats have remained staunchly opposed. Fairfax, his supporters and some Democrats in the legislature have expressed concern for his constitutional right of due process.
McClure addressed that in her speech, saying black women have historically been subject to rape and violence and were marginalized and silenced without any due process.
"Holding public office is not a fundamental right," she said.
"Demanding someone step down from public office for serious accusations of high crimes is not a violation of their due process rights. It is a rational, just operation of our democratic society. Due process is a standard set to protect citizens from the loss of their life, their liberty and their property.
"It is not a standard set to protect someone's wish to remain in a position of political power. It is not a standard set to ensure that someone can purchase a table at a political gala. And it is not a standard set to shield a public figure accused of heinous crimes from all forms of criticism and discomfort."
She said she didn't wish to see her abuser put in jail. "But I would never want to see him win an election or enter a position of power — power that he could wield over others."
Burke, the Fairfax spokeswoman, said in an email Friday: "The notion that someone who is falsely accused of serious crimes should have to allow people to continue to lie about him is fundamentally unfair to that person whether or not they serve in public office."
(804) 649-6061
Twitter: @patrickmwilson