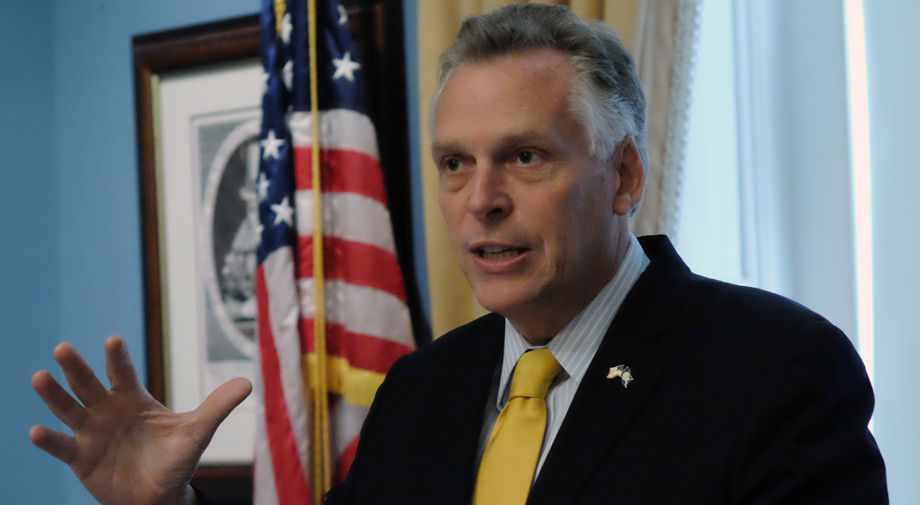 They're marked "wanted" on Virginia's sex offender registry after eluding authorities, but that didn't prevent them from getting on Gov. Terry McAuliffe's list of felons worthy of having their political rights restored.
Two fugitive sex offenders with Richmond ties appeared in the state's database of roughly 206,000 felons whose rights McAuliffe restored April 22, a review by the Richmond Times-Dispatch found. Both men have outstanding arrest warrants and active probation violation charges.
McAuliffe spokesman Brian Coy said fugitive data from the Virginia Department of Corrections was not accounted for during the preparation of the felon restoration list. The governor's executive order was meant to apply only to ex-offenders who had completed their sentences and supervised release.
"It was just basically an oversight," Coy said. "It just didn't factor into the initial pass."
Coy could not say immediately how many people were included in the overlooked fugitive data.
Vashawn L. Gray, 30, has a 2004 conviction in Henrico County for aggravated sexual battery of a minor, according to the state registry, and five convictions in Richmond for failing to register as a violent sex offender.
Gray's probation officer filed a major violation report in 2014 saying Gray's "whereabouts are unknown." The sex offender registry lists him as wanted, but he showed up on McAuliffe's list as having regained the right to vote, serve on a jury, hold public office and notarize documents.
The second wanted sex offender on the restoration list was locked up in New York on the day of McAuliffe's order.
James A. Hyams, 42, who has a 2000 conviction in Kentucky for rape of a minor, violated his probation in late 2012 after he pleaded guilty to grand larceny for stealing a wallet at a Shockoe Bottom restaurant.
Hyams left Virginia without permission shortly thereafter. He was released from custody in New York on June 30.
The Times-Dispatch identified the fugitive errors by checking about 80 names pulled from recent police reports, news stories and the state's list of wanted sex offenders with known addresses in Richmond.
Social Security numbers and dates of birth were obtained from court records. The information for each individual then was entered into the state's searchable online database maintained by the Office of the Secretary of the Commonwealth, which oversees rights restoration.
Gray and Hyams were marked "ineligible" in the rights restoration database after The Times-Dispatch inquired about their approved status.
A systematic review of the list is not possible because the McAuliffe administration has refused to release it to the news media, prosecutors and the General Assembly.
McAuliffe pledged to clean up the list more than a month ago after errors first were reported, and has stressed repeatedly that no one mistakenly put on the list has regained his or her civil rights.
In an interview last week, Levar Stoney, a Richmond mayoral candidate who oversaw rights restoration for most of the McAuliffe administration, called the executive order a "huge undertaking" and said that, to his knowledge, all errors had been fixed.
"No one has gotten the right to vote back that should not have gotten the right to vote back. And if you were to actually vote or register and you were, you know, a felon, that's against the law," said Stoney, who resigned his state post April 15 and announced his mayoral run one day before McAuliffe's felon rights order.
"So I'm very, very comfortable with what the governor did, because it was the right thing to do and the just thing to do."
Two other men incarcerated at the Richmond Justice Center on recent felony charges are shown as having their rights restored on the state website, despite having records that appear to disqualify them.
Brandon S. Brown, 23, is facing charges of attempted murder and arson after being accused of lighting a mattress on fire and placing it against a door to trap a woman inside.
Brown, who was featured in February on a local TV news segment called "Most Wanted Wednesday," was convicted on a felony drug possession charge April 26, a few days after McAuliffe's order. Brown's trial on the attempted murder charge is scheduled for August, but Coy said there was no error in Brown's case.
New felony convictions are uploaded to a prohibited voter list in the state's voter registration system, Coy said, but are not used to update the publicly accessible secretary of the commonwealth database that shows Brown's rights as being restored.
"He was eligible at the time that we restored his rights, and he has since become ineligible," Coy said. "That process is actually working as it always has."
Coy said the administration may explore syncing the two systems so that people barred from voting by new felony convictions will not show up as approved in the public database.
Brown's pending charge of attempted murder, Coy said, would not have disqualified him from the governor's order.
"That's just the American justice system," Coy said. "You don't incur the penalties of a conviction until you're actually convicted."
Lynch, who has an extensive criminal record that includes multiple gun charges, was ordered to Richmond's day reporting center in 2015 after a probation violation.
He incurred nine new charges while in the program, an alternative to incarceration that involves close supervision, according to an April 15 letter to the court from the program manager that said "all resources are exhausted" in trying to remedy Lynch's noncompliance.
Lynch has a hearing scheduled for September on a felony charge of violating probation. The governor's office could not explain why he was included on the restoration list.
Brown and Lynch also were marked ineligible after questions were raised about their status.
'Potential for human error'
Coy said any large government list never will be totally free of errors. He acknowledged some mistakes have involved entire categories of offenders that were missed as the McAuliffe administration processed data from state agencies.
"With any government database, there's going to be some potential for human error," Coy said. "But that doesn't mean that the government can't function or that's an excuse for denying hundreds of thousands of people's rights."
The governor has said his order ends a restrictive lifetime disenfranchisement policy that puts Virginia at odds with many other states where felons' rights are restored automatically after completing the terms of their sentences.
McAuliffe also has highlighted the policy's disproportionate impact on African-Americans and said the order does away with one of the state's last remaining mechanisms of suppressing the black vote.
McAuliffe's order has been praised by many who see it as a bold step to right a long-standing injustice, but the missteps in the order's planning and implementation have provided ample fodder for critics.
Republicans have waged a furious legal and public relations battle against the order, calling it a politically motivated overreach by a Democratic governor trying to help his friend Hillary Clinton win the White House.
Leaders of the GOP-controlled General Assembly are asking the Supreme Court of Virginia to declare the order unconstitutional. They claim McAuliffe does not have the power to issue a blanket order with no case-by-case review of individual felons. Republicans want the high court to throw out more than 8,000 new voter registrations from restored felons.
McAuliffe has said he has the constitutional authority to issue blanket orders. But if he loses, McAuliffe has vowed to sign 206,000 individual orders.
If that occurs, the integrity of the governor's list could take on greater significance. Thus far, the McAuliffe administration simply has removed from the list felons who don't meet the criteria, but erroneous orders issued to named individuals would be much more difficult, if not impossible, to undo.
Asked whether McAuliffe would use the same error-stricken list to issue personalized orders, Coy said the database "gets more accurate by the day," and, if necessary, the governor would be able to do large-scale individual restorations "with confidence."
"We knew that there were going to be some growing pains, and we're working through them," Coy said. "This has never been done before."
(804) 649-6839
Staff writer Ned Oliver contributed to this report.