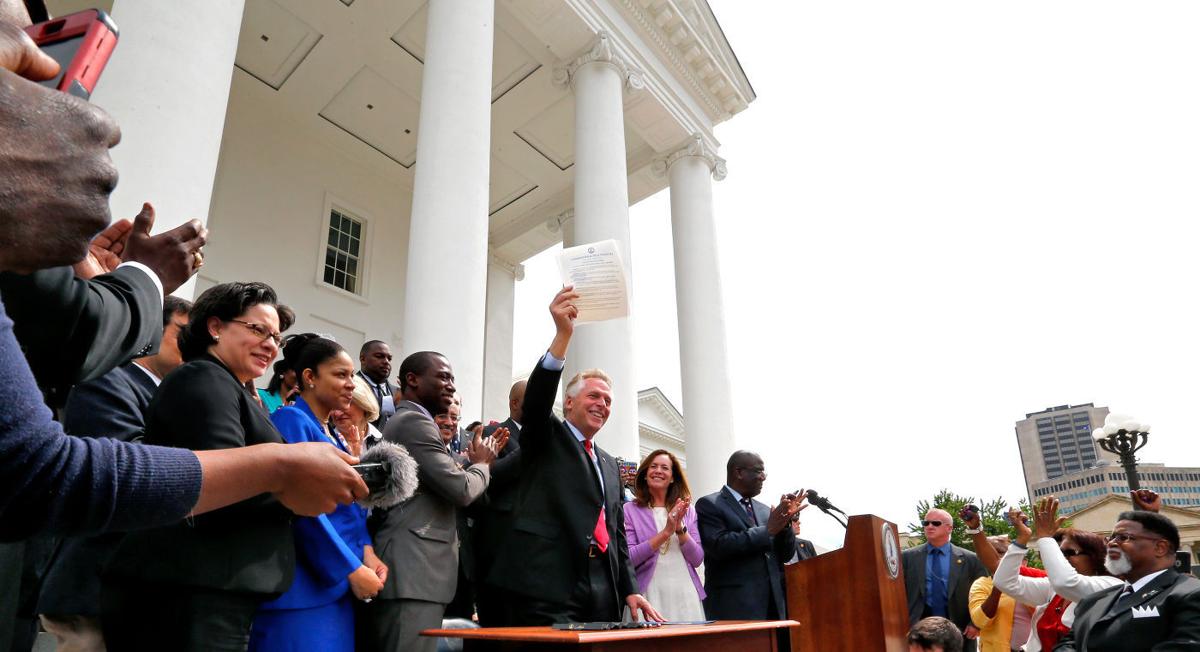 Gov. Terry McAuliffe called his sweeping order restoring rights for felons "a work in progress" Friday after Republican leaders called attention to several examples of imprisoned, violent criminals mistakenly listed as having regained the right to vote and serve on juries.
The GOP pounced after prosecutors in Northern Virginia discovered that a murderer serving a life sentence, two sex offenders still in prison and a sex offender deported to his native Peru were included on the governor's list of roughly 206,000 felons meeting the criteria to regain the right to vote, sit on juries, run for office and notarize documents.
More errors emerged late Friday. Three members of a Roanoke-area gang serving time in federal prisons for violent home invasions also appeared in the database as having their rights restored.
The order was intended to apply only to felons who have completed their sentence and supervised release.
Republicans said the errors show the McAuliffe administration acted carelessly. The governor said problems were to be expected given the magnitude of the order and suggested his critics were seizing on technical difficulties to impede progress.
"Let's not politicize this. Let's not demagogue this issue. This is the right thing to do morally," McAuliffe said. "With 206,000 names and 17 million bits of information, there's going to be data entry problems."
Republicans have accused McAuliffe, a Democrat, of trying to add thousands of new voters to the rolls to help his friend Hillary Clinton win Virginia in November's presidential election.
House of Delegates Speaker William J. Howell, R-Stafford, and Senate Majority Leader Thomas K. Norment Jr., R-James City, who are suing to stop the governor's order, said the data issues validate the need for an individualized, case-by-case review process.
"Overall, this is just a stunning level of incompetence and recklessness," Howell said.
"It just is another validation that this governor and his administration did not think this process through at all," said Norment, who referred to McAuliffe as "the silver-tongued devil of a governor."
Republicans said state employees responsible for the list, developed by the Secretary of the Commonwealth's office, should be fired.
Commonwealth's attorneys from Loudoun and Fauquier counties said they found multiple errors in the span of a few hours by checking past cases against a state database listing felons whose rights had been restored.
"When you magnify this across the commonwealth of Virginia, I think you're going to have profound consequences," said Fauquier Commonwealth's Attorney Jim Fisher.
Registrars across Virginia have used the database to check the status of ex-offenders applying to vote after the governor's order. As of Wednesday, 5,816 people had registered to vote as a result of the order. McAuliffe said the list will be continuously updated as errors are fixed and the data are refined.
"We're talking right now about a handful of folks out of 206,000," McAuliffe said. In a later statement, the governor said anyone who attempts to vote without meeting his criteria could face a new felony charge, even if the state list wrongly shows their rights as being restored.
More errors emerged after the governor's remarks Friday. Three members of a Roanoke-area gang, the Goonz, were shown as having their rights restored, according to Botetourt County Commonwealth's Attorney Joel Branscom, despite receiving lengthy federal prison sentences in 2011 for their involvement in a string of 40 violent home invasions.
The three Goonz members — George Theodore Fitzgerald, 38; Warren Edward Lemons, 44; and Kevin Wayne Ferguson, 39 — are still serving time out of state, federal prison records show.
Among the violent offenders wrongly included on the list is Ronald R. Cloud, 68, who pleaded guilty in 2014 to a cold-case murder in Fauquier while already serving a life sentence in West Virginia for a sexual assault, according to Fisher.
The list included two sex offenders: 77-year-old Virgil Dantic and 53-year-old Frank P. Ferrara, both of whom are still incarcerated in Virginia.
Carlos Cerda Maquin, 60, who was deported to Peru after pleading guilty in 2008 to aggravated sexual battery, was listed as having his rights restored on April 22.
"Who compiled this list? Was it the governor's office or some high school intern?" said Del. Robert B. Bell, R-Albemarle, who is running for attorney general. "They take more care when they take an order at McDonald's than he did when he put these felons on juries."
Sen. Ryan T. McDougle, R-Hanover, said the responsibility lies with former Secretary of the Commonwealth Levar Stoney, who resigned from his state post one week before the governor's rights restoration order to run for Richmond mayor.
"His office was the one that provided this list and clearly these errors were made under his watch," McDougle said.
"This was a large administrative undertaking, but restoring the rights of disenfranchised individuals was the right thing to do," said Stoney campaign spokesman Matt Corridoni. "It's unfortunate that Sen. McDougle is choosing to stand on the wrong side of history and use this as an opportunity to make political attacks."
Republicans said the list's release would allow prosecutors, the media and citizens to check the administration's work, but the governor's office has said the list is being withheld as a working paper because it is constantly being refined.
A full list will be released next year, according to McAuliffe's office, as part of the governor's annual clemency report to the General Assembly.
Republicans have asked the Supreme Court of Virginia to halt the order and cancel the registrations of those who have signed up to vote. They argue that the governor overstepped his authority by restoring rights en masse, but McAuliffe says the state constitution clearly grants him that power. The high court is scheduled to hear the case July 19.
McAuliffe has said he is bringing Virginia more in line with other states by effectively ending the state's constitutional policy of lifetime disenfranchisement for felons, which McAuliffe has said disproportionately suppresses African-American votes.
Though past governors have eased the path for rehabilitated felons to apply to regain their rights, none has gone so far as to restore rights for an entire class of offenders with one pen stroke.
An aide to then-Gov. Timothy M. Kaine, a Democrat who supports McAuliffe's order, hinted at the potential for data problems in a 2010 memo explaining why Kaine would not grant a blanket restoration of voting rights. In a letter to the ACLU of Virginia, Kaine counsel Mark E. Rubin said the practical details of implementing such an order "raise significant problems."
"Without having this information available in centralized databases, a blanket restoration of rights for those who have completed their sentences would place an unprecedented burden on local registrars to determine whether a felon is actually qualified to register," Rubin wrote. "It could also lead to significant confusion in the election process with disputes about an individual's actual voting status."
To develop the list of 206,000, the McAuliffe administration cross-referenced the state's list of individuals barred from voting due to a felony conviction with criminal justice data. That process was intended to exclude anyone still on supervised release such as probation or parole or those still in prison.
The governor's office has identified problems with mistyped data, zeroes dropped from the beginning of Social Security numbers and incarcerated felons missed because they are serving time in other states.
McAuliffe said he could have restored felons' rights with no limitations.
"I certainly had the legal authority to do that," McAuliffe said. "Some states allow people to vote while they're still in prison."
McAuliffe praised the work of staffers who developed the list, saying it's a "hard, complicated process."
"This happens in government. It happens in the private sector," McAuliffe said. "There's not a list of this magnitude that's ever been put together where you're not going to have some issues with data entry."