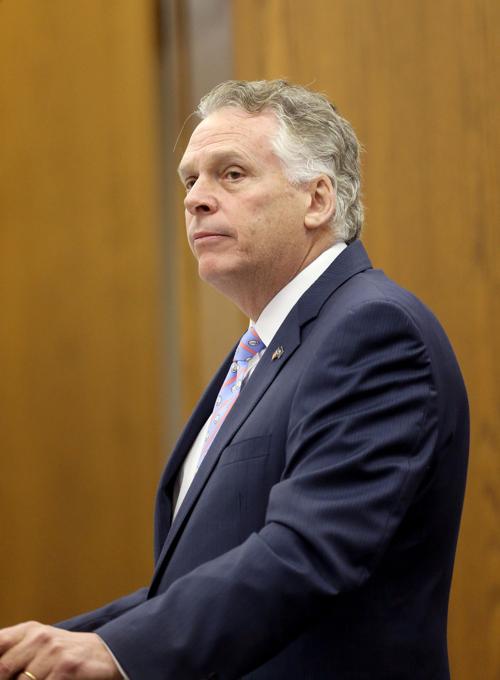 Gov. Terry McAuliffe dumped the chairwoman of the Virginia Parole Board amid concerns that the five-member panel was not moving quickly enough on reforms proposed in 2015.
McAuliffe's administration announced Friday that board member Adrianne Bennett, a lawyer from Hampton Roads, is replacing Karen Brown as board chairwoman. Then-Gov. Bob McDonnell appointed Brown to the board in 2011. McAuliffe named her chairwoman in 2014. The move by McAuliffe removes Brown from the five-member board and adds a new member, former state delegate Jean W. Cunningham, a lawyer who represented Richmond in the House of Delegates from 1986 to 1998.
The decision also means McAuliffe has now appointed four of the five parole board appointees.
McAuliffe on Tuesday praised Brown's service but said he wanted a "new set of eyes" in his final year as governor.
"I want to make sure that we are moving expeditiously on these parole hearings," McAuliffe said. "I want to make sure that we're doing everything that we possibly can."
As of October, 2,765 inmates in Virginia prisons were eligible for parole, according to Department of Corrections data. The board reviews those cases, among other duties such as reviewing requests for pardons.
Virginia abolished parole for felonies committed in 1995 or after.
A McAuliffe-created commission studied parole and made recommendations in December 2015.
Before parole was abolished, it was granted in about 41 percent of cases that came before the parole board, according to the report. That dropped to 3 percent before rising more recently to 6 percent, according to the McAuliffe administration.
The state pays an average of $28,000 to incarcerate one inmate annually, putting the estimated cost of housing parole-eligible inmates at more than $77 million. And older inmates can have medical issues that boost the cost of incarcerating them. But the Parole Board often rejects requests from inmates convicted of violent crimes.
Brown is a former prosecutor in Newport News and Chesapeake. Her base salary as parole board chairwoman in 2015 was $127,485, according to the Richmond Times-Dispatch salary database. She could not be reached for comment Tuesday.
The Legal Aid Justice Center in Charlottesville filed a lawsuit in 2010 against the parole board on behalf of 11 inmates, arguing they were being unfairly denied parole. A federal judge dismissed the lawsuit that year.
Richmond lawyer Stephen Northup, the lead attorney in the federal lawsuit, has continued to advocate for reform of the parole board. He said he thinks Bennett will be a fair-minded board chairwoman.
"She's open minded about granting parole to people — 'old law' prisoners who have been in prison for decades with perfect or near perfect records whose release poses no threat to public safety," he said.
(804) 649-6061
Twitter: @patrickmwilson
Staff writer Graham Moomaw contributed to this report.