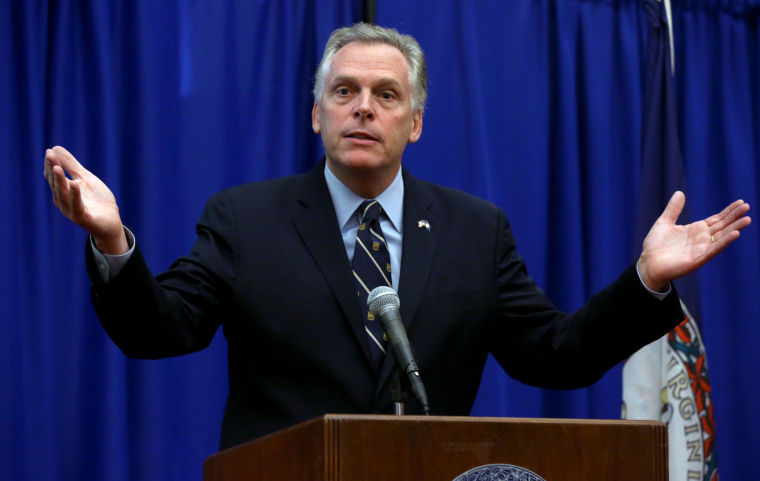 A bill that would have codified the rights of students to pray, participate in religious activities or wear faith-themed clothing on public school property at public events was vetoed by Gov. Terry McAuliffe Friday.
McAuliffe also signed bipartisan Standards of Learning overhaul legislation that will reduce the number of SOLs students will have to take in grades 3-8 and create an SOL reform commission.
Testing in the early grades will focus more on reading and math, but school boards will have to certify that students were given an alternative assessment in the subject areas that would no longer require an SOL. A Standards of Learning Innovation Committee will continually review and make recommendations regarding the state's assessment system.
"This bill is a meaningful step toward reforming the Standards of Learning so that we can continue to evaluate students and teachers without stifling innovation and creativity in the classroom," McAuliffe said in a statement.
The school prayer-bill veto of Senate Bill 236, the third of McAuliffe's term, followed a recent veto of a similarly themed bill governing prayer by chaplains in the Virginia National Guard.
Sponsored by state Sen. Charles W. Carrico Sr., R-Grayson, the legislation would have required every school system to have a policy allowing students to make religious speeches at any school event in which students are allowed to speak. It also would have removed the liability of school systems for allowing religious speech by having administrators offer disclaimers that student views are not endorsed by the school division.
Supporters said the legislation would protect religious liberty. But the governor disagreed.
"Although proponents claim that SB 236 is needed to protect the religious freedom of Virginia's public school students, the bill actually infringes on students' right to be free from coercive prayer and religious messaging at both voluntary and required school events," McAuliffe wrote in a statement accompanying his veto of the legislation Friday afternoon.
"It is firmly settled in law that the Establishment Clause of the United States Constitution forbids school-sponsored prayer and religious indoctrination, as well as any school initiative designed to endorse payer or sponsor a particular religious viewpoint," he wrote.
"Further, the federal Equal Access Act already requires high schools to allow students' religious clubs the same privileges afforded to secular clubs."
McAuliffe's veto aligns with views expressed by the Virginia chapter of the American Civil Liberties Union, which said the legislation was unnecessary because similar protections already exist, and also warned that it could have lead to government-sponsored religious speech at public schools and religious coercion of students.
The other vetoed prayer bill, Senate Bill 555, sponsored by state Sen. Richard H. Black, R-Loudoun, sought to prohibit censorship by state government officials or agencies of the religious content of sermons made by chaplains of the Virginia National Guard — as long as the sermons did not advocate disobedience of lawful orders.
Critics of the bill said it would have allowed National Guard chaplains to proselytize to unwilling service members, while supporters said it protected religious liberty.
The vetoes drew praise from the Virginia Chapter of the American Civil Liberties Union and derision from the Family Foundation of Virginia, a Christian conservative group.
"The ACLU of Virginia applauds the governor for protecting the religious freedom of all Virginians by vetoing SB 236 and SB 555," said ACLU executive director Claire Guthrie Gastañaga.
"The rich religious tradition and diversity in Virginia and across the United States exists precisely because there is no state religion.
"It is particularly important that government institutions, like our public schools and our National Guard, where attendance at official functions is compulsory, be especially careful to protect the individual right of all students and soldiers to be free from government-sponsored religious indoctrination, whether by a fellow student or soldier, a chaplain, or a school official," Gastañaga said.
The Family Foundation urged the legislature to muster the two-thirds majority in both houses need to override McAuliffe's veto.
"It's unfortunate that Governor McAuliffe somehow finds middle and high school kids simply talking about their faith threatening," said Family Foundation of Virginia president Victoria Cobb.
"Students in Virginia should not be discriminated against simply for voicing their faith in a graduation speech or during debate class. That's not tolerance or equality," she added.
"It is tragic that in the birthplace of religious freedom, Governor McAuliffe has chosen to listen to the ACLU and has trampled on the right of Virginia's religious students to simply express their beliefs."