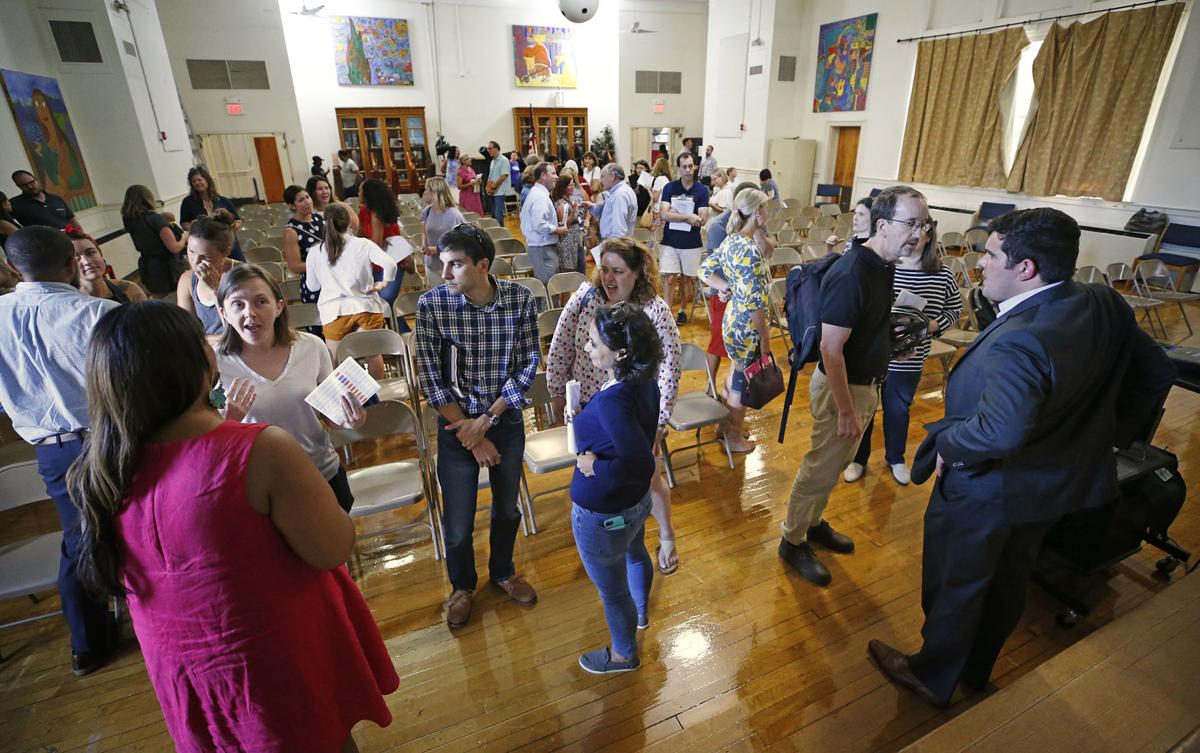 Research released amid debate over whether Richmond should combine majority-black and majority-white school zones underscores the value of school diversity as Richmond families and policymakers weigh which factors should drive rezoning decisions.
The report, published by researchers at the University of Richmond, Virginia Commonwealth University and the Virginia Housing Alliance, is the first city-specific look at the school system's rezoning process.
The study does not endorse a specific proposal as the School Board barrels toward a self-imposed December deadline for zone changes to begin the next academic year.
The authors, three of whom have studied Richmond rezoning efforts in the past, do find benefits to boosting school diversity, including improved learning improvements and a reduction in prejudice.
"[School integration] is one of the most powerful education reforms available to us — if not the most powerful," said Genevieve Siegel-Hawley, a VCU professor and one of four authors of the report.
Richmond schools, like many across the country, remain segregated. The average white student in the U.S. attends schools that are 69% white, according to a study published earlier this year by UCLA.
Roughly 3 in 4 of the city's schools are what researchers define as "intensely segregated," meaning less than 10% of the student body is white. Three elementary schools — Linwood Holton, Mary Munford and William Fox — enroll roughly 70% of the white elementary school students in the district.
The city's School Board set boosting student diversity among its goals for rezoning.
Two of the three rezoning options currently on the table include "pairing" schools, specifically Holton, Munford and Fox, with majority-black schools nearby. While no vote has been taken on new zones, the idea of combining school zones — with students going to one school for some grades and another school for others — has been controversial, particularly in majority-white neighborhoods.
Many in those school communities have raised issue with students switching schools more frequently, having to travel farther to school, and sending their students to lower-performing schools, among other concerns.
Richmond isn't alone in looking at specific strategies to integrate schools, the new report shows.
School systems in Charlotte, N.C.; Chicago; Oakland, Calif.; and Charleston, S.C., have all used pairing in the past three years to improve school diversity. Roughly 50 school systems, such as in Cambridge, Mass., use what's called districtwide choice with equity, where every family in a school district submits their preferred schools and then receive a school assignment. At least 26 school systems are using magnet schools to better integrate.
All three have been proposed in Richmond.
"This process presents a window of opportunity for Richmond," said Kim Bridges, a VCU professor who served on the city School Board from 2007 to 2012 and is one of the report's authors.
Community members at George W. Carver Elementary School, a low-performing school embroiled in a test-cheating scandal last year, want to turn it into a magnet school. Jonathan Young, who represents the city's 4th District on the School Board, proposed a citywide open-enrollment process that hasn't gained traction among other board members in the two months since he shared his idea publicly.
"All of my colleagues campaigned for office on a big promise to doing things differently, acknowledging how broken RPS was," Young said Friday, "though they seem very content to retain the same old same old."
School pairing, though, has been the most discussed in Richmond.
In one plan, Barack Obama and Ginter Park elementary schools would have students for kindergarten through second grade before they go to Linwood Holton for third through fifth grades. Also in that plan, John B. Cary Elementary, Fox Elementary and Binford Middle School would create a "cluster." Students would go to Fox for kindergarten through third grade, Cary for fourth and fifth grades and Binford for sixth through eighth grades.
Munford would be grouped with Carver Elementary and Albert Hill Middle School. Students would go to Carver for kindergarten through second grade, Munford for third through fifth grades and Hill for sixth through eighth grades.
In a separate plan, Munford would become a K-2 school with students going to Cary for third through fifth grades.
The proposals would take Munford from being the whitest school in the city, currently at 77%, to 56% white. That improved diversity, researchers argue, would help students.
Diverse schools improve student learning and help reduce prejudice. They result in strong mental health for students and are good for democracy, according to the report, which draws from more than 25 studies across the country. They also promote educational equity, improving access for students of color to resources like more diverse teachers, which have also been shown to improve the academic achievement of students.
"This isn't a new or untested idea. We have years of data on the benefits of integration," said Shannon Lindbloom, an RPS parent who created an online petition over the summer in support of improving school diversity. "On the other hand, we don't have a single example of a school district that has successfully maintained separate but equal schools. Separate will never be equal."
She added: "It's time to stop pretending we can just throw money at segregated schools and walk away from our responsibility to treat every child like our child."
The lack of a clear resource on school rezoning research has emerged as a problem for those engaging in discussions about what should happen. The issue has been mentioned more than 40 times in feedback to an online form published by the district.
At a community meeting at Mary Munford on Oct. 2, for example, proponents of school pairing said research clearly showed the benefits of school diversity. Opponents turned to other research on students switching schools and the negative impacts that might have.
The benefits of diversity in schools outweigh the potential negative impacts of students changing schools, Siegel-Hawley said. She and the other researchers hope that the report will be able to inform the debate.
"There have been a lot of different conversations happening," said Tom Shields, an education and leadership studies professor at UR. "We wanted to answer what the research says."
Said Lindbloom: "People want to know that big change is worth it."
This isn't the first time Shields and his team of researchers have studied school rezoning in Richmond.
In 2013, a rezoning effort resulted in the closure of the majority-black Clark Springs Elementary School. Most of the students from Clark Springs were put into John B. Cary Elementary, which is also majority-black. Students from Cary's majority-white neighborhoods were rezoned for Fox, which is the second-whitest school in the city.
In 2016, Siegel-Hawley, Bridges and Shields published a report criticizing that rezoning effort, saying it exacerbated segregation.
In the latest report, the researchers offered three specific recommendations to the School Board and other school officials driving policy choices:
make it a goal to have as many students as possible in more diverse schools;
consider using multiple strategies (such as magnet schools, districtwide choice and pairing) to reach that goal; and
cut down high concentrations of poverty and the concentration of affluent white students.
"I truly believe that people will get on board with integration once they see the research on health and learning outcomes, graduation rates, social-emotional well-being, and even life expectancy," Lindbloom said.
A special rezoning committee is set to meet at 6 p.m. Thursday at George Wythe High School.
(804) 649-6012
Twitter: @jmattingly306