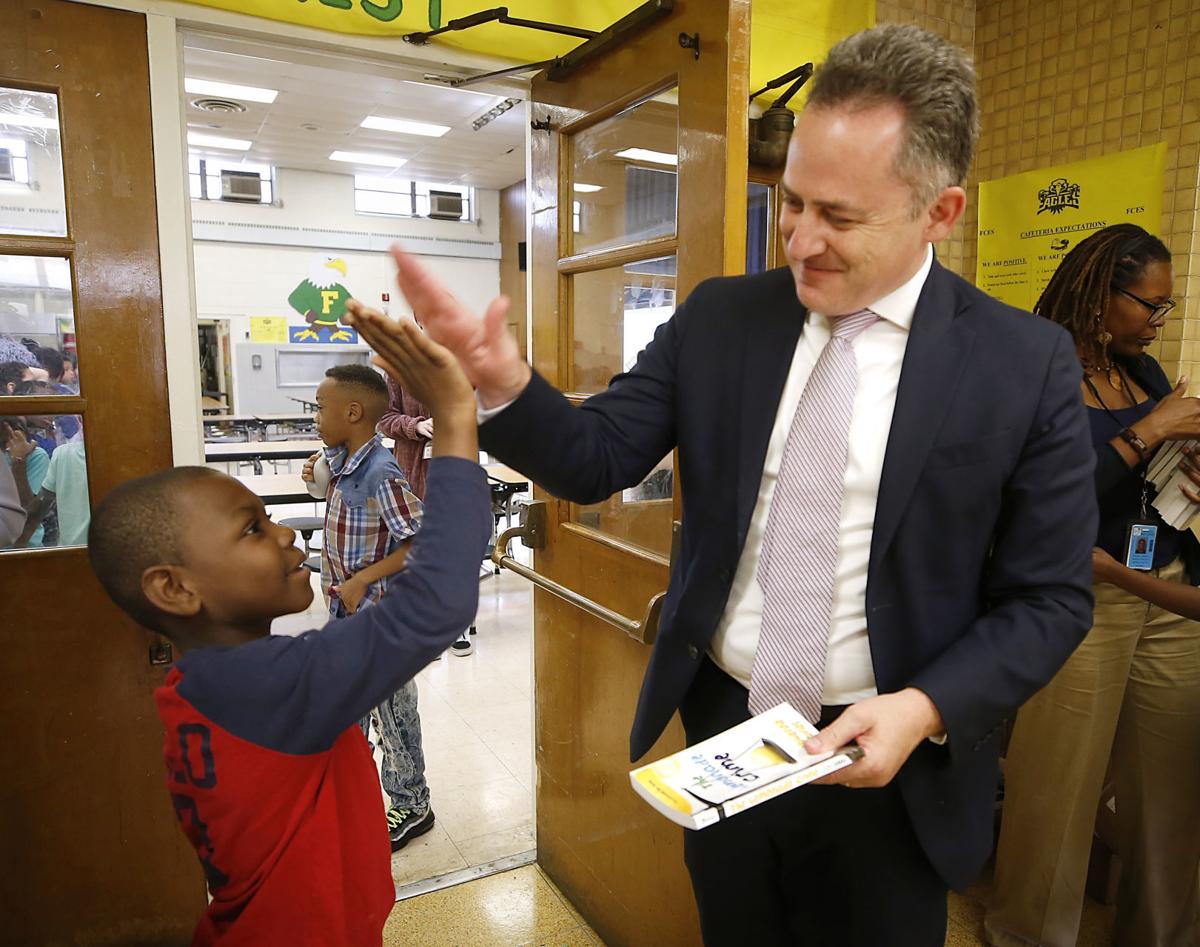 The Richmond School Board might now favor in-person instruction for city students in the fall, after an option in which students attend school on alternating days seems to have garnered support among parents and teachers.
Under so-called Option Two, half of the students in Richmond Public Schools would attend school on Mondays and Wednesdays, with the other half on Tuesdays and Thursdays. The School Board is scheduled to vote July 9.
Friday might be a virtual learning day, but that's something Superintendent Jason Kamras says the administration would need to flesh out more. Kamras said he also wants to add an "equity option" in which students with high needs are allowed to attend school five days a week.
An obstacle is that there are a significant number of parents who do not want their kids to attend in person. For those parents, Kamras wants to have an option for fully virtual learning.
"I think what we would do is create one plan for kids who are virtual and one for the kids who are coming in," Kamras said. "We might have some teachers focused on the virtual, some focused on those in person."
Even though there are students who won't be required to attend school in person, Kamras said that unlike the fourth quarter of this school year, students will be accountable for their grades.
"When we come back, there will be grades, deadlines and student accountability," he said. "They'll have homework and things get graded, report cards and so on."
A majority of the School Board said Monday that they don't feel comfortable moving forward with the July 9 vote. First District representative Liz Doerr led the charge on postponing the vote, saying she does not feel equipped to make a decision without more input from the medical community and the public.
"I'm personally craving some more expert guidance for us," she said to the board. "I do not feel equipped to make a decision in nine days."
Other board members who said they didn't feel comfortable with a July 9 vote were Kenya Gibson, Felicia Cosby, Scott Barlow and Dawn Page. One of the main things they all wanted was more public input, which was not provided at Monday's meeting.
No public comment was read aloud during the meeting, even though more than 30 pages were submitted. It's the reason why Gibson voted against approving the agenda.
Gibson also said she wanted to hear more from the school system's own medical community.
"Who is in charge of our nursing staff?" she said in a statement. "We don't even have a nurse in every building, so how would reopening work?"
Page said it was important to continue reaching out to community members before the board's next meeting.
"I know you can't force it, but this is going to impact all of us," she said during Monday's meeting. "To be able to make the best informed decision, it would be in our best interest to see more participation for those schools that had a low participation in the surveys [sent out by RPS]."
Jonathan Young of the Fourth District said that he wants a decision made sooner than later, and added that he wants to see a sense of normalcy.
"The sooner we can provide an opportunity for our parents and teachers to plan, the better," Young said in a statement. "Resuming in-person school has to be a priority alongside an opt-out choice for virtual."
Barlow said he has mixed feelings about going back for in-person instruction. He repeatedly said that RPS students and teachers are at higher risk for COVID-19 transmission and complications from the disease, given that the city's school system is made up of majority-minority students and staff.
"I'm super torn. We have this student population that needs in-person instruction," Barlow said. "We also have a student population that's at higher risk for family members who will be infected. If we are going to move forward with Option Two, I want to make sure that we are putting in place all conceivable safety measures for our students. We still have a lot of work to do."
Kai Banks, a parent of a student in Richmond Public Schools, was selected to be a part of the reopening committee convened by RPS. She said she would like to see an option with students back in school, but has her concerns as well.
"They talked about taking the kids' temperatures at the bus stop," she said of discussions within the committee.
Transportation has been a large concern of parents and the administration because of social distancing and the budget costs of possibly needing more bus routes. There are also concerns about student hygiene.
"They discussed bathroom monitors to make sure kids are washing their hands, but some RPS schools don't have fully functioning sinks," Banks said.
There are a number of budget implications that will need to be addressed, Kamras said. The sooner the reopening scenarios are fleshed out, the more planning the administration can take to figure how much things like soap and deep cleaning supplies will cost RPS. Much of that will be paid for with money from the federal CARES Act.
"Once we know which scenario, we're better able to price things out," he said. "None of these [four] options are great. They all have disadvantages, and I am deeply concerned about the loss of learning our kids are going to face. I think over the long term, we're going to have to think very hard about additional instruction time for our students."
In May, the School Board was seriously considering an option for year-round school to address learning loss. However, Kamras said that option is not currently on the table because of insufficient funding. He said the best bet to be able to do year-round instruction is if Congress passes another stimulus package.