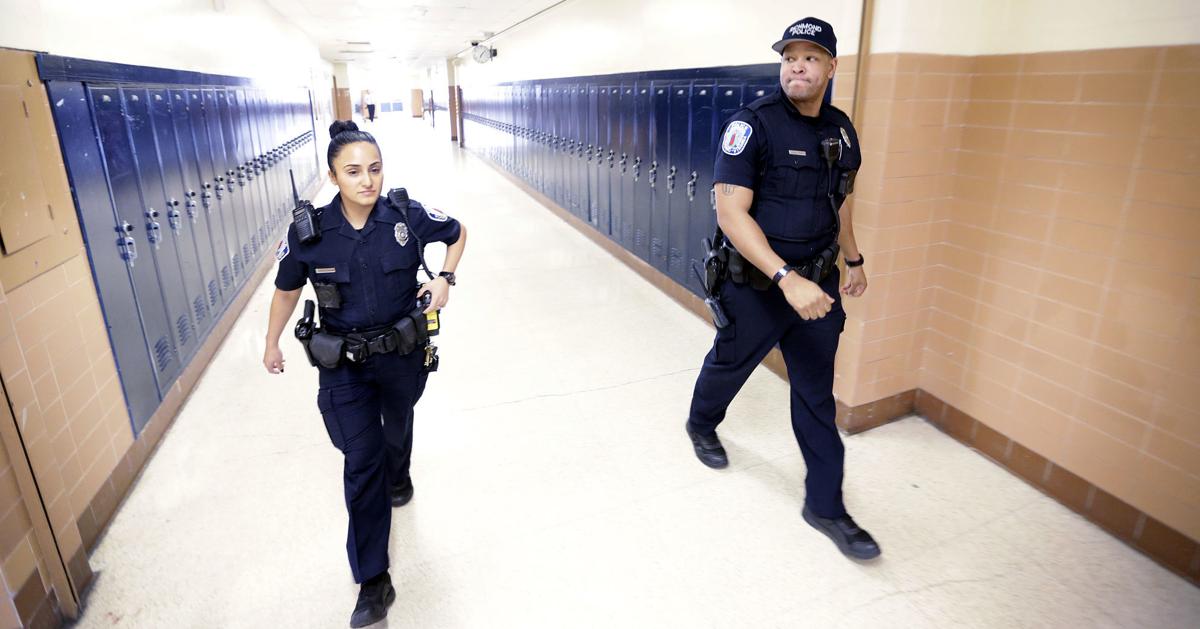 Two members of the Richmond School Board are driving a discussion about the school system's relationship with the Richmond Police Department, with one calling for the eventual removal of school resource officers, a step taken by the Charlottesville School Board on Thursday and by the Minneapolis School Board earlier this month.
The full Richmond School Board will discuss the divisive issue during Monday's meeting.
The conversation started in Richmond during a School Board meeting on June 1, the same night the city's police department deployed tear gas on nonviolent protesters 23 minutes before the 8 p.m. curfew set in place by Mayor Levar Stoney.
Cassie Powell and Brionna Nomi of the Legal Aid Justice Center urged the School Board to follow the lead of Minneapolis.
"In our city, the Richmond Police Department has ... demonstrated its refusal to enact reforms to protect people of color," they said in a joint statement. "The RPD data shows that young blacks are disproportionately detained in the city, and that blacks were more than 2.7 times more likely to be perceived by police as suspects than whites."
In an interview, Powell, a staff attorney with the Legal Aid Justice Center's JustChildren program, said RPS needs more school counselors and social workers who can replace the duties of the officers.
"Richmond Public Schools does not have a lot of money to fund those positions," she said.
And the police department, not the school system, pays the resource officers, except when they work overtime at events. The overtime cost about $45,000 last year, said Superintendent Jason Kamras, who said he supports having the conversation about the necessity for police in schools.
Kamras said he has been listening to his high school advisory board, where there has been a diversity of opinions on having the officers present in the buildings.
Some of the students said having SROs, along with metal detectors and daily backpack searches at some schools, makes them feel like they are in prison. Others said those things make them feel safer.
"It's critical that we listen to our students," Kamras said. "There could be additional counselors with specialized training and support who can respond to acute situations.
"We should look at all of those models."
Powell and Nomi's comments caught the attention of School Board member Scott Barlow, who said he witnessed "disturbing" behavior by police while he attended protests.
Protests in Richmond had gotten violent, as they had across the country, so police dressed in militarized riot gear. They had also deployed tear gas and used pepper spray against a member of the press.
Barlow said police shot rubber bullets at him even though he was watching the protests from a side street off Broad Street. He wasn't hit, he said, but the bullets flew about 3 feet from his head. That's part of the reason he called for a discussion about police in schools for the board's June 15 meeting.
"I knew there was looting and stuff going on. But the significant majority of protesters were carrying signs and chanting and demonstrating their First Amendment rights," he said. "I saw a lot of anger and frustration about what we've been witnessing for a generation."
"While I was watching and recording some of the protests ... well away from those who were violently demonstrating, the police turned their lights at us and began firing rubber bullets at us followed by a canister of tear gas," he said about the May 30 incident in a Facebook video. "Perhaps this is a manifestation of the privilege in my life, but I was embarrassed.
"I thought I had done something wrong by being at the protest at all. At the time, I was only armed with a cellphone camera."
He said that with a realization that he lives with privilege as a white man with a law degree, it should come as no surprise that if the police will target him, they will target young black people as well.
When he heard about the June 1 deployment of tear gas well before the curfew, he said it became even more clear that community dialogue and action by policymakers were necessary to achieve real police reform.
"I think that our School Board needs to engage in more conversation with the public on how we move forward," Barlow said.
Kenya Gibson of the 3rd District has said she wants the school system's relationship with police dismantled.
"As a school district, as a country, we need to revisit our approach to discipline," she said in an interview. "I am of the concept that there are no bad kids."
In a post on Medium, she discussed the issue further, calling for a plan to transition police out of school.
"Referrals target and harm Black and Latinx students, and students with disabilities," she said in the post. "It is time to staff our school support personnel who are trained to support students in need and intervene safely in a crisis."
Black students with individual plans to meet their special needs make up a significant number of students who are referred to law enforcement in Richmond Public Schools.
The issue is not unique to RPS. Black students made up 39% of students with at least one arrest but 75% of students who were arrested in schools in an Edweek analysis of federal data from 2014.
In 2015, according to data from the federal Office for Civil Rights, Virginia was tops in the nation for referring students to law enforcement.
Some of those students ended up in the care of Rodney Robinson, the 2019 National Teacher of the Year who is from Richmond. Before he went on sabbatical, he taught students in juvenile detention at the city's Virgie Binford Education Center.
There, he says, many of his students reported getting their first criminal charge at school, most often for disorderly conduct. That's why he believes police have no place in schools.
"They're not trained to be in schools. They're not trained to deal with young brains," he said. "SROs are there because teachers and principals are overworked. SROs should be there to protect the school from school shooters."
Cheryl Burke, another School Board member, is against getting rid of SROs completely, and it's based on her 38 years of experience in Richmond Public Schools.
"All the years I worked in RPS, every SRO I've come in contact with was respectable, dedicated and most helpful," Burke said. "I am not aware of any SROs that had to be reprimanded."
During her time as principal at Chimborazo Elementary in Church Hill, she said she made it a point to bring police officers into the school so they could build relationships with students.
Burke talked about a time where two black students saw the officers in the school and they immediately prepared to be searched. She said the distrust some people of color have for law enforcement is exactly why officers should be in the schools.
"That's why they need to be in the school, to show that not all police officers are bad," said Burke, who also wants to see more counselors in schools.
"It shows a deficit in our system," she said. "We've never had enough counselors or enough support persons in place. That's why an effective principal would always keep tabs with what happened in the neighborhood before Monday mornings."
Faith Flippo, the commander of youth and intervention services at the city's police department, said she worries about being lumped in with police in other parts of the country. Since school has been let out, she said, the SROs have been checking on students, and that it's about more than policing for them.
"These SROs give a darn about the kids in their schools," Flippo said. "It breaks my heart that people aren't understanding the value of an SRO. Most report having positive interactions more than negative."
She also noted the many activities and community engagement programs that RPD has, including the Police Athletic League, Community Care and the LIFE program where police intervene in hopes of keeping kids out of jail. The program began in 2016 after a 2015 report showed many kids in Richmond end up in the juvenile justice system for minor infractions in school.
"We want to have the positive interactions," she said. "You don't do this job just to use force or cause havoc. That's not what our calling is. We want to encourage peace; we don't want to encourage havoc."
Robinson said the power dynamics between a student and police officer make the rationale that officers are mentors seem hollow.
"I don't like that argument because there's no such thing as positive mentorship when there's an extreme power dynamic at play," he said. "It's kind of a false narrative to say they can mentor the kids. Yes, they can, but if the kid is out of line, they can arrest them."
Barlow and Gibson agree that it's not as simple as removing officers from schools as quickly as the Minneapolis School Board did.
There has to be some form of a safety plan in place to transition them out of the schools, they said. That's why they want to hear from the community first.
"I think it's complex. I want to make sure that if we do move in that direction, it's after having significant dialogue with parents, teachers and students," Barlow said.
A spokesman for the police department declined to talk about the issue.
"This appears to be an RPS issue at the present time," said RPD spokesman Gene Lepley. "We don't want to overstep."
RPS will discuss its relationship with the police department at its School Board meeting on Monday. The meeting is virtual and takes place at 5:30 p.m.