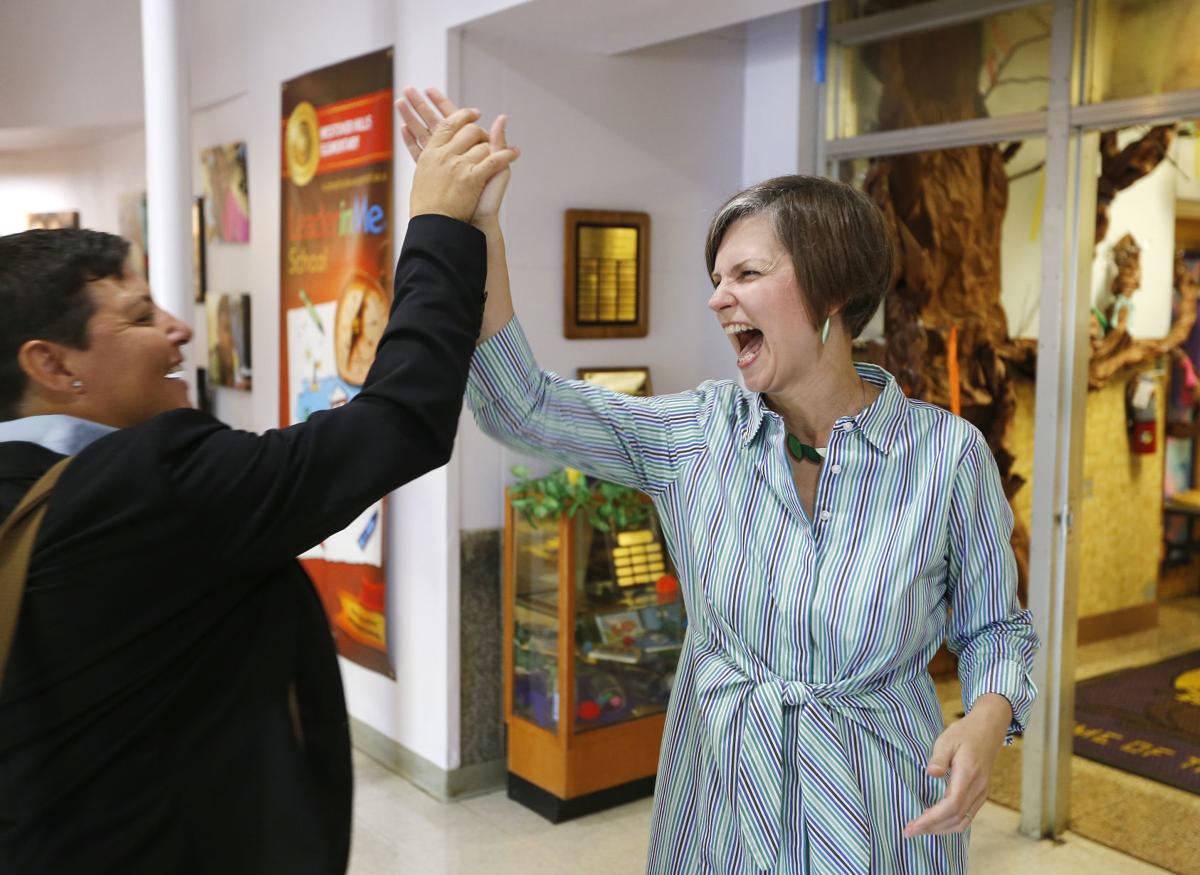 Nearly the exact same number of Virginia schools meet the state's standards of accreditation in the second year of a system that officials have trumpeted as being a better way to judge schools.
The Virginia Department of Education released its annual accreditation ratings Monday, revealing that 92% of the state's public schools — 1,682 of 1,825 — are accredited this year, the same percentage as last year but higher than the 86% the year before. Last year, 1,683 schools met the state's full standards.
An additional 132 schools are accredited with conditions, a status once called partially accredited.
The school system for the city of Richmond saw slight improvement, with one more school fully accredited this year than last. Fewer than half of its schools met the full accreditation standards.
Virginia's overall flat accreditation numbers come even as performance on the state's standardized tests fell for the second straight year. More schools, though, are improving student attendance and other factors that the ratings now take into account.
"This is the second year that schools have been evaluated under the 2017 Board of Education-approved accreditation standards, and this new system for measuring the progress and needs of schools is doing exactly what it was designed to do," Superintendent of Public Instruction James Lane said. "Last year's ratings compelled school divisions to focus on the need to reduce chronic absenteeism, and their success in improving student attendance is reflected in the ratings for 2019-2020."
In the Richmond region, 85% of the 260 schools met the full standards, the same as last year.
Twelve districts in the region — the counties of Amelia, Charles City, Chesterfield, Dinwiddie, Goochland, Hanover, King William, Louisa, New Kent, Powhatan and Prince George, plus the city of Colonial Heights — had every school rated accredited.
All 62 Chesterfield schools meet the full accreditation standards — the second straight year that's been the case.
"While the School Board and school division remain focused on measurements that better reflect student achievement growth during the course of a school year, we understand that the success of our schools is often judged by accreditation ratings," School Board Chairman Rob Thompson said in a statement. "We celebrate the accomplishments of our teachers, staff and nearly 62,000 students. While achieving 100% accreditation is an annual goal, it certainly is no easy task."
Old Hundred Elementary School, which opened this fall, was conditionally accredited as a new school.
Like Chesterfield, every Hanover school is accredited.
While all 23 Hanover schools are in the top level for academic achievement, achievement gaps in English persist in 16 schools.
"I am proud of our students' continued hard work and high achievement," Superintendent Michael Gill said. "As always, we remain committed to meeting the unique academic and socio-emotional needs of all learners to help ensure they maximize their potential and further close achievement gaps."
Henrico had one fewer school that was fully accredited this year.
Harold Macon Ratcliffe Elementary School went from accredited with conditions to accredited this year, but Highland Springs Elementary and Laburnum Elementary slid from accredited to accredited with conditions.
The school system has decreased the number of schools not meeting the full standards from 28 to eight since 2014-15.
"We couldn't be prouder of the hard work and dedication of our students and staff members in making gains across a range of academic areas," said Superintendent Amy Cashwell. "Academic growth doesn't just happen. It takes all facets of a community working together. We are seeing the results of that hard work — by our staff members, our families, our School Board and our citizens."
Richmond Public Schools saw slight growth this year.
Twenty of the city school system's 44 schools met the state's full accreditation standards this year, compared with 19 in each of the past two years. Superintendent Jason Kamras has vowed to have every school accredited by the start of the 2023-24 school year. According to a presentation from his administration to the city School Board on Sept. 16, this year's number will be the baseline for that goal.
The district hopes to have 24 schools fully accredited next year, according to the presentation.
"We clearly still have a very long way to go to achieve our goal of 100% accreditation, but I'm confident that we're on our way," Kamras said Monday.
Westover Hills Elementary School and Miles Jones Elementary School moved from accredited with conditions to accredited. J.L. Francis Elementary School went from accredited to accredited with conditions.
George W. Carver Elementary, which is dealing with the fallout of a cheating scandal revealed last year, is accredited with conditions. The Virginia Board of Education withheld its accreditation last year. Carver fell from third-highest-achieving elementary school in the district to second-worst this year, the first since state investigators found that educators at the school inappropriately helped students on state tests
Monday's release was the second look at how the state is judging schools under revisions that officials hope will give a more comprehensive view of the quality of a school.
The system, approved by the Virginia Board of Education in 2017, hadn't seen large changes in 20 years.
The new standards don't include pass rates for English and math, but rather a combined rate, which shows the percentage of students who are meeting state expectations or making significant progress. The combined rate for English includes students learning English as a second language who show progress toward fluency on a specific ESL assessment.
In high schools, the state is using pass rates because growth can't be calculated with the end-of-course tests.
The growth measurement takes student test score results and compares them with previous performance.
Schools are also being judged on how they reduced chronic absenteeism, which affects 1 in 10 students across the state, according to the state. Absence rates are worse in Virginia's urban school districts, including Richmond.
The number of schools in the top tier for reducing chronic absenteeism increased 4% from 1,600 to 1,663 this year.
While data on chronic absenteeism has been available in years past, Lane said having the factor — and others — in the accreditation system "brings renewed focus."
The new system takes achievement gaps into account as well. In English, for example, 125 schools are in the lowest tier, up from 112 last year.
"The Board of Education is focused on ensuring that every child has an opportunity to reach his or her potential," Board of Education President Daniel Gecker said. "The 2017 accreditation standards focus local decision-making and resources on the board's goal of reducing — and ultimately eliminating — achievement gaps while maintaining high standards for all students."
Ratings for high schools depend on similar factors, but also include schools' graduation rates and dropout rates. Starting in 2021, a school's ability to prepare students for college and careers will be weighted in the rating.
Performance on each factor is rated at one of three levels. Level one is for those that meet or exceed the state standard or show "adequate" improvement. Level two is for schools that are near the state standard or are making progress from their level three distinction, which is given to the schools that are below standard.
The state standard on English, for example, is a 75% pass rate. If a school meets or beats that pass rate, it is on the first level. If it's near — between 66% and 74%— it's level two. Level three is for the schools that are below that standard.
Level three is also given to schools that are at level two for more than four straight years.
Those levels ultimately determine a school's accreditation rating.
If every indicator — proficiency and growth, absenteeism, etc. — is at either level one or two, a school is considered accredited. Schools with one or more level three performance are accredited with conditions.
The new accreditation system again essentially negated the fact that fewer Virginia students passed SOL tests this year than in years past.
Despite pass rates dropping in three of the five test areas this year compared with last, the number of accredited schools went up because of the weight put on the new factors, such as growth and low chronic absenteeism — something that likely wouldn't have happened under the old system.
The largest drops on SOLs this year were in history and English. In reading, 78% of state students passed the Standards of Learning tests compared with 79% in 2017-18.
(804) 649-6012
Twitter: @jmattingly306